Sketch Liverpool 1-Day Live Workshop
WITH IAN FENNELLY
Join Ian Fennelly on a UK Urban Sketching day in the exciting City of Liverpool.
1 day    Live Workshop  Liverpool, UK
You are invited to join Ian Fennelly and the Urban Sketch team for a 1-day sketching workshop in the vibrant City of Liverpool.
During this special 1-day workshop Ian will teach an on-location workshop to a small group of 15 participants. Together, you will sketch some of Liverpool's famous architecture and discover plenty of fascinating history along the way!
Liverpool is a city steeped in history and heritage. The city is characterised by stunning architecture, artwork, iconic statues and famous places, visited by famous faces. Most of you will already associate the Beatles with Liverpool but it's musical heritage doesn't stop there. The architecture of Liverpool echoes its diverse and unique history with fascinating structures from the Liver Buildings to the Albert Dock.
Unlike some larger UK cities (such as London), Liverpool's locals are always welcoming to tourists and typically happy to converse, especially when we're sketching. Liverpool's people are some of the friendliest and most complimentary – great for extra motivation! What's more, Ian grew up here as a baby artist and has so much local knowledge. Experience the city through Ian's eyes as we sketch the side streets and capture the local atmosphere. 
YOUR INSTRUCTOR
Your personal instructor for the week is Ian Fennelly.
Throughout this special workshop Ian will be there to teach you his methods, while helping, inspiring, and encouraging you to stretch your skills and develop your own unique style of sketching.
Whether you're a beginner or an experienced artist, everyone is welcome. This is a unique opportunity to work side-by-side with one of the world's most revered urban sketchers and sought after teachers.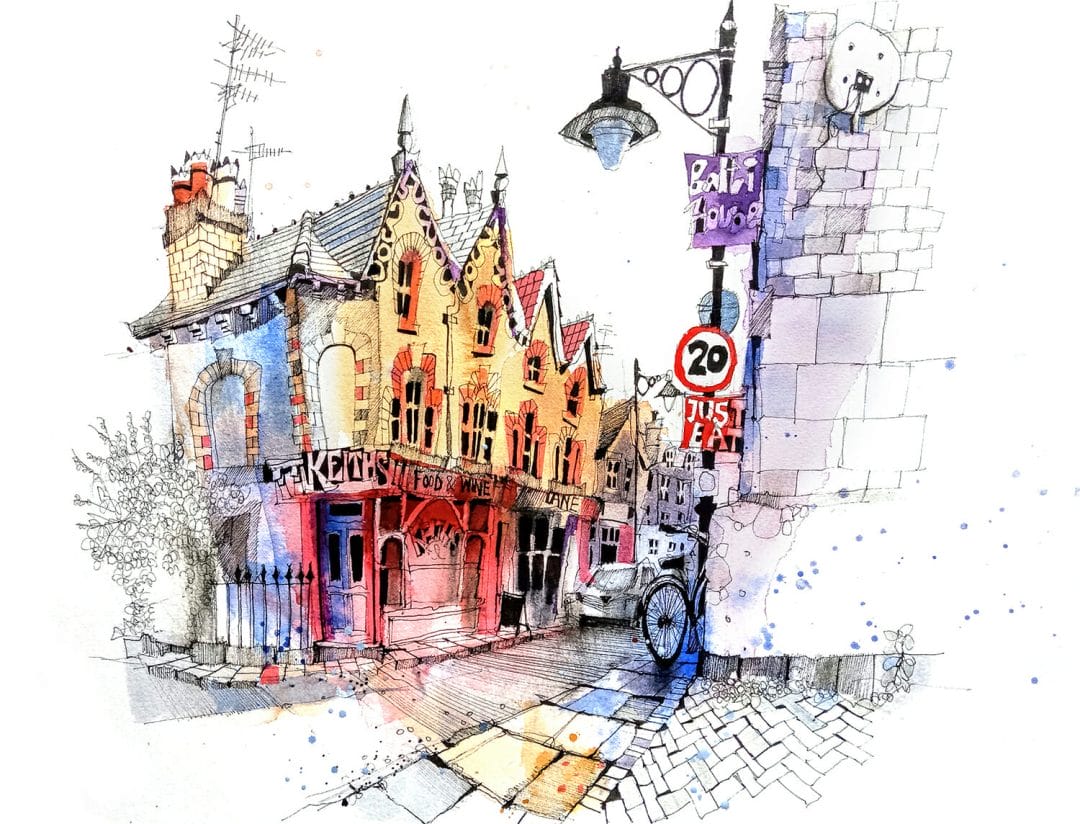 Sketch in Liverpool with Ian Fennelly
We're thrilled to present this unique opportunity to join Ian Fennelly and the Urban Sketch team for a day's sketching workshop, in the fascinating City of Liverpool.
Overview
DURATION: 1 day
LOCATION: Liverpool, England
SPACES: 15
DATES: 31st July 2023
LEVEL: Beginner's to Advanced
Click the tabs for further information.
How to get there?
Via Car – Liverpool is accessible from the M53 and M56. By road London is approximately 180 miles, Cardiff 150 miles, Birmingham 90 miles, Manchester 40 miles, Chester 15 miles, Edinburgh 230 miles, Bath 165 miles and Southampton 220 miles.
Via Train – Liverpool train station is easily accessible along most major rail networks. Liverpool Lime Street or Liverpool Central are the most central and accessible trainstations.
Via Airplane – Liverpool does have it's own airport and Manchester is still very close with a transfer time is around 45-60mins. Both airports provide national and international flights.
I'm a beginner, is this trip for me?
Yes. Ian will assume no prior experience and will take you carefully through each of the steps in his process as he is doing it – from blank page to the shapes and colors he uses, through to finished artwork.
What do I need to bring with me?
We recommend that you bring with you an A3 Sketchbook, your watercolour paints and brushes, a small pot for water, brush pens and fine liners, a small chair to sit on, drinking water, sunscreen and a raincoat (it is the UK after all!) and your best sketching attitude!
For a full materials list, take a look here.
Will we be drawing and painting on location?
Yes. This is authentic urban sketching and Ian will be taking you through all of the steps while we're there on-location; from blank page to sketching everything out, to applying the paint and fineliner detail work, there and then. 
What's the difference between this Sketching and just doing an online course?
Firstly, while our online courses are a wonderful way to learn urban sketching, truthfully, nothing can replicate the experience, knowledge, and sheer pleasure you will gain from sketching live on location with Ian Fennelly.
Secondly, there is a vast difference between watching and learning from Ian through online tutorials, and actually being there on location, learning and sketching alongside him.
You see, urban sketching is not only about the lines you put on your paper, but about developing and refining the skill of thinking, working, and responding to your environment in real-time. And that can't be developed through sketching from photos. But this is where Ian excels and it's this level of detail and expertise that you are getting through being there on-location with Ian Fennelly.
Finally, Ian is not only one of the most respected urban sketcher's in the world, but he's also a trained and highly experienced teacher who will be there each day to personally help you to improve on those areas you might be struggling with. The value of having him there to personally guide and coach you is far beyond what you can gain through any online course.
And of course, along with this, you are getting a highly enjoyable week's experience with a group of fellow sketching enthusiasts! Not only will you make wonderful art together, but you'll make some special friendships too.
Anything else I should consider?
We strongly recommend that you have a good travel and medical insurance policy in place to cover you in the event you must cancel your trip and any emergency medical services you might need while travelling in a foreign country. Fennelly Art Ltd and Digital Sea Ltd t/a Urban Sketch Course cannot be held responsible for any accident/loss or injury incurred during the course of the trip.
What is your cancellation policy?
The cost of the trip is non-refundable once booked and paid for. In the unlikely event this trip is cancelled you will be issued with a 100% refund. If you are unable to join the event after booking, we will attempt to resell your place on your behalf. A refund will only be issued if we manage to successfully resell your place.
Who do I contact with any questions about the trip?
Contact our support team at anytime on support@urbansketchcourse.com. We will be delighted to help you.
Click all the tabs above for all the details of what's included in this Sketch Liverpool workshop
Places are limited to just 15 participants. Secure your place today and join us on this exciting Urban Sketching workshop in the cultural City of Liverpool. It's a chance to learn new skills, meet new people, make wonderful art, and create special memories that last forever.
Join us on a fabulous Sketching with Ian Fennelly