CHESTER Sketching
WITH IAN FENNELLY
Join Ian Fennelly on a UK Urban Sketching in the Historical City of Chester.
 7 days   l 5 Workshops   Chester, UK
You are invited to join Ian Fennelly and the Urban Sketch team for our inaugural Sketching in the ancient City of Chester.
During this special Sketching Ian will teach 5 on-location workshops to a small group of 15 participants. Together, you will sketch remarkable black & white architecture, stunning medieval buildings, famous landmarks, and discover plenty of fascinating history along the way!
Your Sketching will be in the historic City of Chester. Together, we will wander through its delightful cobbled streets, and along canals, and rivers to our handpicked locations, absorbing the unique atmosphere and ancient history along the way.
You'll be walking where Roman Legionaries marched to war, where Viking raiders wreaked havoc, and Norman invaders conquered Anglo Saxons.
Each chapter of Chester's history is etched into the very fabric of the city. It has the most complete Roman-built walls which encircle the entire city, the world's oldest racecourse, 700-year-old shopping rows, the largest Roman Amphitheatre in Britain, and the second most photographed clock in England. Not to mention its 1,000 year old Cathedral, with Europe's finest mediaeval carvings.
There's so much to see and sketch, it's easy to see why Chester is a personal favorite of Ian Fennelly's, and why many of his most iconic sketches were created here.
YOUR INSTRUCTOR
Your personal instructor for the week is Ian Fennelly.
Throughout this special Sketching Ian will be there at each new location to teach you his methods, while helping, inspiring, and encouraging you to stretch your skills and develop your own unique style of sketching.
Whether you're a beginner or an experienced artist, everyone is welcome. This is a unique opportunity to work side-by-side with one of the world's most revered urban sketchers and sought after teachers.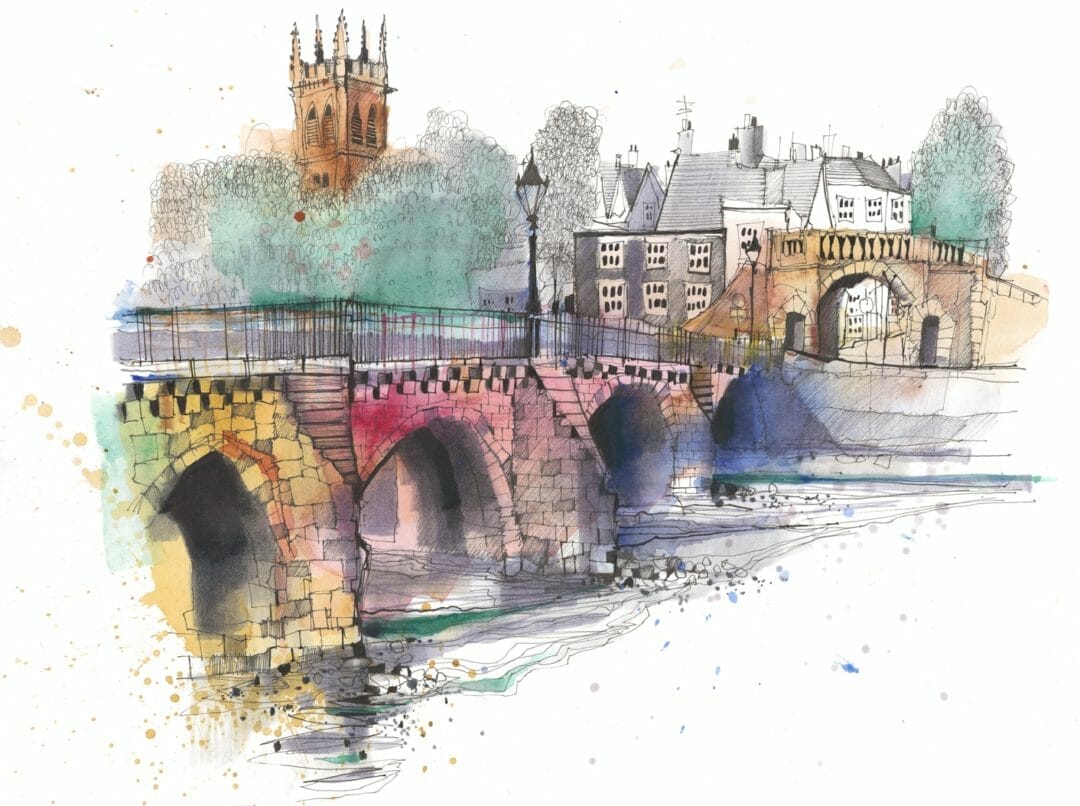 Sketch in Chester with Ian Fennelly
We're thrilled to present this unique opportunity to join Ian Fennelly and the Urban Sketch team for a week's Sketching , in the beautiful City of Chester.
Overview
DURATION: 7 days, 6 nights
LOCATION: Chester, England
SPACES: 15 (+ Companions)
DATES: 23rd-29th July 2023
LEVEL: Beginner's to Advanced
Click the tabs for further information.
Our trip starts at the delightful Mill Hotel on the evening of Sunday July 23, where you'll meet up with Ian and some of the Urban Sketch team for a relaxed welcome reception and drinks. Our chosen hotel is in the heart of Chester and just a short stroll away from all our sketching locations.
Your workshops begin on Monday July 24, where we'll take a pleasant walk each day to a new sketching location. Following 5 days of sketching, we will finish on Friday July 28, for our farewell dinner and wine tasting experience.
Despite an action packed week of sketching and learning, there will be ample opportunity to enjoy some leisure time, including sightseeing, explorations, shopping, views, catch up sketching, local museums, or to simply enjoy the spa and gym facilities provided by the hotel.
Click the next tab to view the locations we'll be sketching »
Sketching Locations
Our daily sketching locations have been hand picked by Ian to develop your skills and confidence in a variety of  areas, and will include:
Chester Cross – Once the main roads of a Roman fortress, now the centre of the bustling City of Chester, surrounded by stunning black & white architecture. The centrepiece being the Chester High Cross, a medieval sandstone cross, where, if we're lucky, we'll get to see the town crier delivering his midday proclamation!
Chester Bandstand – Erected shortly before the First World War, the Chester Bandstand is still used to this day for concerts and performances. We'll be sketching this beautiful setting, which overlooks the River Dee running alongside the City Centre.
Old Dee Bridge – Originally constructed by the Romans and then rebuilt in sandstone in 1387. This spectacular 7-arch bridge with its intricate stone work, crosses the River Dee and offers a fantastic view with spectacular sketching opportunities.
Chester Cathedral – Founded in 1092, this incredible piece of architecture with its wonderful carvings took around 275 years to build! Chester Cathedral offers a unique blend of medieval and modern history inside and out. It will be a real joy to sketch.
Bridgegate – Bridgegate forms part of the Roman-built walls that encircle the City of Chester. The gate was used to guard the southern entrance to the City and leads directly to the Old Dee Bridge. This stunning stone arch offers us an opportunity to sketch another fascinating piece of ancient Chester history.
Ian will be taking you through all of the steps for sketching and painting each scene, on-location. Starting with a blank page, you'll be guided slowly and carefully, from sketching the outline; the big shapes, the medium shapes and getting the sizing and proportions right on the page. Then going in with the watercolor and adding the tone work with your brushpens. Before using your fineliners to add in all of the layers of details. Ian will be there to guide and support you each step of the way.





Click the next tab to find out everything included in this special trip »
Includes:
The Chester Sketching includes:
Hotel (6 nights)
Full English/Continental buffet breakfast (daily)
Welcome reception (July 23)
All workshops & demonstrations with Ian Fennelly (Mon – Fri)
Farewell evening meal with wine tasting (July 28)
Excludes:
The Chester Sketching  excludes:
Flights to/from the destination
Airport transfer to/from the hotel
Lunch and evening meals (except the Farewell Dinner)
Painting supplies
Tips and gratuities
Luggage handling
Travel insurance
Personal expenses
Items not explicitly specified in the above inclusion list
Click the next tab to find out more about the hotel we'll be staying at »
For your 7-day stay we have selected the Mill Hotel & Spa which is situated in the heart of Chester, alongside the Shropshire Union Canal. The hotel is a pleasant walk away from all of our sketching destinations.
The hotel is included within the price of this trip (double or twin rooms are available), and includes use of the Leisure Club.
Room amenities include:
Full English/Continental buffet breakfast
Free WiFi internet
Over 100 digital TV channels
24-hour front desk
Tea/coffee making facilities
Hairdryer
Iron and ironing board available on request
The Mill at Night
The Pool
Room Example
How to get there?
Via Airplane – Manchester or Liverpool airport are the closest to Chester and transfer time is around 45-60mins. Both airports provide national and international flights.
Via Train – Chester train station is easily accessible from many train stations across the UK. From Chester railway station, trains travel to and from London Euston Station every couple of hours (2 hour trip). The hotel is a 5 – 7 min walk from the station, or just a quick cab journey. Cabs are located outside of the station.
Via Car – Our accommodation has a car park on site. Chester is based at a meeting point of the A55, M53 and M56. By road London is approximately 180 miles, Cardiff 150 miles, Birmingham 90 miles, Manchester 40 miles, Liverpool 15 miles, Edinburgh 230 miles, Bath 165 miles and Southampton 220 miles.
I'm a beginner, is this trip for me?
Yes. Ian will assume no prior experience and will take you carefully through each of the steps in his process as he is doing it – from blank page to the shapes and colors he uses, through to finished artwork.
What do I need to bring with me?
We recommend that you bring with you an A3 Sketchbook, your watercolour paints and brushes, a small pot for water, brush pens and fine liners, a small chair to sit on, drinking water, sunscreen and a raincoat (it is the UK after all!) and your best sketching attitude!
For a full materials list, take a look here.
Will we be drawing and painting on location?
Yes. This is authentic urban sketching and Ian will be taking you through all of the steps while we're there on-location; from blank page to sketching everything out, to applying the paint and fineliner detail work, there and then. There will also be lots of opportunities and a special area back at the hotel to finish and refine your work should you wish to.
What's the difference between this Sketching and just doing an online course?
Firstly, while our online courses are a wonderful way to learn urban sketching, truthfully, nothing can replicate the experience, knowledge, and sheer pleasure you will gain from sketching live on location with Ian Fennelly.
Secondly, there is a vast difference between watching and learning from Ian through online tutorials, and actually being there on location, learning and sketching alongside him.
You see, urban sketching is not only about the lines you put on your paper, but about developing and refining the skill of thinking, working, and responding to your environment in real-time. And that can't be developed through sketching from photos. But this is where Ian excels and it's this level of detail and expertise that you are getting through being there on-location with Ian Fennelly.
Finally, Ian is not only one of the most respected urban sketcher's in the world, but he's also a trained and highly experienced teacher who will be there each day to personally help you to improve on those areas you might be struggling with. The value of having him there to personally guide and coach you is far beyond what you can gain through any online course.
And of course, along with this, you are getting a highly enjoyable week's experience with a group of fellow sketching enthusiasts! Not only will you make wonderful art together, but you'll make some special friendships too.
Anything else I should consider?
We strongly recommend that you have a good travel and medical insurance policy in place to cover you in the event you must cancel your trip and any emergency medical services you might need while travelling in a foreign country. Fennelly Art Ltd and Digital Sea Ltd t/a Urban Sketch Course cannot be held responsible for any accident/loss or injury incurred during the course of the trip.
Will I have to share a room?
No. Each participant will have their own private room at The Mill Hotel. You will only share a room if you choose to bring a travel companion with you, such as a friend, partner, etc.
Can I extend my stay or upgrade my room?
Yes. If you wish to make any adjustments or upgrades to your room, please contact us at: [email protected]
Can I bring a partner or friend?
Yes. Non-sketching companions are welcome if they are sharing with a sketcher as there is plenty to see and explore in this trip.
What is your cancellation policy?
The cost of the trip is non-refundable once booked and paid for. In the unlikely event this trip is cancelled you will be issued with a 100% refund. If you are unable to join the event after booking, we will attempt to resell your place on your behalf. A refund will only be issued if we manage to successfully resell your place.
Who do I contact with any questions about the trip?
Contact our support team at anytime on support@urbansketchcourse.com. We will be delighted to help you.
Click all the tabs above for all the details of what's included in this Sketch in Chester trip





Places are limited to just 15 participants. Secure your place today and join us on this Urban Sketching of a lifetime in the ancient City of Chester. It's a chance to learn new skills, meet new people, make wonderful art, and create special memories that last forever.
Your Trip Includes:
✔

5 sketching workshops with Ian Fennelly

✔

6 nights accommodation

✔

Daily

English/Continental breakfast

✔

Welcome reception

✔

Farewell evening meal with wine tasting
Your Trip Includes:
✔ 5 sketching workshops with Ian Fennelly
✔ 6 nights accommodation
✔ Daily English/Continental breakfast
✔ Welcome reception
✔ Farewell evening meal with wine tasting
Choose a Payment Option Below to Secure Your Place Today:
Pay In Full
Includes Early Bird Discount
• Per Participant (includes early bird discount)
• Per Non-Sketcher Companion (such as partner or travelling buddy)
Click the button below to secure your place:
Join us on a fabulous Sketching with Ian Fennelly