Ian Fennelly's Virtual World Sketching Tour!
Join Ian Fennelly in his home studio as he takes you on an incredible journey to 4 exciting countries while teaching you the exact techniques and style that have made him one of the world's most revered urban sketchers!
This course was filmed in Ian's home studio during the COVID-19 pandemic (while most of the planet was in lockdown). Virtual World Sketching Tour enables you to work alongside Ian, drawing and painting from digital photos, while developing high-level urban sketching skills – without leaving your home!
This is a one-off opportunity to literally watch over the shoulder of a bona-fide expert as he reveals a lifetime of urban sketching secrets.
Follow-along as Ian breaks down his entire decades-learned sketching process into tiny step-by-step details – producing 4 magnificent pieces of urban artwork along the way.
And you can do this too!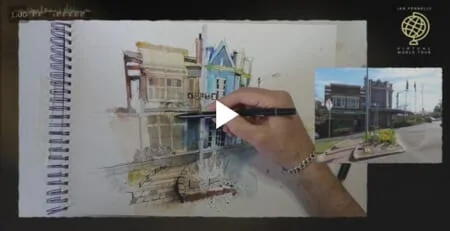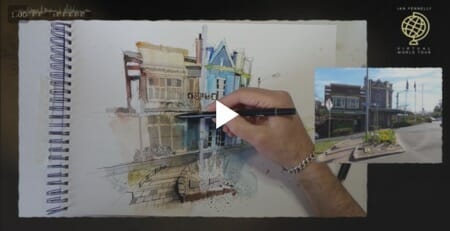 Learn how to sketch the world without leaving home!
Here is an overview of what's covered in this incredible and unique virtual urban sketching course: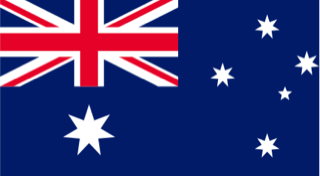 Leura, Australia
In this first of four virtual workshops, we 'travel' with Ian to Leura, which is in the Blue Mountains of Australia. You will learn in step-by-step detail how to take a simple photo and create a magnificent piece of urban artwork. You will have access to the same digital photo that Ian is working from.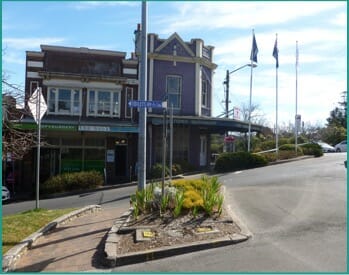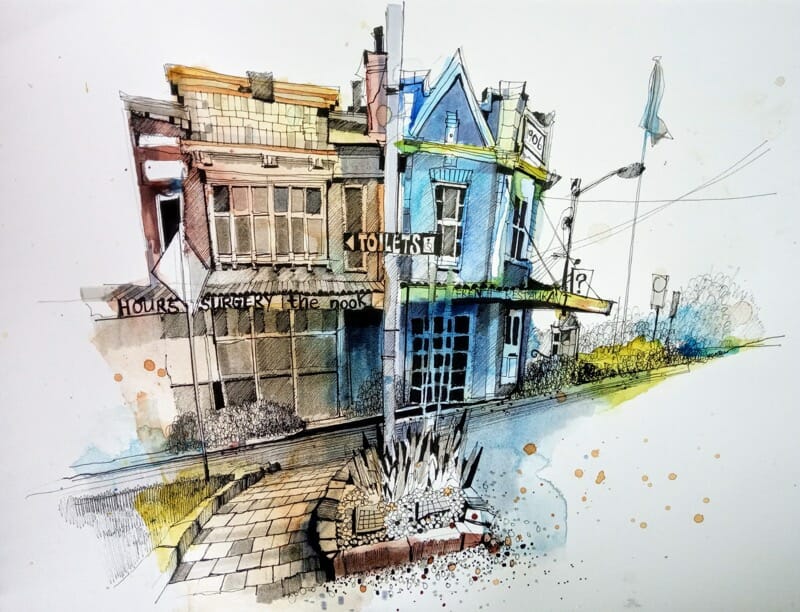 Follow-along as Ian guides you from blank page to simple lines, to basic shapes, then on to adding paint and filling in all of the finer detail. Everything is clearly and concisely explained and broken down into micro-steps so that you develop the skills and confidence to produce artwork like Ian's without leaving your home.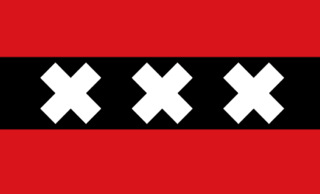 Amsterdam, Netherlands
In your second virtual workshop you're going to have a lot of fun as we focus on a 3-arch bridge that goes across a main canal in Amsterdam. Ian guides you through how to take a busy scene like this and simplify it using just 3 very specific colours, while still bringing out the detail, such as the fantastic architecture and even the bikes and trees.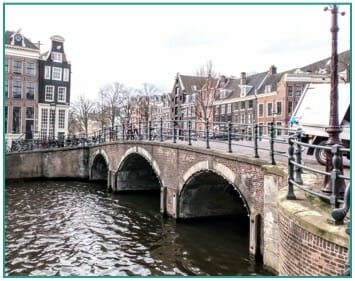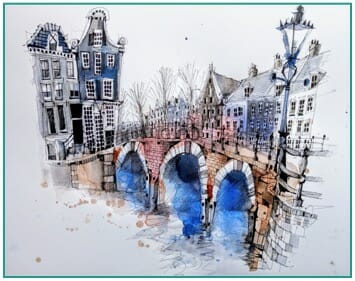 Before you start this complex composition, Ian shows you exactly how to pick your starting point and where to place your pens on the page to mark out the space, while also using them as a reference point to create the perspective you need.
You will start out with really simple, basic shapes to create the structure, then you will use fine line pens to go into the detail before moving into a very specific colour journey.
You will see precisely how Ian applies just 3 colours to produce this striking image. You'll learn new colour mixing techniques that ensure maximum effect.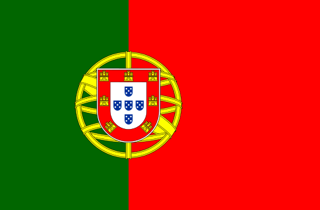 Porto, Portugal
This workshop is all about telling stories within your drawings. And this story is about a community of 5 buildings and the relationship between them and the people who might live here; how they live, how they walk through the doors, how they go up the steps, how they look out the window, how they hang out their washing, how the water falls off the roof and goes into the grids.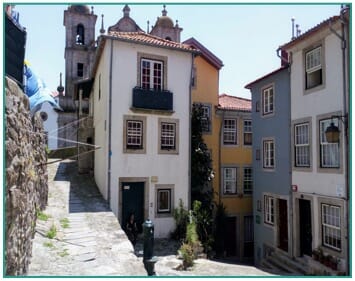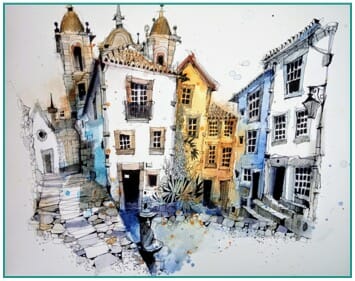 Ian walks you through the exact process of getting the size of the first building just right before moving onto sketching. You'll learn how to add in the medium size detail, such as the doors and windows, the church, the cobbles and even the drinking fountain. Then you'll be taken on quite a specific colour journey using yellows and oranges with a little blue to create some depth and shadows. Finally, it's the detail; the cracks, the stones, the tiles and the interesting textures.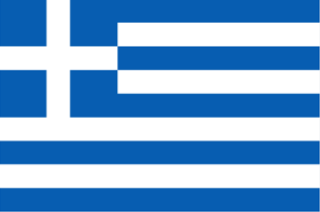 Santorini, Greece
In this final virtual workshop, Ian takes us to Santorini, a beautiful Greek island. You will start out by placing your pens in a very specific manner and then, using your fine liners, you will sketch it all out.
You will discover how to look beyond the subject matter and think in terms of very simple shapes to break up the structure before using fine liners again to mark out the medium size shapes, bringing in windows, doorways, roofs and more.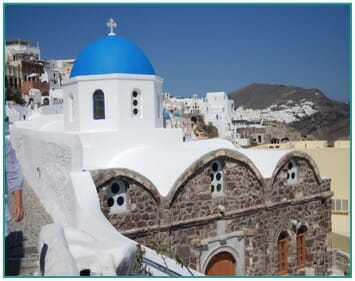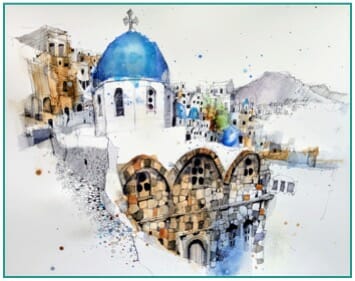 Then, you'll move onto the colour using an exact colour match while using the space on your page to be active and positive. You'll discover how to splash colour onto your image to really activate the page, and use lighter brush pens to make things a lot more 3 dimensional – referencing walls, hills and going around the brick work.
Finally, we will go in deeper and deeper, outlining and hatching to bring out all of the stone work and finer details.
You Get 4 Virtual Workshops Packed into 1 Incredible Course!
By the end of this course you will possess the know-how, the confidence and the skills to replicate Ian's unique style and techniques to produce your own incredible urban art.
And he holds nothing back. Every minute detail of Ian's unique style and techniques are covered. You get to watch over Ian's shoulder and follow along with the exact layering process he uses to gradually build up his pictures:
Materials
You will discover the exact materials and tools Ian uses and why he uses them.
Thought Process
You'll be privy to the specific thought process he goes through before he puts pen to paper.
Composition
You will learn how experts like Ian form the make or break composition of a picture.
Outline
Watch how he sketches the rough outline of his picture, and learn as he reveals subtle nuances, such as how and where he holds his pen.
Shapes
Learn the exact shapes to draw that make up Ian's artwork; starting with big shapes, followed by medium-size shapes and so on.
Colours
Discover the specific colours he uses, why he uses them and how he mixes them to make his artwork leap off the page.
Detail
The devil is in the detail and detail is where Ian excels. He walks you through step-by-step how to notice and then fill in all of the finer detail that elevates your art from good to world-class.
This is a virtual hand-holding masterclass that takes you from blank page to urban masterpiece – all delivered in Ian's warm, engaging and humorous style from the intimacy of his own home studio. You're going to love it!
This course was a labour of love for Ian. Something he felt compelled to do to help those of you stuck at home, bored, frustrated and perhaps even worried during these uncertain times.
This is your unique opportunity to unleash all that pent up energy and creativity while building your skills and confidence – all from the safety and comfort of home.
To have a world-class artist with the credentials and track record of Ian Fennelly revealing a lifetime of hard-learned secrets would normally be incredibly expensive and out of the budget of most people.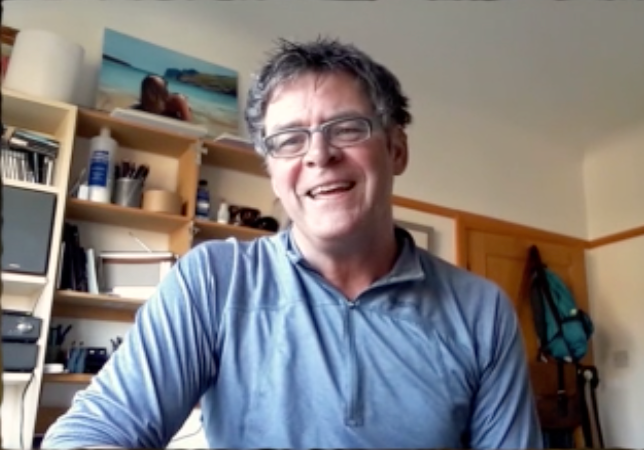 However, because of the uncertainty we all find ourselves in, we've decided to make this value-packed course extremely affordable when compared to the cost of attending a physical workshop. Best of all, there are no planes to get on, no expensive hotels to book, no having to take time off work, and of course, none of the hustle and bustle that comes with urban sketching out in the real world!
What's more, unlike physical workshops, you can pause, rewind, speed up or slow down the tutorials to a pace that suits you. And you can watch them over and over and over again until you know this stuff as well as Ian does.
Hit the button below to sign up to 'Ian Fennelly's Virtual World Sketching Tour'. For one affordable price, you get instant, lifetime access to all 4 packed workshops in less than 30 seconds from now.
CHOOSE OUR FAST AND SECURE PAYMENT OPTION TO GET STARTED TODAY:
Single Payment
Only
✔

Workshop 1: Australia

✔

Workshop 2: Amsterdam

✔

Workshop 3: Porto

✔

Workshop 4: Santorini
24/7 Lifetime Access
90 day money-back guarantee