Materials
Urban Sketch Course
Urban Sketching
Supply List
Having the right tools can go a long way in making your on-location drawing fun and rewarding. So, Urban Sketch Course has put together a list of the basic tools that artist
Ian Fennelly
uses in his essential Urban Sketching kit.
Fabriano Spiral Bound A3 Sketchbook 140lb HP or loose paper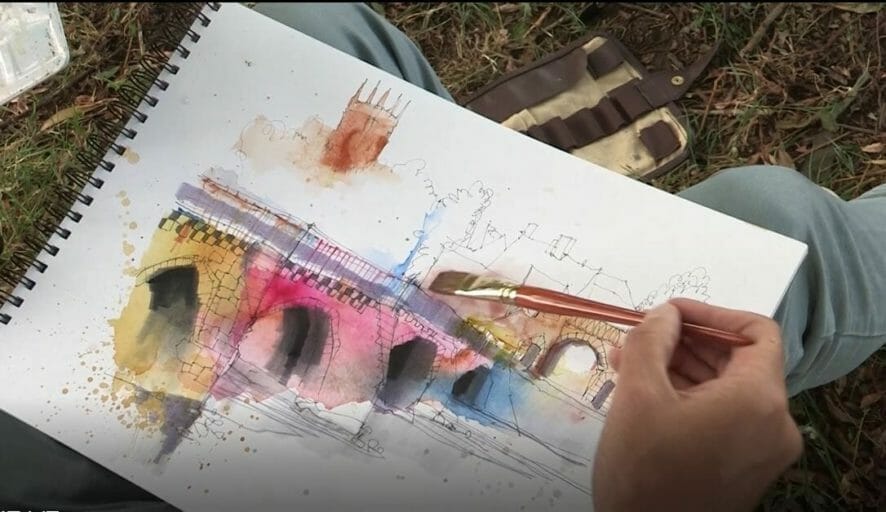 Tombow Brush Pens – black and a range of greys, particularly the lighter greys – N15, N75, N79, N60, N89, N95.
Fine liner pens – from 0.05 – 0.8 Pilot, Staedtler, Faber Castell, Derwent Graphik – any of these brands are fine. Also, have a few extra 0.1s in your Urban Sketching kit.
Watercolour pan set – Ian Fennelly uses Winsor and Newton, with a combination of full and half pans. These are the colours Ian typically has in his palette – although he may swap them around depending on the subject and mood.
Prussian Blue
Sap Green*
Cad red*
Burnt Sienna*
Transparent Orange
Magnesium Brown
Green Gold
Winsor Blue*
Winsor Green*
Cad Red Deep
Burnt Umber
Cobalt Blue
Winsor Orange*
Raw Sienna*
Cerulean Blue*
Cobalt Turquoise Light
Indian Yellow *
Indian Red
Ultramarine*
Winsor Violet
Yellow Ochre
Alizarin Crimson
Black *
*Always seem to have these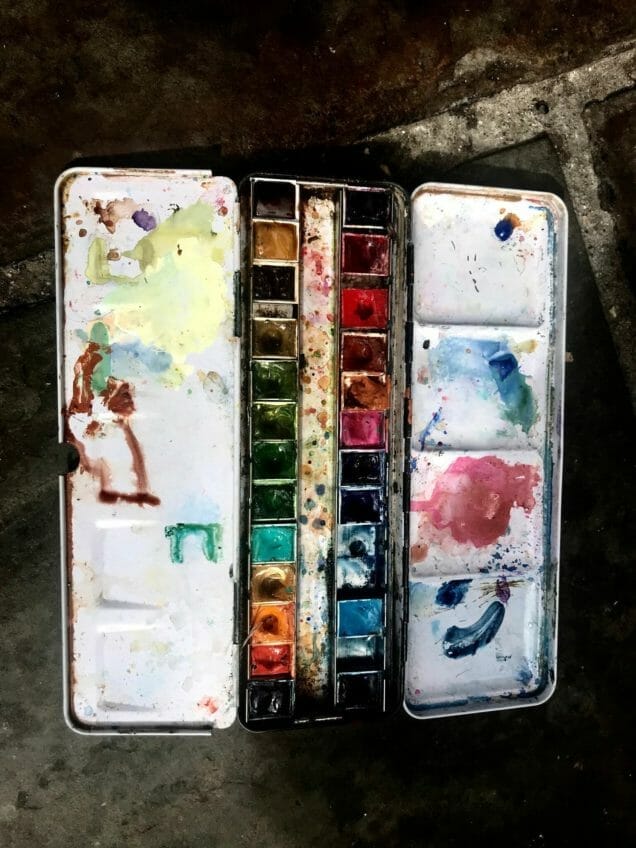 Titanium White watercolour – 5ml tube (for cheating).
Please note that colour is a very personal and emotional thing, and we all see the world that surrounds us with different colours. For each location and workshop Ian may use a different combination of colour, and the starting point may be a particular local colour. If you want to follow Ian's colour journey fairly closely, then make sure you have the ones starred * as they usually come out to play in Ian Fennelly's Urban Sketching Kit during the
Urban Sketch Course
.
TOOL 6
Watercolour brushes
Ian uses the Pro Arte brand in a variety of sizes from ¼ "and ½ "flats to 0 and 3 riggers.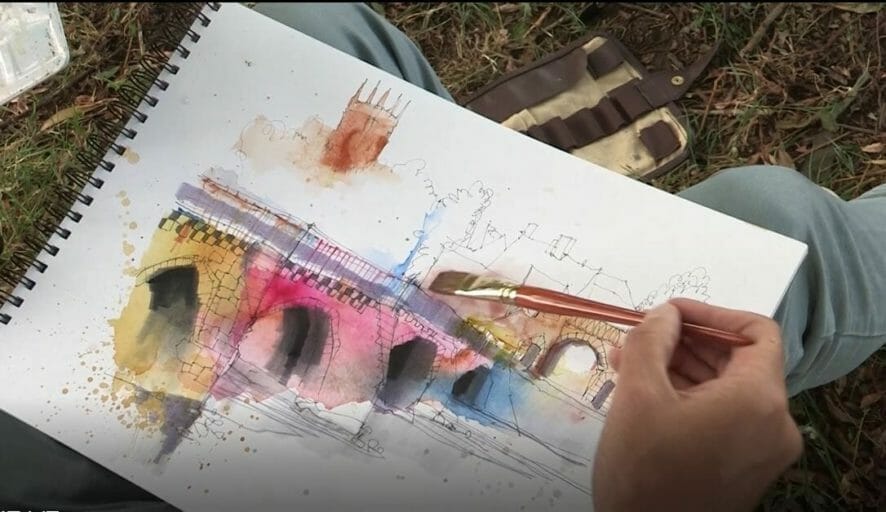 Get all of Ian Fennelly's best sketching tips, tricks, techniques & checklists on a set of handy, weatherproof portable cards!
Whether you're brand new to urban sketching or a confident artist, our engaging, video-based online courses teach you step-by-step how to go from blank page, to capturing the bustle and beauty of the world around you, in the unique and fashionable style that is urban sketching.