Ian Fennelly's 5 Villages Sketching Tour!
Click Play To Watch Ian's Course Introduction: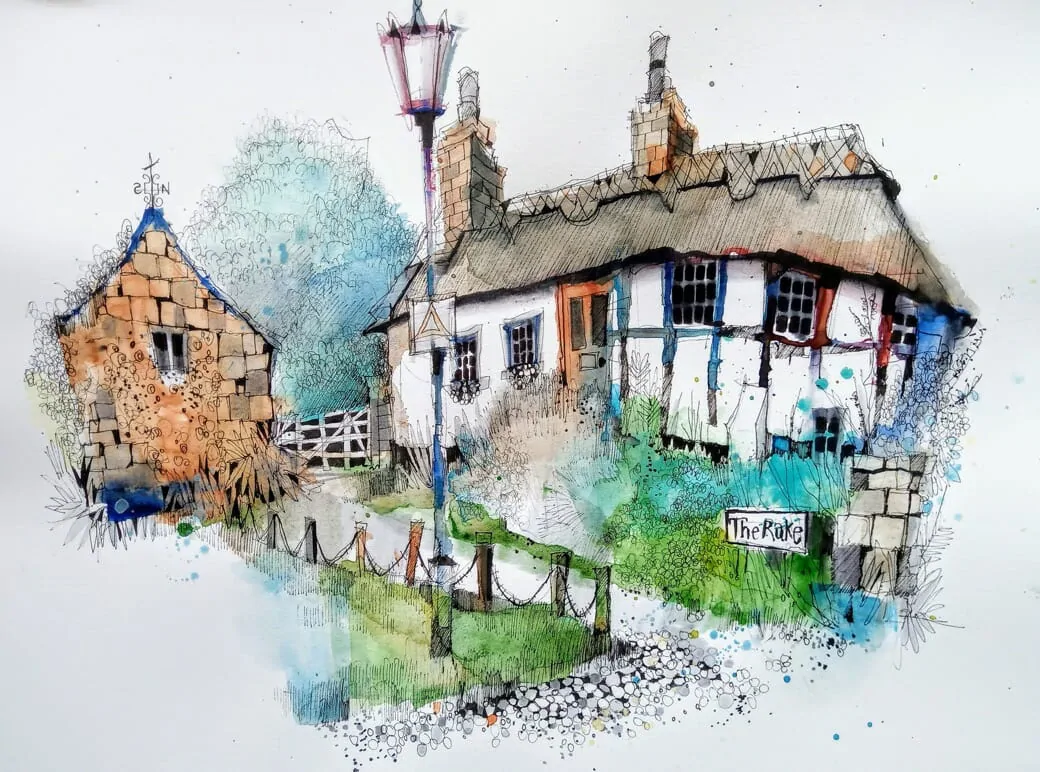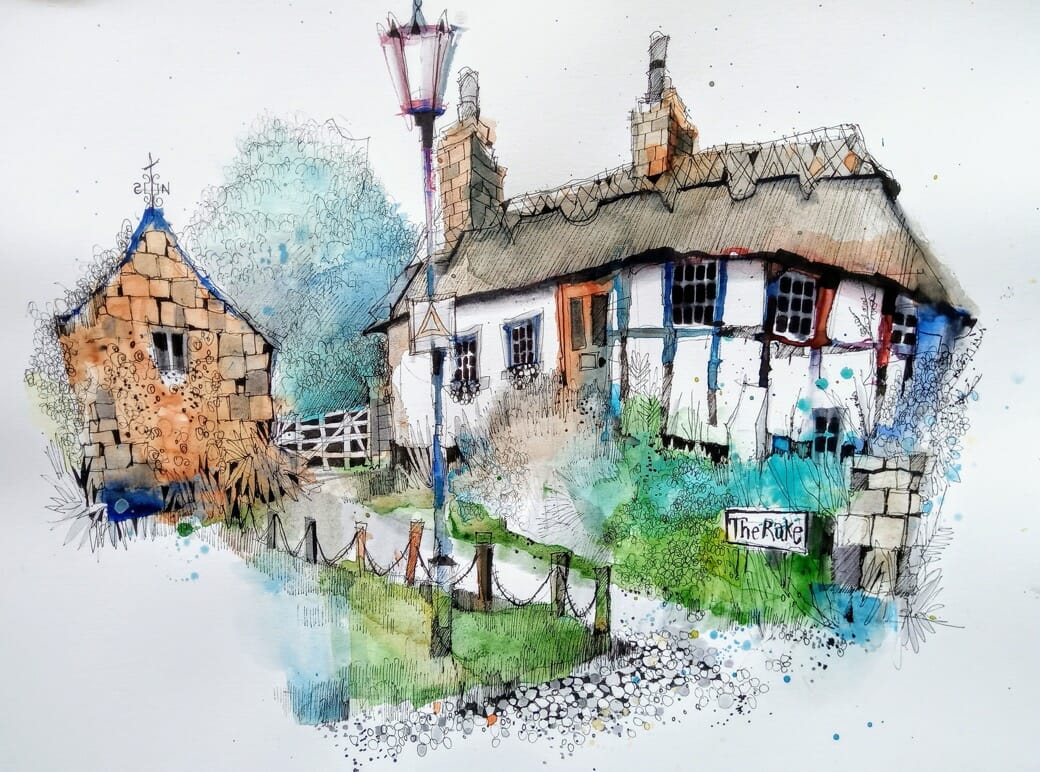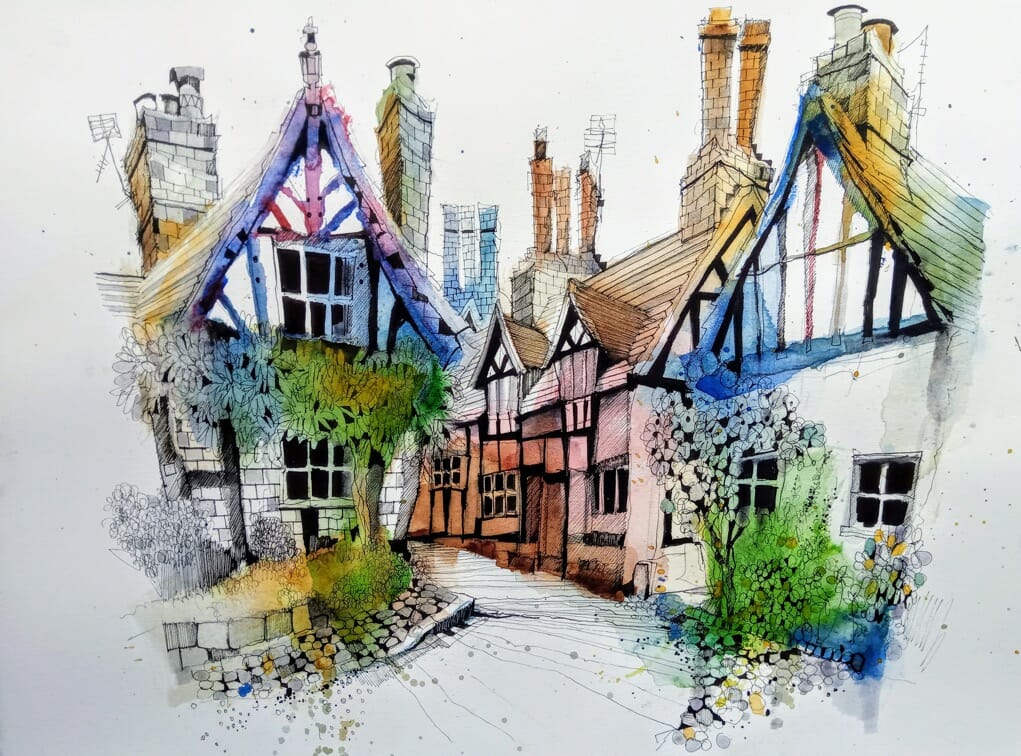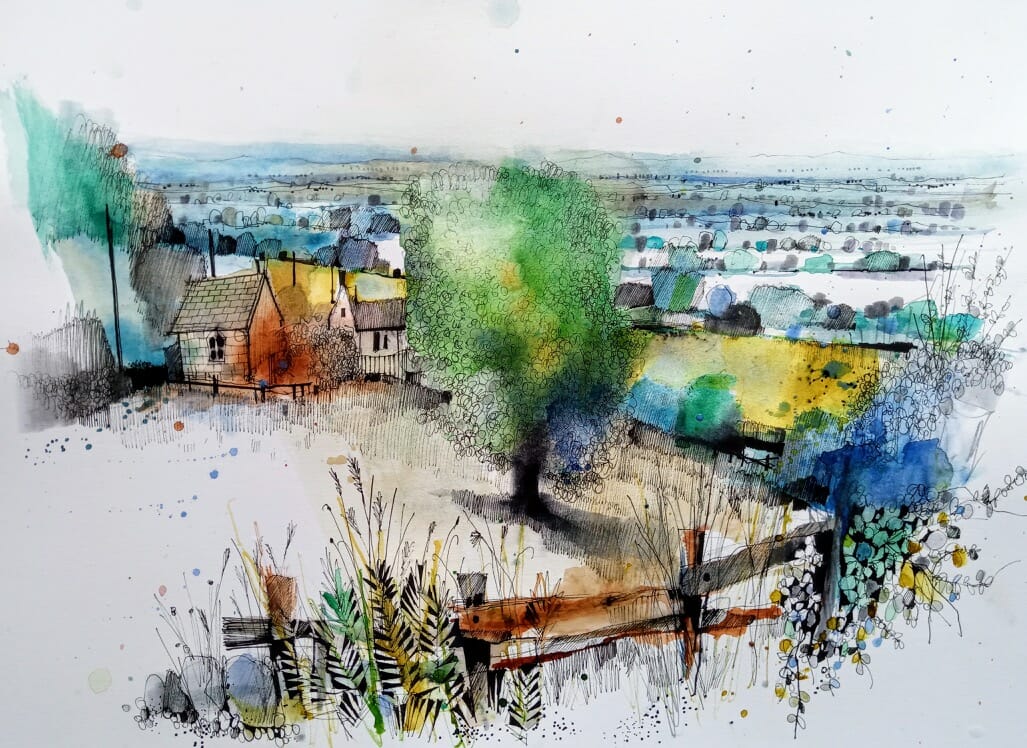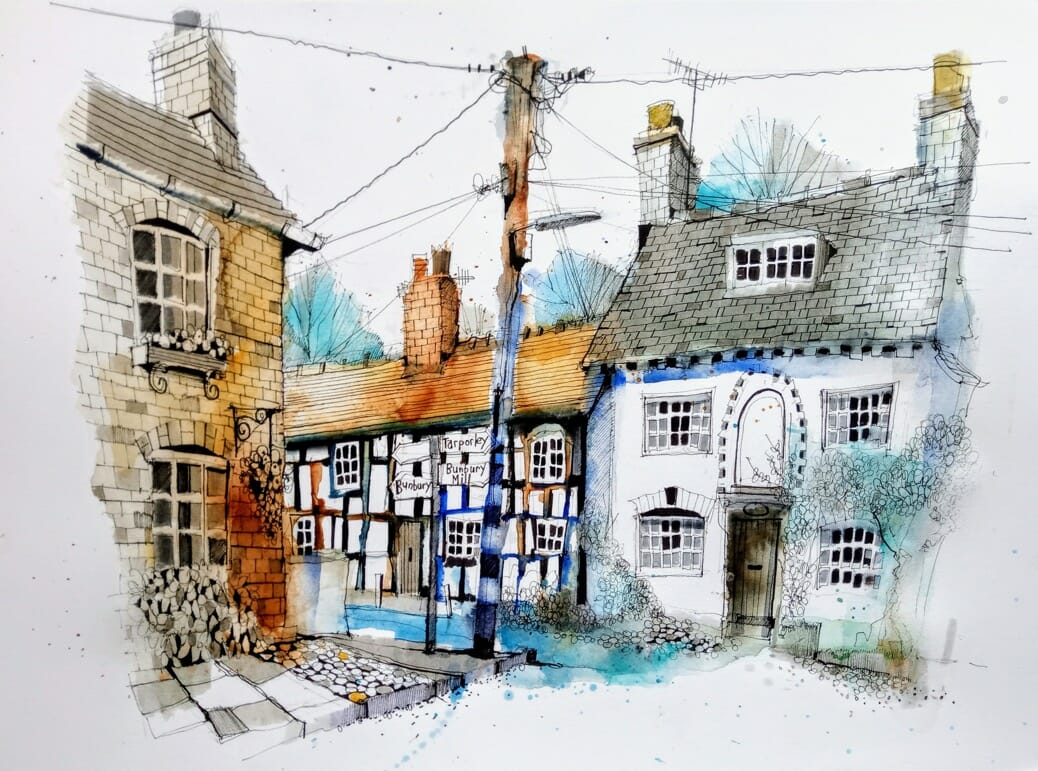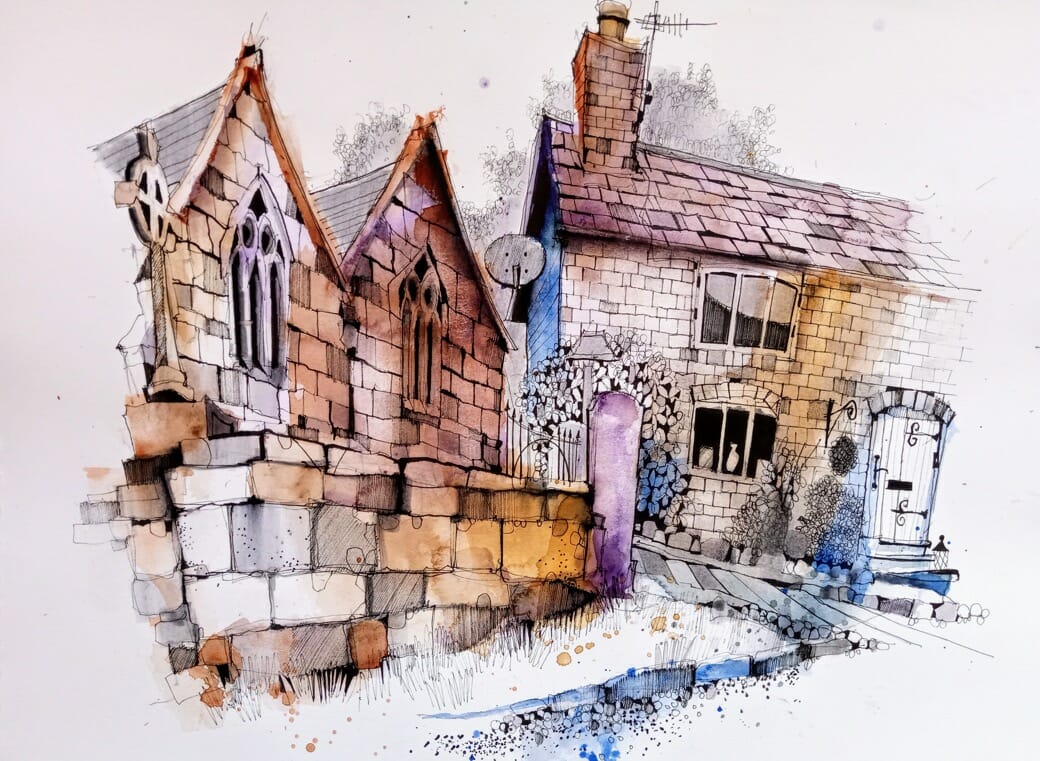 Join Ian Fennelly on an exciting and creative new journey to 5 classic English villages while he teaches you the techniques and style that have made him one of the world's best loved urban sketchers!
Here's What's Included in this Incredible New Course:
Burton (Barn)
In this first of 5 exciting workshops, you will watch, learn and follow-along with Ian as he demonstrates how to draw and paint this classic (and famous!) thatched roof barn. However, as with all 5 Workshops, the 'challenge' is making sure the barn fits within the context of the village scene.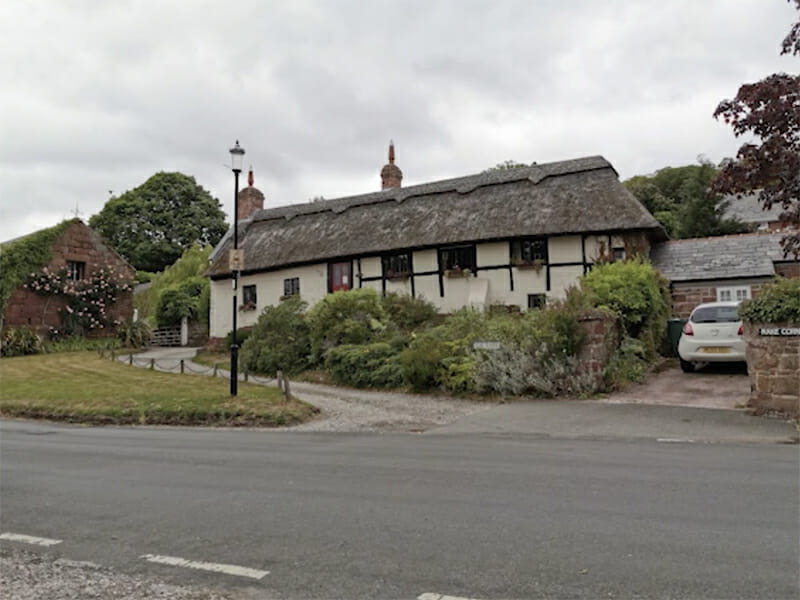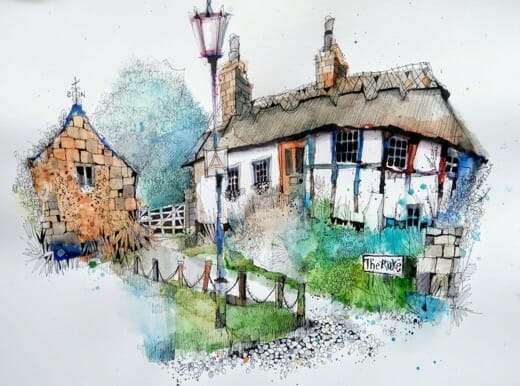 In this workshop, you will learn how to bring in the buildings to the side, the surrounding trees and greenery, the signage and all the detail. Ian breaks everything down into lots and lots of simple steps for you to follow along with.
It's a really fun and fascinating first workshop that you're going to love.
Great Budworth (Street)
Your second online workshop is very much about drawing the main street that runs through the tiny village of Great Budworth.
You will discover how to achieve that amazing sense of perspective that draws you in and how to capture all of the amazing timber framed buildings that run alongside it, in great detail.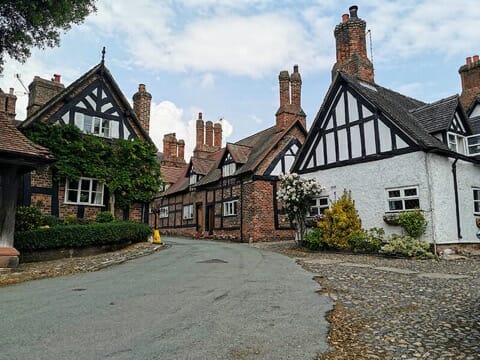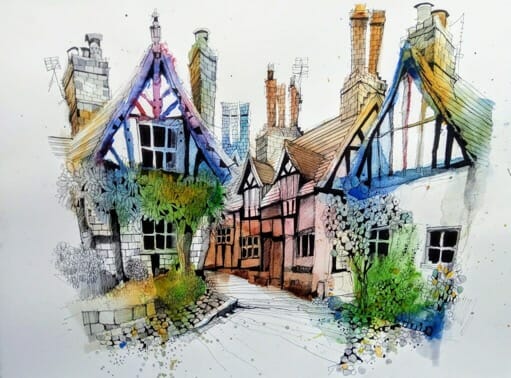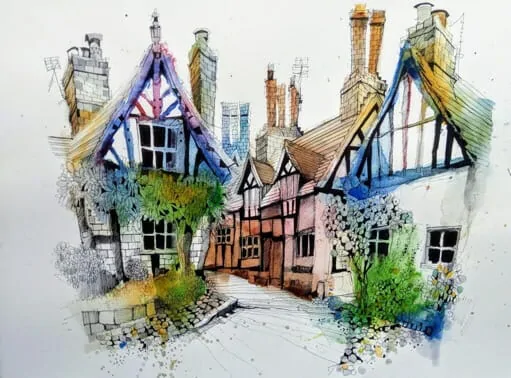 This is a very complex and visually rich scene with lots of houses, a lot of character, black and white timber structures, things growing in the foreground, and plenty of sandstone and cobbles.
But, Ian lays everything out in super simple steps – from sketching out the outline, then the medium shapes, then the colour before going in with the detail. You're going to thoroughly enjoy this creative learning journey around a beautiful, classic English village.
Burwardsley (Countryside)
Your third online workshop is very much a landscape masterclass, filmed from the top of a hill before the rolling English countryside.
In this workshop, Ian teaches you how to create that sense of space and depth as everything sweeps away from you.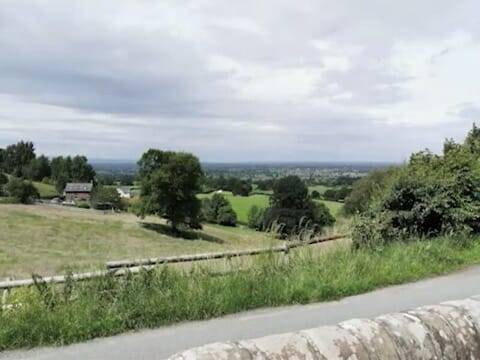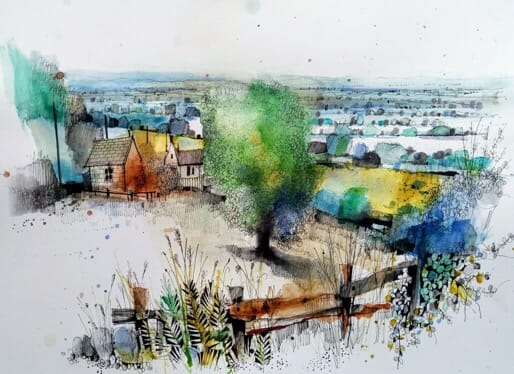 Ian breaks this landscape scene down into lots and lots of steps, referencing the hedgerows, the trees, the fencing and the buildings.
But, what's different about this workshop is that he uses a very specific set of colours, which are different for a landscape than you would normally use for a regular urban sketching scene. You will discover why he does this and how he does it in Workshop 3!
Shotwick (Church)
For your fourth workshop, we travel with Ian to a tiny little village full of sandstone cottages with a gorgeous church at the end.
You will learn how to draw and integrate the church, the sandstone cottage and all the stonework and the structures around it to ensure that the church fits within the context of the village.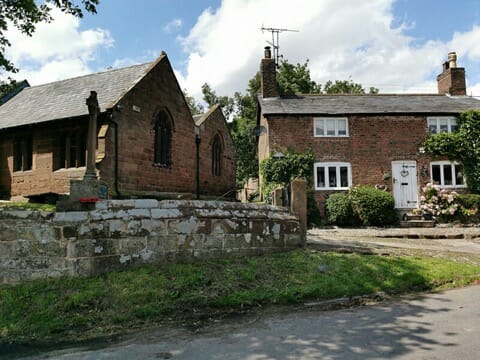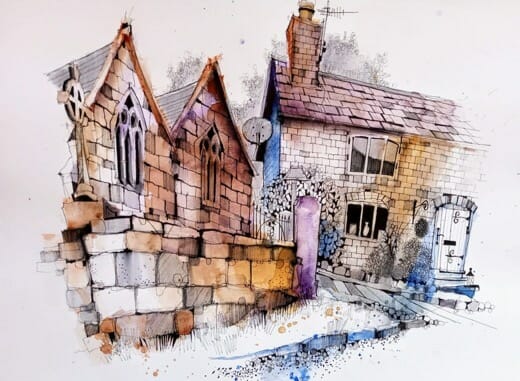 The detail in this workshop is the focus because of the beautiful brickwork and sandstone. You'll learn how they work together and how to tell the fascinating stories of their history through your artwork.
You'll also be privy to an unexpected hurdle that Ian had to overcome at the very start of this workshop. You'll see firsthand how he overcame this issue, and why challenges like this bring so much love and appreciation for this craft of urban sketching!
Lower Bunbury (Village)
This workshop is all about telling the story of this stunning little village, with its pub and the cottage in the centre, with its black and white beams.
The focal point will be the cottage. You will watch, learn and follow-along and see how Ian uses the pub and the building to 'frame' the cottage in the middle and tell lots of stories with this scene.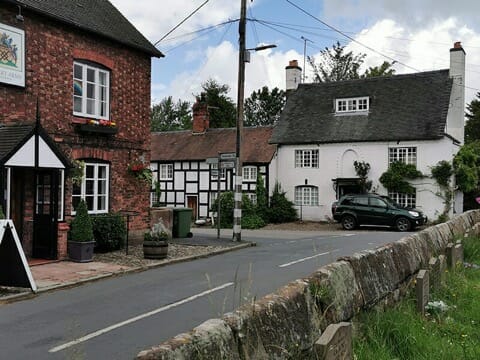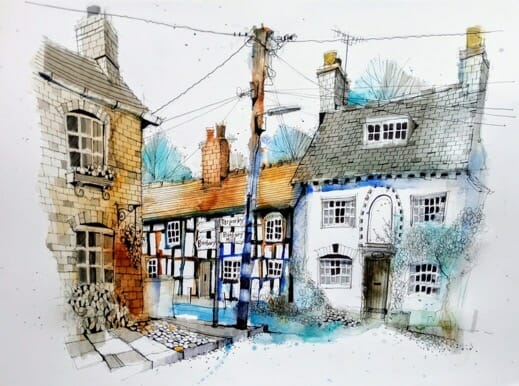 Ian breaks this scene down into lots of small steps, sketching out the big shapes with the brush pens, going in with the fine liners, applying the colours before using the brush pens to calm it all down and make it more 3-dimensional.
Finally, he goes in with the detail to really tell the story while explaining the how and why of everything he is doing as he goes along.
Black & White Tonal Quick Sketch!
In this exclusive bonus workshop Ian walks you through his 3-step sketching process for producing stunning black and white drawings. Watch, learn and follow-along as he breaks down his process to produce this beautiful picture of a black and white timbered framed classic English cottage: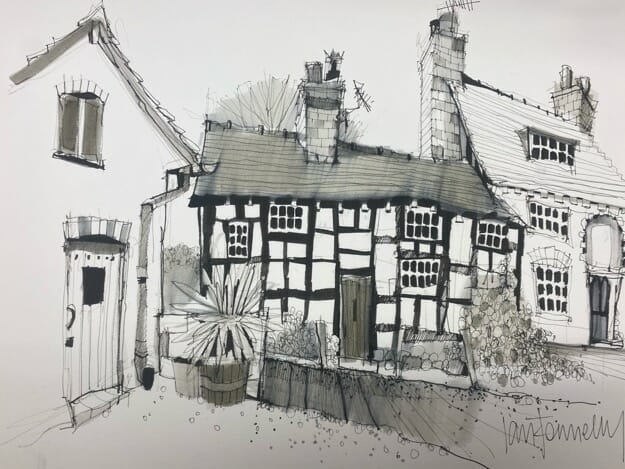 6 Workshops Packed into 1 Incredible Course!
The 5 Villages Sketching Tour is urban sketching in its purest form. It's a course packed not only with Ian's brilliance as an artist and teacher, but one that gives you honest insights into the real-world challenges that you may encounter on your journey.
Watch, learn and be entertained as Ian encounters challenges such as the hilarious 'wheelie bin' episode to the inconveniently parked horsebox! And all while creating and teaching you, in amazing step-by-step detail, how to draw and paint 6 beautiful pieces of urban artwork.
The 5 Villages Sketching Tour is Ian's most comprehensive (and entertaining!) course yet.
The 5 Villages Sketching Tour is a virtual hand-holding masterclass that takes you from blank page to urban masterpiece – all delivered in Ian's warm, engaging and humorous style. You're going to love it!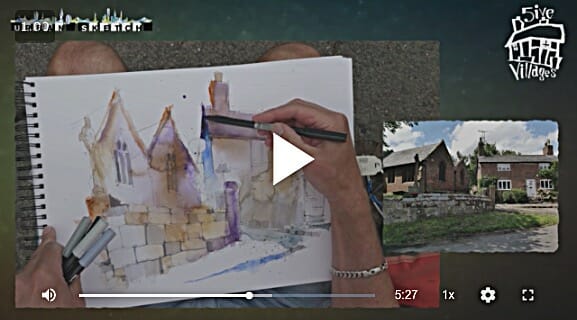 To have the pleasure and privilege of learning, while watching over-the-shoulder of a world-class artist revealing a lifetime of hard-learned secrets, would be out of the budget for many people.
However, we've made this value-packed course extremely affordable when compared to the costs of attending physical workshops.
Best of all, you can pause, rewind, speed up or slow down the tutorials to a pace that suits you. And you can watch them over and over again, until you know this stuff as well as Ian does.
What People are Saying and Achieving with this Course…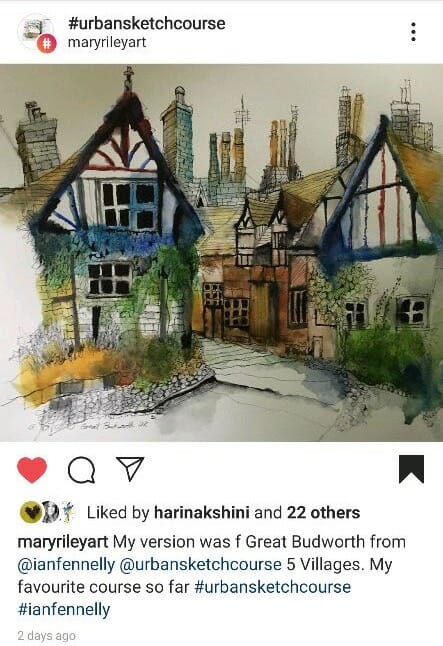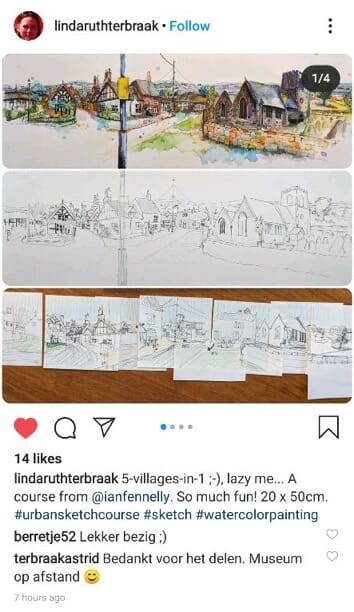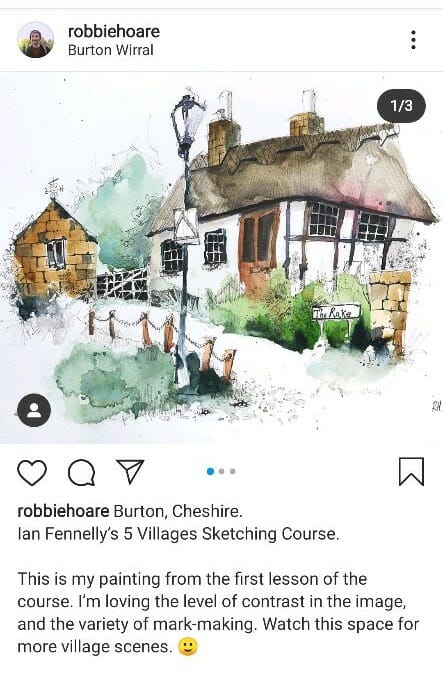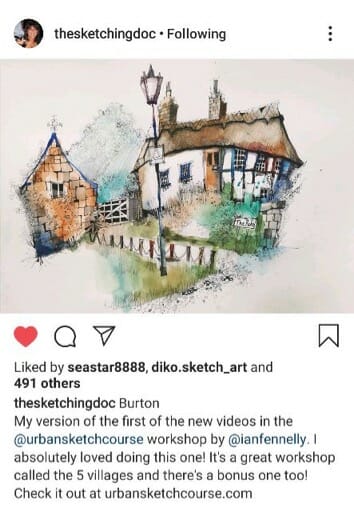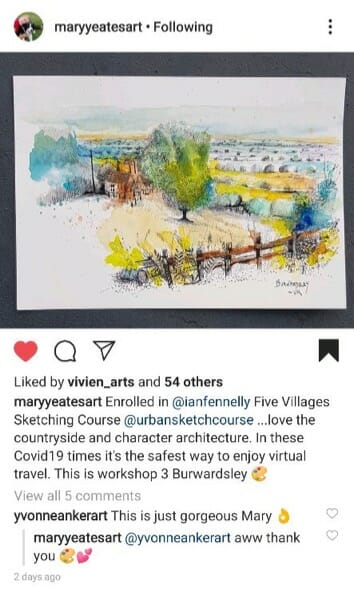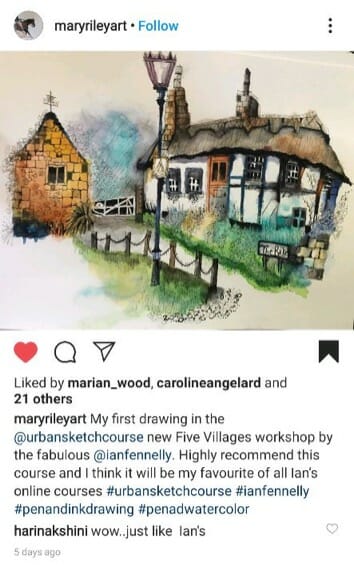 Don't delay. Join Ian on an Incredible Urban Sketching Journey TODAY!
Hit the button below to sign up to 'Ian Fennelly's 5 Villages Sketching Tour'. For one affordable price, you get instant, 24/7 lifetime access to all 5 packed workshops + bonus sketching workshop:
CHOOSE FROM ONE OF THESE TWO FAST AND SECURE PAYMENT OPTIONS TO GET STARTED TODAY:
Single Payment
Only
✔

Workshop 1: Burton (Barn)

✔

Workshop 2: Great Budworth (Street)

✔

Workshop 3: Burwardsley (Countryside)

✔

Workshop 4: Shotwick (Church)

✔

Workshop 5: Bunbury (Village)

✔

BONUS Workshop: Black & White Tonal Sketch
24/7 Lifetime Access
90 day money-back guarantee
Spread the Cost
Make 4 Monthly Payments of Only
✔

Workshop 1: Burton (Barn)

✔

Workshop 2: Great Budworth (Street)

✔

Workshop 3: Burwardsley (Countryside)

✔

Workshop 4: Shotwick (Church)

✔

Workshop 5: Bunbury (Village)

✔

BONUS Workshop: Black & White Tonal Sketch
24/7 Lifetime Access
90 day money-back guarantee