FREE URBAN SKETCHING COURSE
LEARN WITH IAN FENNELLY
Join urban sketcher Ian Fennelly in this free online course as he guides you through his process for quick sketching a black and white village scene
COURSE DETAILS
In this free urban sketching course, you'll get to watch, learn and follow-along with Ian Fennelly on-location as he breaks down his 3-step process for sketching this delightful English village scene.
THE LESSONS
Broken down into 3 stages, this free urban sketching course takes you step-by-step from blank page to a finished black and white tonal sketch, while teaching you lots of tricks and techniques you can apply to your own sketches.
The course is suitable for beginners through to advanced artists.
Stage #1:
Sketching the Outline
The specific materials and pens to use for black and white tonal sketches.
How to sketch out the basic composition on your page.
How to work out the shapes you need to draw.
How to mark out the key features, such as windows & timber beams.
Which elements to include that give your sketch a strong structure.
The elements you should leave out when quick sketching.
How to be inventive with your sketches when not using color.
How to make any sketch even more visually interesting.
Stage #2:
Drawing the Detail
The 3 types of lines you should draw
How to use line thickness to your advantage
How to draw roofs using Ian's plumb line technique
How to sketch windows and doors
Quick pen work techniques for applying texture and patterns
The surprising key feature that Ian almost never counts in his sketches
How to mark out the right tones with your brush pens
Smudge effects tricks that make your sketches 3-dimensional
How to vary tonal values to create different effects
The subtle 'suggestive' feature you should include in all your sketches
What to leave out of your sketches, especially when short on time
The overlooked feature of buildings that adds character to your sketches
The 'trivial' elements of a scene that you should exaggerate
Why you should never finish your sketch immediately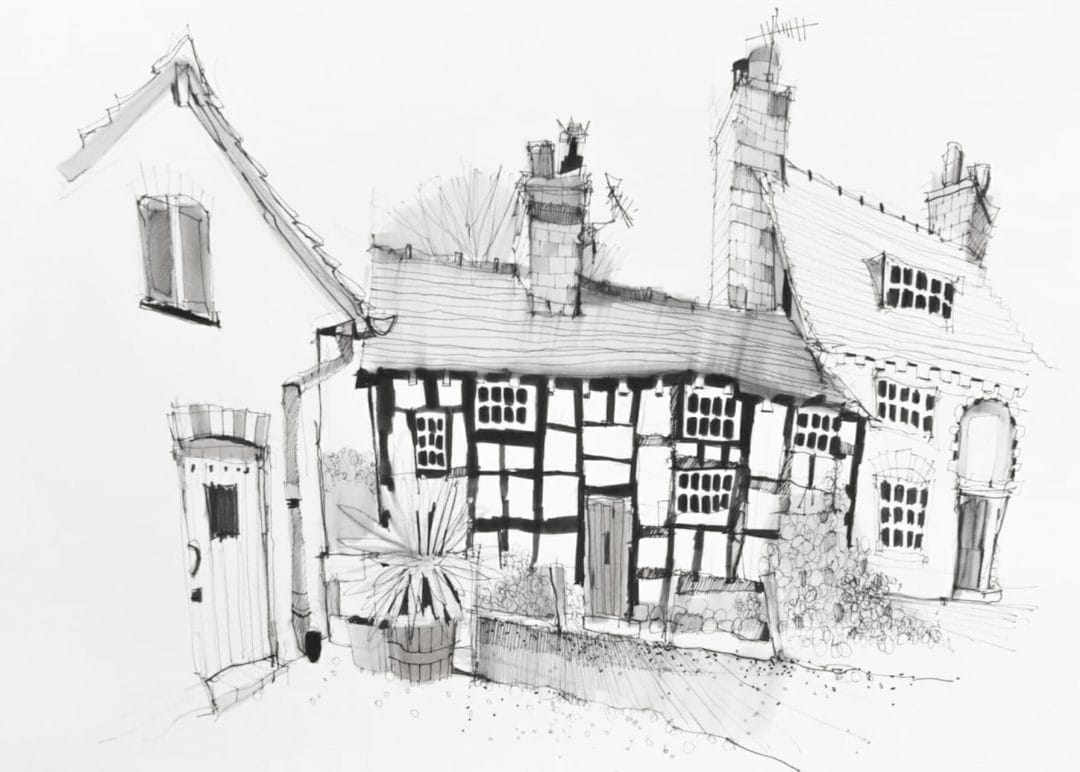 YOUR INSTRUCTOR
Ian Fennelly has built an extraordinary reputation as one of the world's finest urban sketchers and most sought-after teachers. His distinct style of on-location art, engaging teaching methods and all-round creativity has earned him a passionate global following.
GET STARTED TODAY
Click the button below to get free instant, lifetime access to this fun and engaging urban sketching course. This is a rare opportunity to learn from one of the world's best-loved urban sketchers, at no cost.
You can work through the course in your own time, from your phone, tablet, or computer. It is suitable for beginners through to advanced artists.
✔

Free urban sketching course (3 lessons)

✔

Downloadable Reference Image

✔

Image Steps

✔

24/7 Lifetime Access
✔ Free urban sketching course (3 lessons)
✔ Downloadable Reference Image
✔ Image Steps
✔ 24/7 Lifetime Access
FREQUENTLY ASKED QUESTIONS
Start accordion closed
What is the difference between this free urban sketching course and the paid courses you offer?
There are some notable differences between this free urban sketching course and our paid-for courses:
1. This is a black & white only sketch, so no color is involved. In our paid-for urban sketching courses, Ian goes into considerable depth when it comes to color; how to choose the right colors, how to mix and apply colors and much more.
2. This is a quick sketch that is broken down into just 3 stages. In our regular courses, typically more stages and more detail is involved and Ian works at a slightly slower pace.
3. This is a much shorter course than our paid-for courses, which typically include several workshops with many hours of training.
Even so, this free urban sketching course is packed with learnings, tips and techniques that will improve your skills and confidence. It's a rare chance to work alongside Ian Fennelly, who is regarded as one of the world's top urban sketchers and teachers.
Can I follow along with Ian while taking this course?
Yes. Ian has broken this scene down into 3 separate stages, and within each of those stages, he takes you through each step in the process while explaining everything he is doing. Ian is an experienced and engaging teacher, so this is learning that you will thoroughly enjoy.
You can also slow down, pause, or speed up the tutorials to suit your own style of learning.
Why is this sketching course free?
This sketching course is free because we understand that not everybody is in a position to invest in our more in-depth training courses.
This free course is not designed to replace our range of extensive sketching courses, but it will give you plenty of valuable guidance and real-world insights into urban sketching.
This is ideal if you are new to urban sketching and want to find out a little more before investing any time and money into learning more.
However, please don't discount the value of this course just because it is free! This course has been professionally filmed and developed by an expert team and is delivered from our cutting-edge training platform. We're positive you'll be delighted with it!
How long is this free urban sketching course?
This is a quick sketching course that you can complete within an hour. The video learning controls allow you to speed up or slow down each tutorial so that you can absorb the content at a pace that suits you.
Where was this course filmed?
This course was professionally filmed in the lovely village of Bunbury, which is in the county of Cheshire, England. Bunbury has many old cottages and narrow winding lanes, which made it an ideal location for Ian to teach you some of his quick sketching techniques.
Will I learn watercolor?
No, this is a black and white sketching class that uses black and grey fine liners and brush pens. If you're interested in learning Ian's watercolor techniques, then check out our range of urban sketching courses here, which all cover watercolor in considerable depth.
However, as Ian explains in the course, sketching in black & white from time to time is good practice. It helps you to develop other skills that are forced to come into play to compensate for a lack of color.
Sketching in black & white is also ideal for those situations when you simply don't have a lot of time to draw.
What is included in this free urban sketching course?
When you sign up you'll get:
A free urban sketching course (3 lessons).
The follow-along photograph to download and work from.
Image steps so that you can see each stage clearly.
Lifetime access to the course and learning portal.
What else will I learn from this free course?
As well as the technical skills you'll gain (as described on this page); you'll also learn how to be inventive with your sketches while bringing elements of fun into them. You'll learn how to sketch more freely and how to make your pictures more visually interesting.
You'll also get a real-life taster of what it's like to sketch on-location and some of the challenges you may come up against. All of this while learning from Ian Fennelly, a master in the art of urban sketching.
Sketch this Scene with Ian Fennelly in 3 Easy to Follow Stages