BY IAN FENNELLY
Through each exquisitely illustrated page, Ian takes us on an uplifting journey, sharing heartening stories, amusing anecdotes, and the inspiration behind some of his best-loved sketches.
Finding inspiration can be a challenge for any artist, but this brand new book from Ian Fennelly proves that inspiration is all around us, and comes in many forms too.
A simple hanging basket, an overgrown tree, a quirky building, an abandoned boat, discover how Ian takes inspiration from the world and uses it to document the shapes, the colours, and the stories he encounters in everyday life.
In Finding Your Inspiration, you'll be swept away on an exhilarating sketching journey, as Ian shares the highs and lows of drawing on location, and the personal stories behind some of his finest work, so that you can find your inspiration.
Order Your Copy Today
£27.99
WORLDWIDE SHIPPING AVAILABLE
1-2 WEEKS PROCESSING TIME
No one likes waste (us included), which is why our books are sustainably printed, and are only produced when ordered. This means that your book may take a little longer to reach you, but you can rest easy knowing that you've helped the planet in the process!
"Finding Your Inspiration is beautifully written and exquisitely illustrated throughout. A must-read for every urban sketcher."
Just to let you know that the book has arrived and it is wonderful. Very inspirational and I have read it through several times and love it.
I love Ian's book "Finding Your Inspiration", which shows off his colourful, seemingly simple but beautifully drawn sketching technique. Exploring a place, seeking out locations to sketch and choosing a point to view and frame a suitable subject is crucial to the outcome. Ian's approach is enlightening and easy to understand. The style of the book is uplifting. A joy!
Ian's book has arrived and it is so worth the wait! I cannot tell you how excited, inspired and 'pumped' I am. Just by studying his pictures closely I am learning so much about his methods and how he achieves the look that he gets. Thank you for the great work you put out which brings so much happiness to soooooo many people!
I received Ian Fennelly's book, Finding Your Inspiration,  and it's a treat.
When you feel the book right out of the package, the quality of the cover stock and paper stand out, and this high quality plays very well to lan's highly detailed drawings. The reproductions are large-many in double page spreads, which I love -so that none of the bold character and fine subtlety of the line work is lost, and lan's bold colors leap of the page.
But there are also lessons in what is not drawn, and the use of lots of white space in these compositions is, in my view, one of their greatest strengths. Anyone can learn a lot from analyzing these amazing drawings. There's lots of very descriptive text well, which is less about technique and more way to listen in on lan's internal thoughts while finding, analyzing and drawing a subject.
There are plenty of lan's stories from the road as well. I really enjoyed spending time with this book, and I know I'll return to it many times, because I see something new in the drawings with each viewing.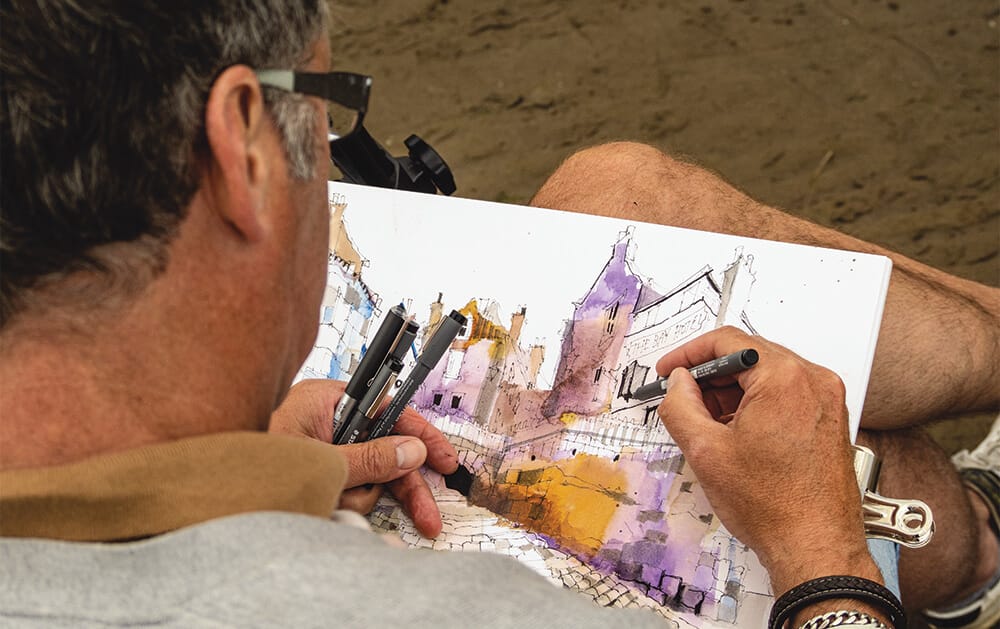 ABOUT THE AUTHOR
Ian Fennelly has built an extraordinary reputation as one of the world's finest urban sketchers and most sought-after teachers.
Ian's distinct style of on-location art, engaging teaching methods, and all-round creativity has earned him a passionate global following.
'Finding Your Inspiration' is beautifully written and exquisitely illustrated throughout.