Make the world your studio with our range of engaging online urban sketching courses filmed on location!
Learn Urban Sketching with Artist & Teacher, Ian Fennelly
Learn urban sketching with our range of unique online urban sketching courses, developed with master urban sketcher and teacher, Ian Fennelly.
Each course is filmed on location and takes you step-by-step from blank page to finished artwork. Courses are suitable for beginners through to advanced level.
Urban Sketch Beginners Course
★ MOST POPULAR
Join Ian Fennelly as he guides you through 47 easy-to-follow lessons and practical exercises that will transform you from complete beginner to skilled urban sketcher!
Certificate in Urban Sketching
This Certificate in Urban Sketching course consists of 8 modules and online tests that guide you through Ian Fennelly's unique sketching processes and style. At the end of the course, you will be awarded with a Certificate of Achievement you can be proud of. Includes self-assignments and bonus interviews with Ian.
Pub Sketching Tour
Watch, learn and follow-along with Ian as he takes you on a fascinating learning journey to 4 quaint British pubs while teaching you the techniques and style that have made him one of the world's best loved urban sketchers!
Five Villages Sketching Tour
Learn urban sketching through an exciting and creative new journey to 5 classic English villages while he teaches you the techniques and style that have made him one of the world's best loved urban sketchers!
Greatest Hits of London
Join Ian Fennelly in drawing and painting some of London's most iconic places while learning his 3-step 'quick sketching' process that you can apply anywhere!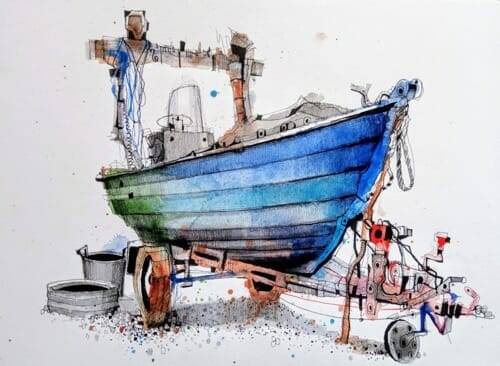 Urban Junkyard
Follow-along with Ian at his local junkyard as he breaks the mould of 'traditional' urban sketching and teaches you step-by-step how to confidently draw and paint anything in his own much-loved style.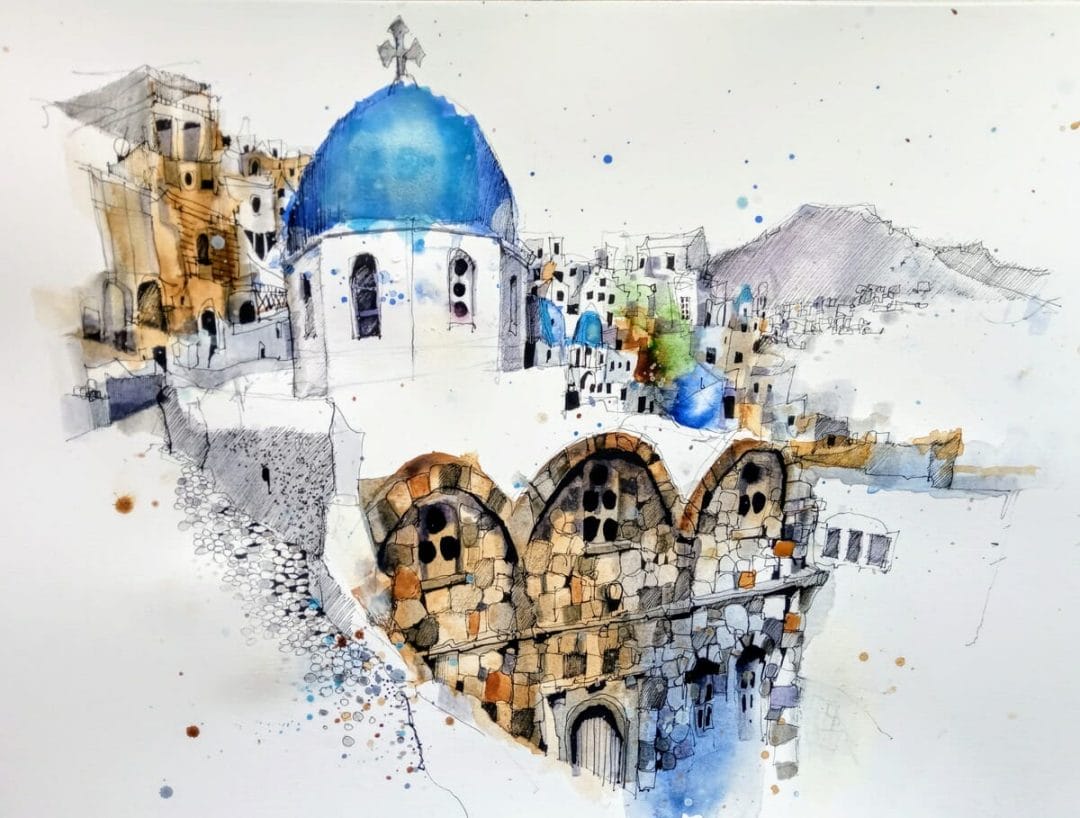 Virtual World Sketching Tour
Join Ian Fennelly in his home studio as he takes you on an incredible journey to 4 exciting countries while teaching you the exact techniques and style that have made him one of the world's most revered urban sketchers!
Sketch Wales
Learn with Ian Fennelly as he teaches you his latest urban sketching methods while capturing the inexplicable charm of one of the world's most enchanting countries!
Urban Zoo Sketching Course
From the feathered to the furry, from the plain to the patterned, and from the massive to the minuscule, the Urban Zoo Sketching Course teaches you how to sketch and paint incredible urban style pictures of animals through 16 engaging online workshops delivered by Ian Fennelly.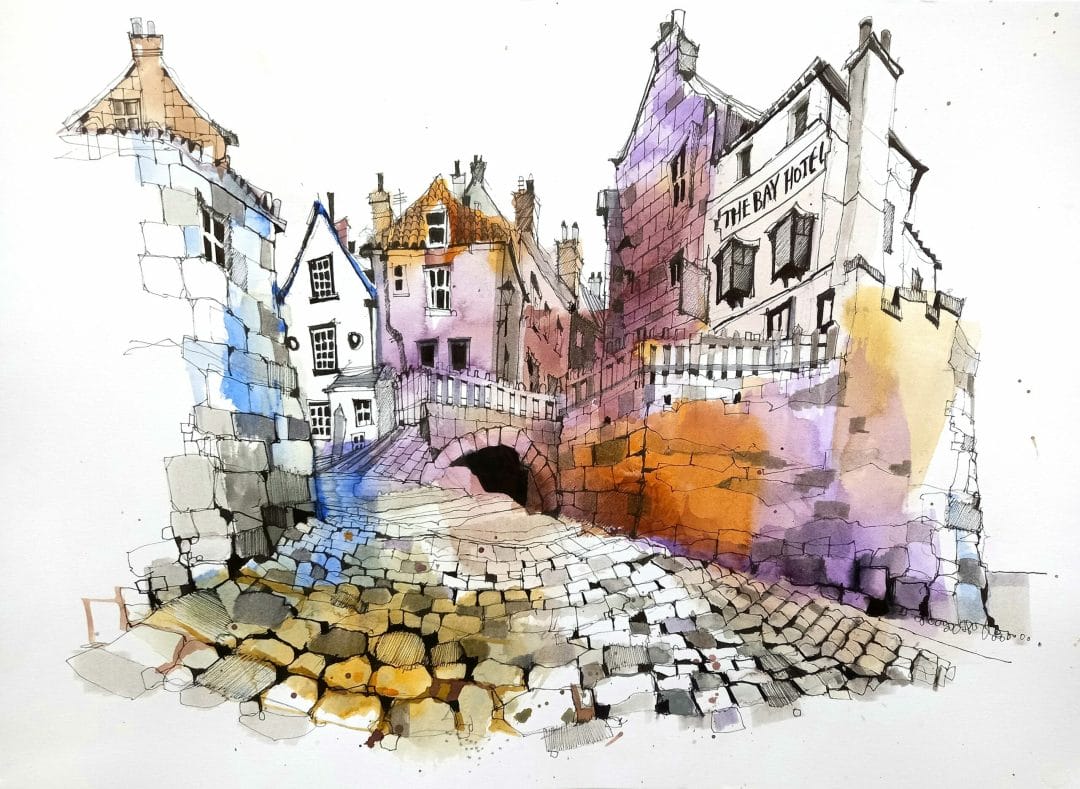 Robin Hood's Bay Sketching Course
Tucked away in the cliffs of North-East England is a spectacular fishing village that's steeped in history and bursting with myths, legends and fantastic true-life stories of pirates and smugglers!
Sketch Barcelona
★ NEW COURSE
Few cities can match Barcelona for its architecture, its creativity, and its artistic influence on the world.
In this phenomenal new course, filmed in the heart of Barcelona, Ian Fennelly takes us on a breathtaking sketching journey, while sharing his finest lessons for capturing the extraordinary architecture, iconic structures, and undeniable charm of this enchanting Spanish city.
Take a look at just some of the incredible work our students are producing as a result of taking our urban sketching courses. And you'll find many more examples on Instagram. Why not join them and learn urban sketching with Ian Fennelly?
Jodie Cooper
"Urban sketching online with @ianfennelly honestly I aspire to be able to create what @ianfennelly creates. I highly recommend his @urbansketchcourse Here is the result of my third online tutorial... Close but no Cigar... pretty happy none the less 🙌 practice practice practice because if you #dreamdesigncreate it will happen 🥰"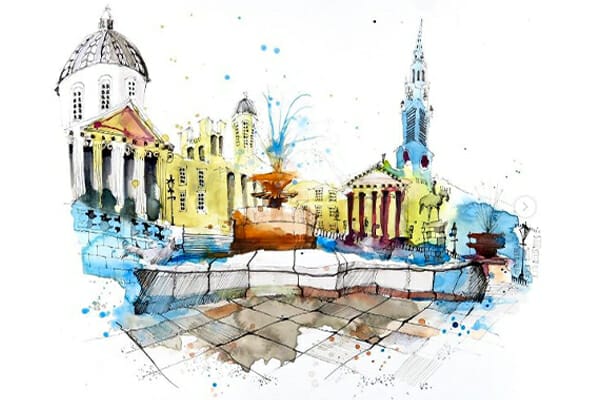 Robbie Hoare
"Trafalgar Square, London. Painted alongside Ian Fennelly's Greatest Hits of London Course. This is my first painting from Ian's latest Urban Sketch Course. This course focuses on simplifying complex scenes and how to work at a faster pace in busy environments. I've also taken the daunting step of painting on A3 rather than A4. 😬"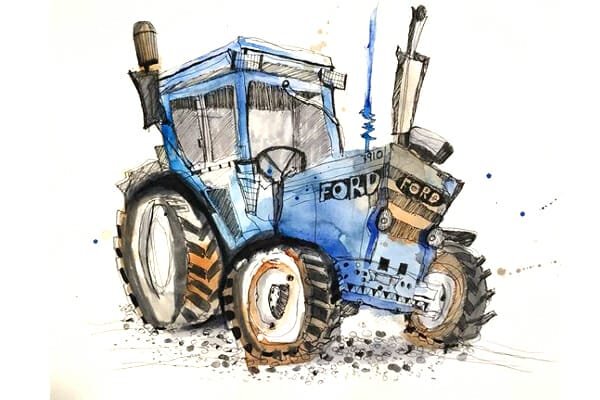 Mike Loci
"Stepped out of my comfort zone for a few vehicle sketches with @urbansketchcourse junkyard series, loved it!"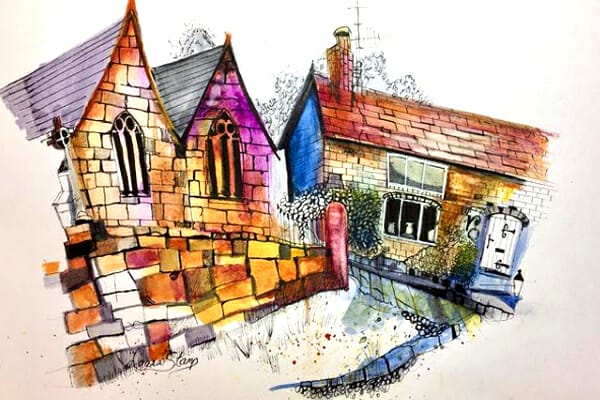 Laura Stamp
"My fourth watercolor and pen sketch of Shotwick Village from the new Urban Sketch workshop "5 Villages tour" by @ianfennelly and #urbansketchcourse I have learned soo much about urban sketching and have so much fun with Ian Fennelly. Hard to pick a favorite!"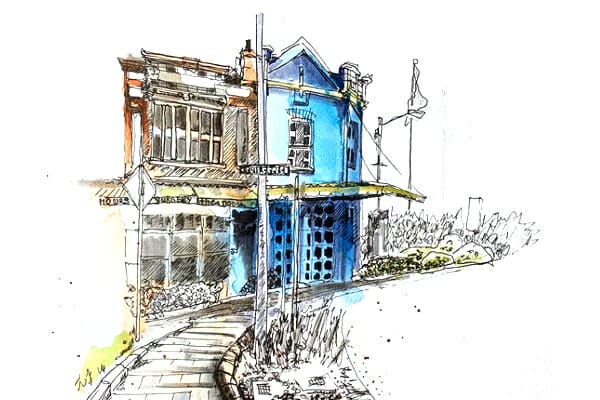 Gul Gunizi
"today I travelled to Leura, The Blue Mountains, Australia with @ianfennelly , thanks to his Virtual Sketching tutorial... excellent course, step by step instructions 😍 and I am eager to follow with coming projects... 🤩"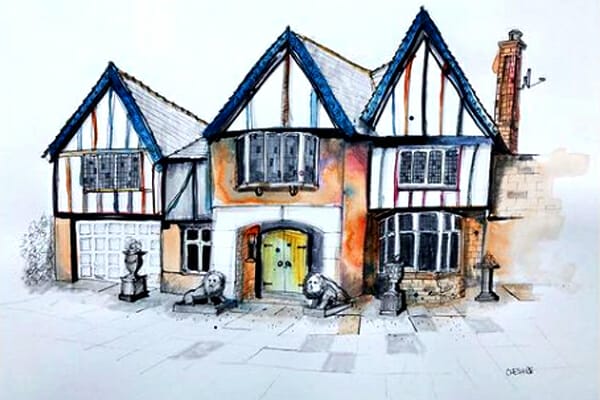 Rob Ward
"First work undertaken in the urban sketching course I was bought for Christmas. Really enjoying the course run by the fabulous Ian Fenelly."
At Urban Sketch Course we have created the most engaging, diverse and highest calibre urban sketching courses available anywhere, which is why we are consistently given 5-star ratings on Trustpilot & Google Reviews:
Ian Fennelly is one of the world's most revered urban sketchers and sought after teachers.
Through our range of courses, you'll learn urban sketching – Ian Fennelly style! Ian breaks down his well-loved style into easy-to-follow steps, while revealing the tricks and techniques developed and refined through years of dedication to the craft of urban sketching.
Best of all, you can do it too! To learn urban sketching, all you need is a fine-line pen, a simple sketch book and a willingness to watch, listen and learn from a coveted urban sketcher and captivating teacher.
We are delighted to offer you this unique opportunity to purchase the signed limited edition Giclee prints that were created by Ian exclusively for our Certificate in Urban Sketching course.
As well as access to one of our popular online courses, you will also be invited to join a private, student only feedback gallery. Here you can share your newfound urban sketching skills, receive feedback and leave comments for other students too.
There is no better way to learn urban sketching than to get feedback and advice  on your work Watch as you progress through the course with the advice and feedback from other learners who are sharing this journey with you.
Frequently Asked Questions
I'm a complete beginner artist, can I take your courses?
You have come to the right place to learn urban sketching. No prior knowledge, experience or qualifications are required to take our courses. Each course has been carefully designed to suit everyone from absolute beginners to keen amateurs and even established artists. Best of all, you can pause, rewind, speed up, slow down and watch the tutorials over and over again, until you know this stuff as well as Ian does!
How long do I have access to the courses?
You get full, unrestricted lifetime access to each course which you can access at any time, 24/7. There are no time limits, no restrictions of any kind and no pressure whatsoever! As soon as you sign up to a course, you will have access to work along at your own pace -watch the Modules once a week or even binge-watch as much as you want. It's completely up to you.
What kind of materials do I need?
Urban Sketching is about the documentation of a scene and not the materials used; it is completely up to you what equipment and supplies you use. Ian will be using watercolours, fine liner pens, brush pens, and more! Here is a suggested list of items to use within our courses: Urban Sketching Kit List.
Are there any age restrictions for registering?
The age range of our students varies significantly from school and college students, right up to senior citizens. The course content has been designed to accommodate anyone of any age and ability. However, in the interest of children's online safety we do have a minimum age requirement of 13 years. See our terms and conditions for more details.
Do I need any computer skills?
No. Just click play, watch, learn and follow along with Ian. All of our courses are streamed to your device using adaptive bitrate technology, which, in layman's terms means that you can watch them anywhere, on any device and they will work even on slower internet connections.
Free Urban Sketching Course
Grab your FREE urban sketching course with Ian Fennelly!
In this free course, Ian teaches you his 3-step process for sketching a delightful English village scene: