FREE

 SKETCHING DEMONSTRATION
With Ian Fennelly
Watch and learn with Ian Fennelly in this FREE online sketching demonstration.
During this free demonstration sketch, Ian takes you through the process of sketching and painting this 1939 Ford Truck in his own unique style.
Simply create a free Urban Sketch account below and you'll get instant, lifetime access to the recording of this fun and engaging event. You can watch it in your own time, from your phone, tablet or computer.
And of course, feel free to sketch along with Ian! This is a rare opportunity to watch and learn from one of the world's finest urban sketchers.
Access Ian Fennelly's
FREE sketching demonstration today!
Price:
FREE
To access the recording of this special demonstration sketch, simply click the button below and create a free account:

You'll get:
✔

Demonstration Sketch recording (with Q&A)

✔

Downloadable Reference Image

✔

24/7 Lifetime Access
RESULTS FROM THIS FREE SKETCHING DEMONSTRATION
Here is just a small selection of the wonderful comments and incredible results that have poured in from Ian Fennelly's free demonstration sketch which can all be found on Instagram #urbansketchcourse: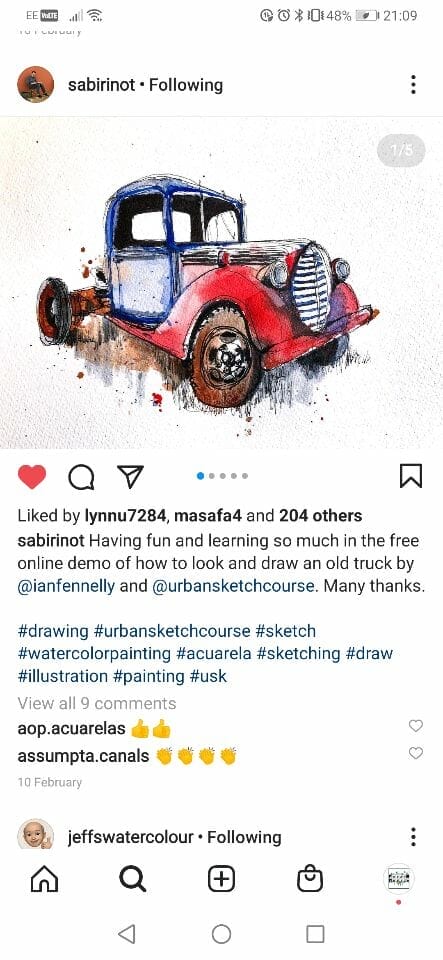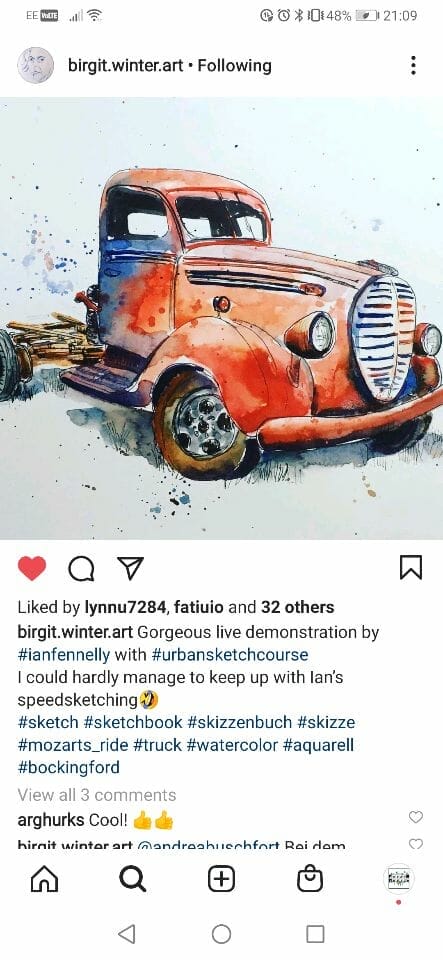 Frequently Asked Questions
What is the difference between a demonstration sketch and a sketching workshop or course?
This sketching demonstration involves watching Ian Fennelly sketch a classic American truck while he talks through all the steps he is taking to go from blank page to final artwork.
In this demonstration sketch, Ian sketches at his usual, brisk pace which can be difficult for many to keep up with.
Our sketching workshops and courses on the otherhand are delivered at a much slower pace with the emphasis on teaching you how to do it, as each step is broken down and explained in much greater detail.
This allows everyone from beginner's to advanced artists keep up while ensuring an effective and engaging learning experience.
Of course, you are free to follow along with Ian in this free demonstration sketch and you can pause and slow down the video to help you.
How long is this free demonstration sketch?
This demonstration sketch by Ian Fennelly lasts for just over 60 minutes, and includes a question and answer session at the end.
In comparison, a typical workshop lasts 3 hours and our online sketching courses range between 5 and 9 hours of teaching.
Is this urban sketching demonstration really free?
Yes, it is 100% free and no credit card or payment is required to sign up.
This engaging urban sketching demonstration is designed to introduce you to Ian Fennelly, while also giving you lots of free valuable tips, ideas and lots of inspiration to get you started.
While you will learn a lot from this free demonstration sketch, it is not designed to replace our range of engaging online sketching courses and workshops which are delivered at a slower pace and in much greater depth.
Who is this free demonstration sketch designed for?
It's designed for beginners, amateurs and even advanced artists. Regardless of your 'level' you will find this free sketching demonstration a thoroughly enjoyable and engaging learning experience.
If you're ready to take your skills to the next level, then take a look at our range of in-depth, online urban sketching courses here.
How do I access this free demonstration sketch?
Simply create a free Urban Sketch Course account here. Once signed up, you'll have instant, life time access to Ian's demonstration sketch. You can watch it over and over again, as well as speed up and slow down the video to suit you.
You'll also get to watch and learn from the questions asked during the demonstration sketch.
What equipment do I need?
You are welcome to work along with Ian during this demonstration sketch. Here is Ian's recommended supply list:
A3 watercolour paper. Preferably hot press 300gsm.
Tombow Brush Pens – black and a range of greys, particularly the lighter greys – N15, N79, N89, N95
Black fine liner pens – from 0.1 – 0.5 Pilot, Staedtler, Faber Castell, Derwent – any of these brands are fine.
Watercolour pan set– Ian uses Winsor and Newton but any good brand will do. The most common colours in Ian's range are black, white, cadmium yellow, cadmium red, quinacridone gold, alizarin crimson, burnt sienna, raw umber, cobalt turquoise light, cerulean blue, ultramarine blue, winsor blue.
Watercolour brushes – variety of sizes from flats to riggers to small round heads.
ABOUT IAN FENNELLY
Ian Fennelly has built an extraordinary reputation as one of the world's finest urban sketchers and most sought-after teachers. His distinct style of on-location art, engaging teaching methods and all-round creativity has earned him a passionate global following.
In this free demonstration sketch you can watch and learn Ian's line-by-line methodology for sketching phenomenal urban art.