Ian Fennelly's Urban Sketching Pub Tour!
Click Play To Watch Ian's Course Introduction:
Watch, learn and follow-along with Ian as he takes you on a fascinating learning journey to 4 quaint British pubs while teaching you the techniques and style that have made him one of the world's best loved urban sketchers!
Through this completely original course, you'll be drawing, painting and rapidly developing your urban sketching skills as Ian breaks down his decades-learned process into step-by-step details.
Each British pub that you draw throughout this course is packed with personality and oozing the kind of characteristics and charm that make them an urban sketchers dream.
Urban Sketching Pub Tour is an adventure and learning opportunity you simply won't want to miss.
Here's What's Included in this exclusive Course:
The Wheatsheaf Inn
In the first of 4 exciting online workshops, you will watch, learn and follow-along as Ian shows you how to draw and paint this very old pub that was built in 1611.
Ian starts out by arranging his pens in a very particular way, before walking you through all the steps that take you from blank page to producing a striking picture like this. One that is packed with incredible detail, from the plant pots, to the pub benches, and even the dog bowl that all tell fascinating stories about the people that come here.
The Anchor
In the next workshop we visit The Anchor, which is an old Sandstone brick building. Throughout the lessons in this workshop we focus on the facade and what we can see and notice within this front elevation.From the drainpipes, the chimneys, the TV aerials, the windows, the sign, the bush, the post and many more intricate details – you'll learn how to include and draw it all within a very simple frame. But, this is a workshop that is not only about what to emphasise in your picture, but also what to leave out of your picture!
The Plasterers Arms
In this third online urban sketching workshop, we visit an old cosy and quirky fisherman's pub; The Plasterers Arms. This workshop is all about showing you how to zero in on all of the fantastic detail that's hanging on the facade, such as the lamps, the wires, the signage and so much more.Through these packed lessons you'll discover how to incorporate a tremendous amount of detail into simple structures like this. You'll also discover some simple, yet magical touches you can make to your art, such as how to angle an image slightly to create drama and much more.
The Hooton Arms
For your fourth and final workshop, we travel with Ian to the Hooton Arms where you'll hone your storytelling skills. As with all of Ian's workshops, he walks you through his formulaic process for crafting mesmerising art, starting with the big shapes, the medium size shapes, the colour (and how he chooses it), followed by the detail. And this workshop is really all about noticing the finer details – drawing what you can see and not what you know.
4 Workshops Packed into 1 Incredible Course!
Watch over Ian's shoulder and follow-along as he lays everything out in super simple steps – guiding you from blank page to simple lines, to basic shapes, and then on to adding colour before filling in all of the finer detail, piece by piece.Everything is clearly and concisely explained and broken down into micro-steps so that you develop the skills and confidence to draw and paint beautiful artwork like Ian's, without leaving your home.
Materials
You will discover the exact materials and tools Ian uses and why he uses them.
Thought Process
You will understand the specific thought process he goes through before he puts pen to paper.
Composition
You will learn how experts like Ian form the make or break composition of a picture and fit it onto their page.
Storytelling
You will learn how to tell stories through your artwork that connects with your audience at a deep emotional level.
Shapes
Learn the exact shapes to draw that make up Ian's artwork; starting with big shapes, followed by medium-size shapes and so on.
Colours
Discover the specific colours he uses that make his art leap off the page.
Detail
The devil is in the detail and detail is where Ian excels. He walks you step-by-step through how to notice and then fill in all of the finer detail that elevates your art from good to world-class.
Ian Fennelly's Urban Pub Sketching Tour is another really fun and fascinating urban sketching masterclass that takes you from blank page to producing some incredible artwork. Everything is delivered in Ian's warm, engaging and humorous style. You're going to love it!
And no course of Ian's would be complete without the customary urban sketching interruptions! From random, curious passers-by to being accosted by a pub landlady – everything is caught on camera and elegantly handled by Ian in his usual warm, friendly and humorous style.
Regardless of what level you're at, Ian Fennelly's Urban Sketching Pub Tour not only builds your skills but it gives you the confidence to get out and do this and easily handle any uncertainties that might crop up along the way!
What People are Saying and Achieving with Ian's Courses…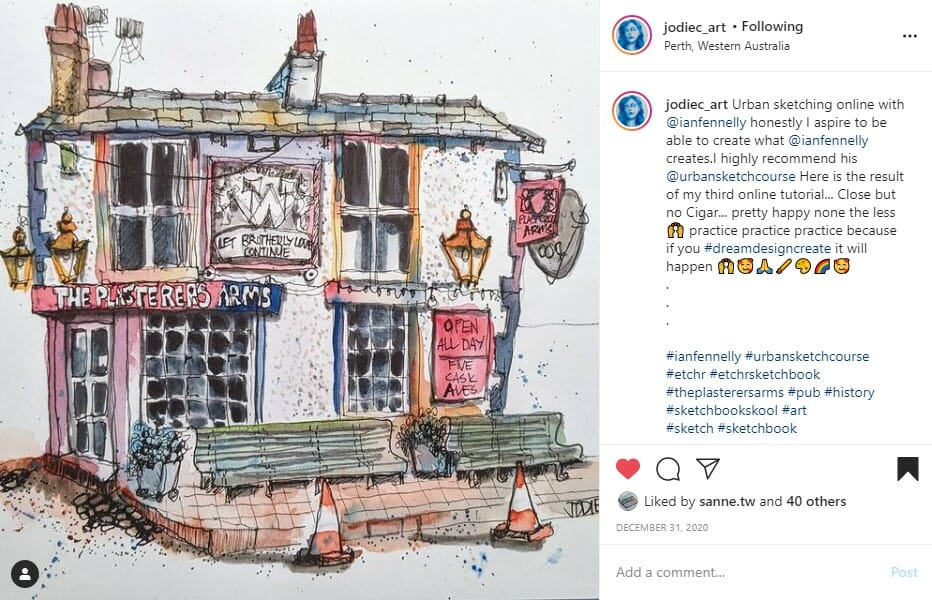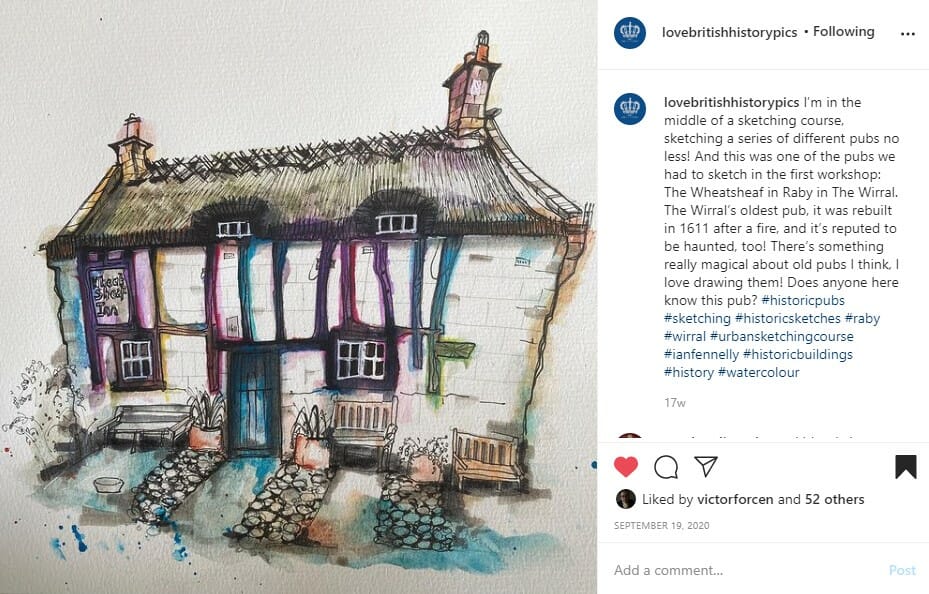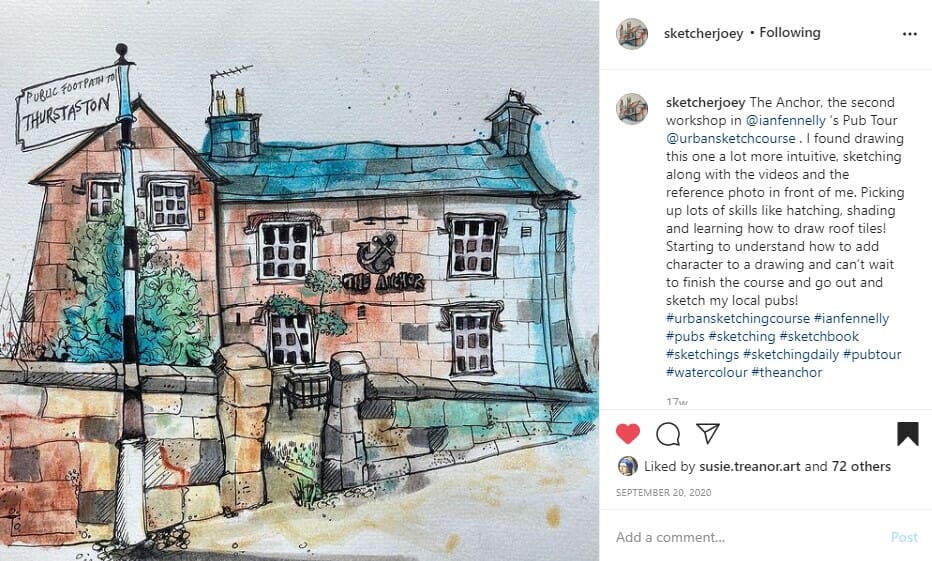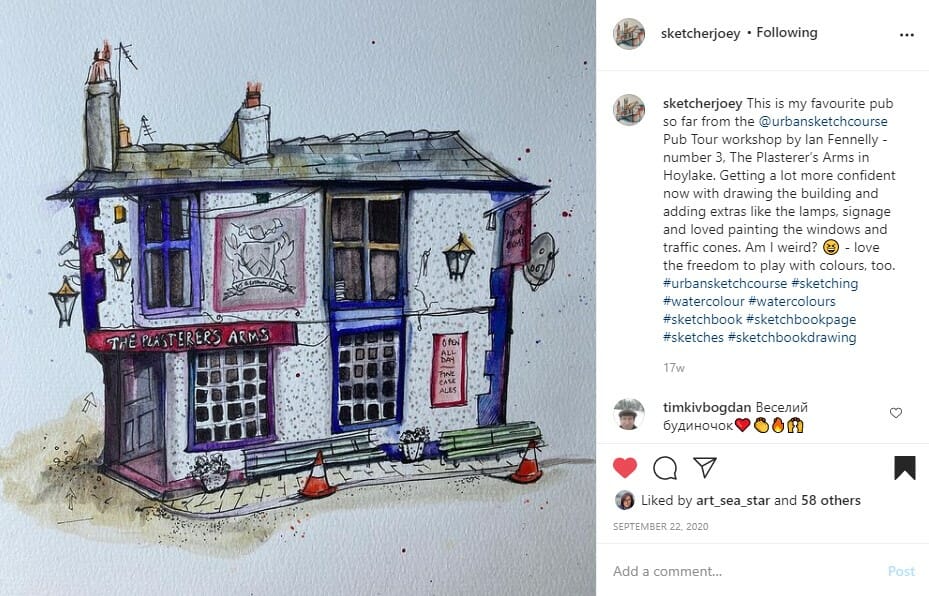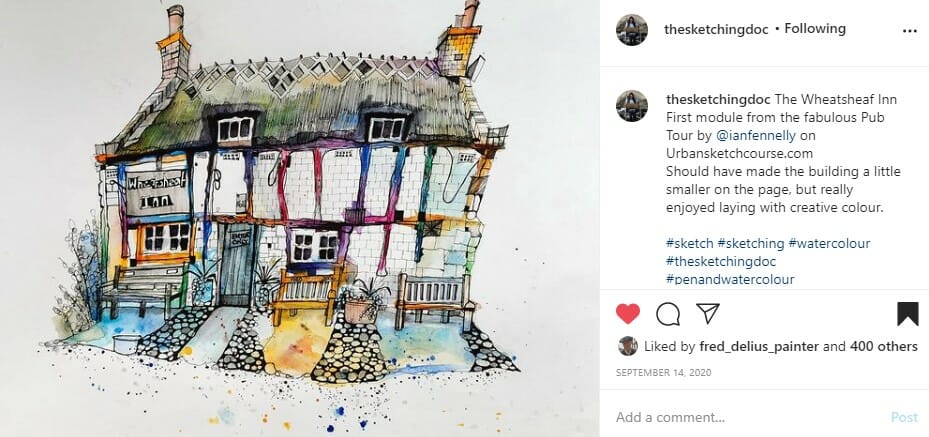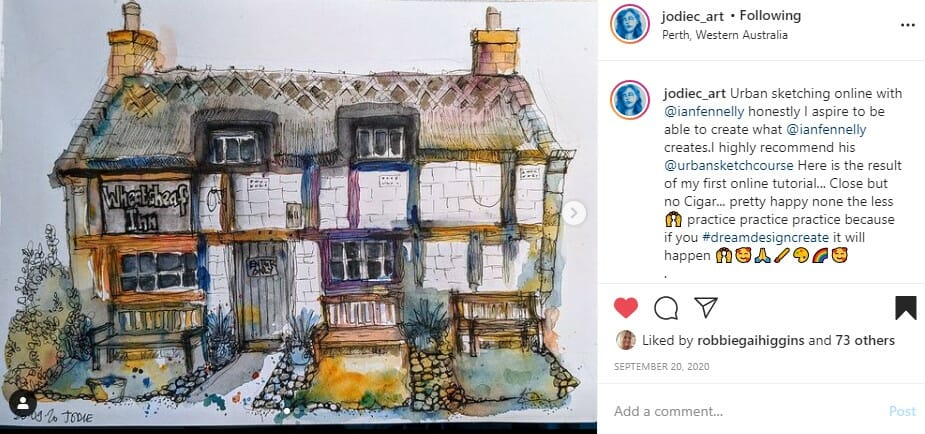 Don't delay. Join Ian on another fun and fascinating Urban Sketching learning adventure TODAY!
This value-packed course is extremely affordable when compared to the costs of attending a physical urban sketching workshop. Even better you can pause, rewind, speed up or slow down the tutorials to a pace that suits you. And you can watch them over and over again, until you know this stuff as well as Ian does.
Hit the button below to sign up to 'Ian Fennelly's Urban Pub Sketching Tour'. For one affordable price, you get instant, 24/7 lifetime access to all 4 packed workshops:
CHOOSE FROM ONE OF THESE TWO FAST AND SECURE PAYMENT OPTIONS TO GET STARTED TODAY:
Single Payment
Only
✔

Workshop 1: The Wheatsheaf

✔

Workshop 2: The Anchor

✔

Workshop 3: The Plasterers Arms

✔

Workshop 4: The Hooton Arms
24/7 Lifetime Access
90 day money-back guarantee
Spread the Cost
Make 3 Monthly Payments of Only
✔

Workshop 1: The Wheatsheaf

✔

Workshop 2: The Anchor

✔

Workshop 3: The Plasterers Arms

✔

Workshop 4: The Hooton Arms
24/7 Lifetime Access
90 day money-back guarantee