Sketch Wales With Ian Fennelly!
CLICK THE VIDEO BELOW TO WATCH THE COURSE INTRODUCTION
Learn with Ian Fennelly as he teaches you his latest urban sketching methods while capturing the inexplicable charm of one of the world's most enchanting countries!
THE LOCATION
Wales is a captivating country steeped in culture, myth and legend that has inspired countless poems, movies, and fantasy novels.
And when you see the awe-inspiring Welsh landscape with its rolling hills, dramatic mountains, magnificent medieval castles, rugged coastline, picturesque harbours and ancient towns bustling with life….

It will come as no surprise that Ian chose Wales as the perfect location to teach you his very latest urban sketching methods!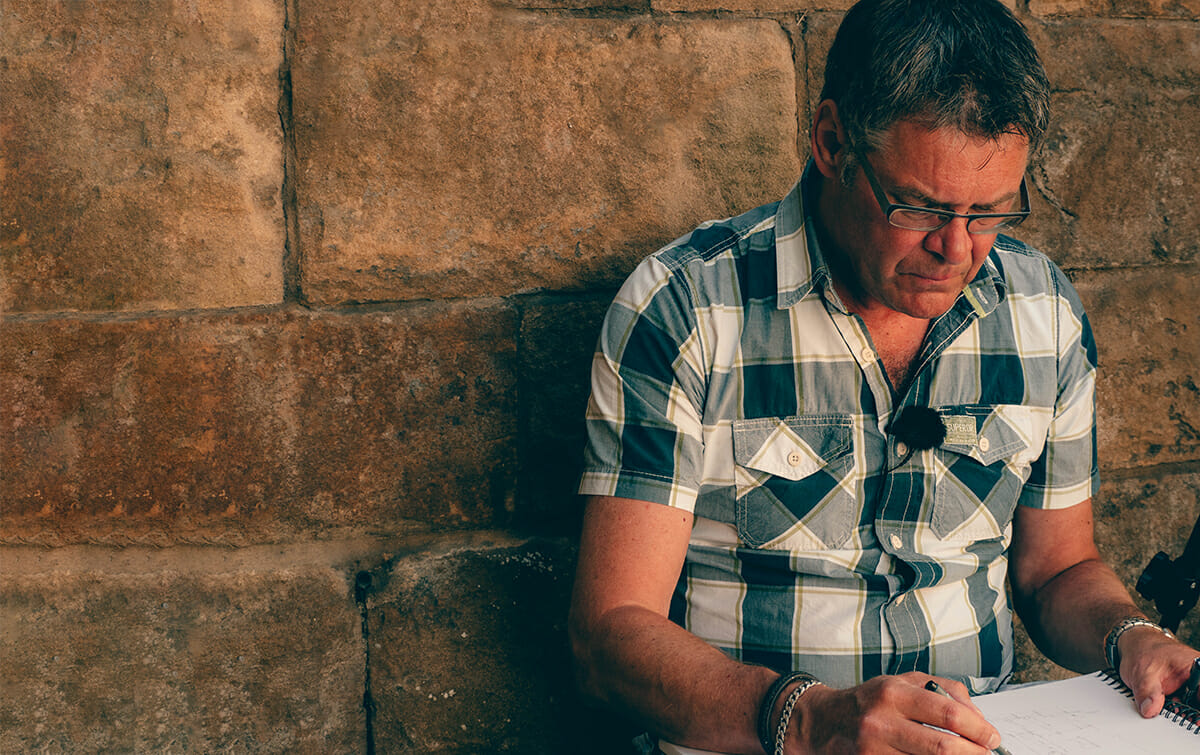 YOUR INSTRUCTOR
Ian Fennelly has built an extraordinary reputation as one of the world's finest urban sketchers and most sought-after teachers. His distinct style of on-location art, engaging teaching methods and all-round creativity has earned him a passionate global following. And now, for the first time, he's peeling back the curtain and teaching you his line-by-line methodology for sketching your own phenomenal urban art.
Sketch Wales is Ian's
biggest

and
most diverse urban sketching course yet!
Here's what you'll learn from this comprehensive training:
(Click the arrows to navigate through each workshop included within this course)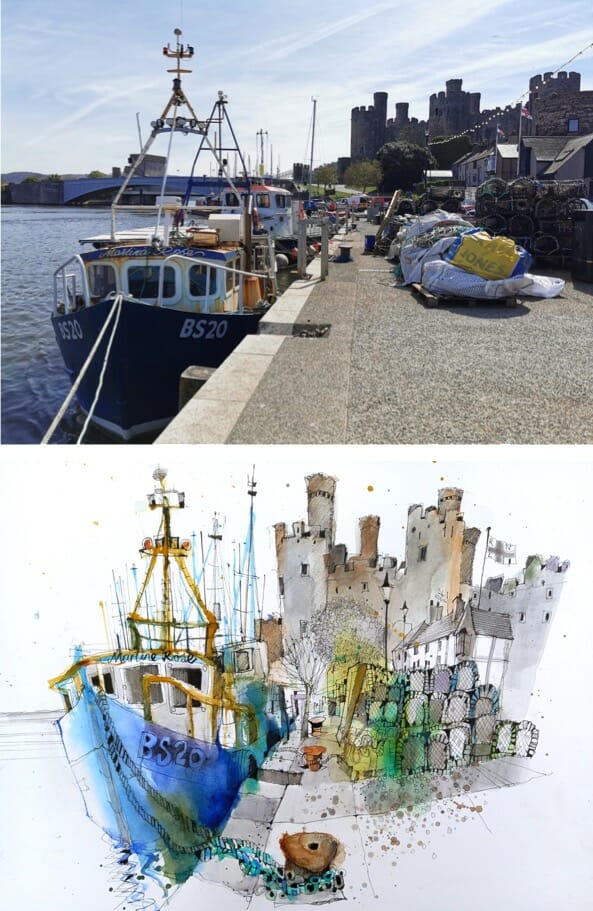 Workshop 1 of 8
Conway Harbour
With more castles per square mile than any other country, Ian was excited to sketch his first castle… so that's exactly where we started!
While this workshop is very much about capturing the harbour, the fishing boat and the lobster nets on the quayside – it is all framed by Conwy Castle; a magnificent 700-year old medieval fortress.
In this workshop, Ian guides you through how to sketch this composition from start to finish and how to tackle some of the more intricate aspects, such as the entwined ropes and lobster nets.
But, your biggest learnings will also come from observing how Ian deals with unexpected, real-time challenges… such as trying to sketch a fishing boat as it sinks before his very eyes, as the tide goes out!
 
This is a fascinating and entertaining first workshop which results in a scene that perfectly captures the story, charm and atmosphere of a classic Welsh coastal town.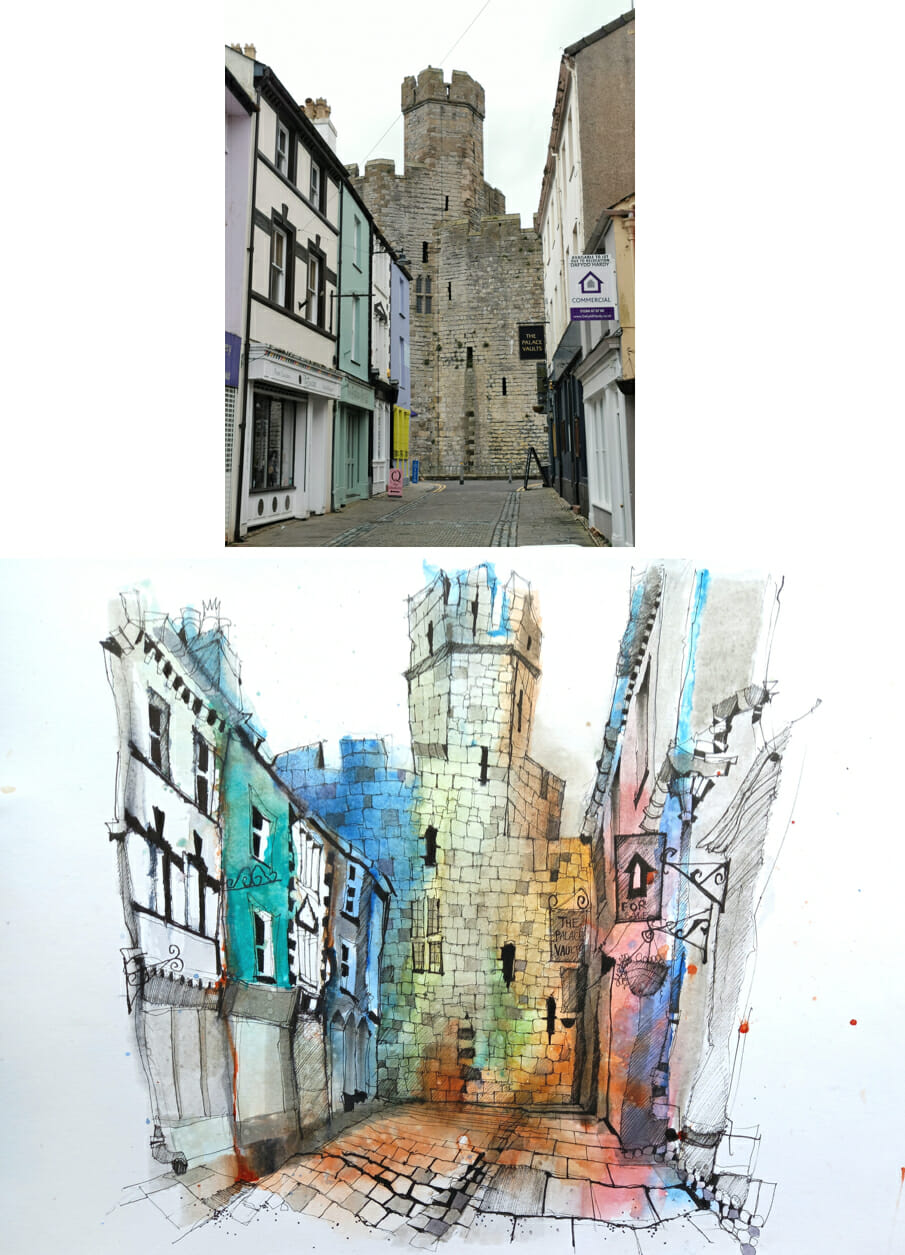 Workshop 2 of 8
Caernarfon Castle
Caernarfon Castle is one of the greatest buildings of the Middle Ages – a royal fortress-palace built on legends and bitter medieval conflict. And it was just crying out to be sketched!
But rather than drawing a standalone castle, in this workshop you will see how Ian scouts a location and chooses the best viewpoint to draw from first.
While the castle remains the focus, it is framed by a sweep of quaint village shops either side, packed with detail, from the signage, to the drainpipes and the cobbles, which all tell the story of the castle.
Ian breaks everything down into simple steps that you can follow along with. You'll learn everything from start to finish, including how to work with repetitive sections, like castle brickwork, to how to work with the elements to add wonderful, natural effects to your work!
This engaging workshop is all about capturing the story, character and spirit of this quaint Welsh town and the architectural drama and strength of its imposing Castle.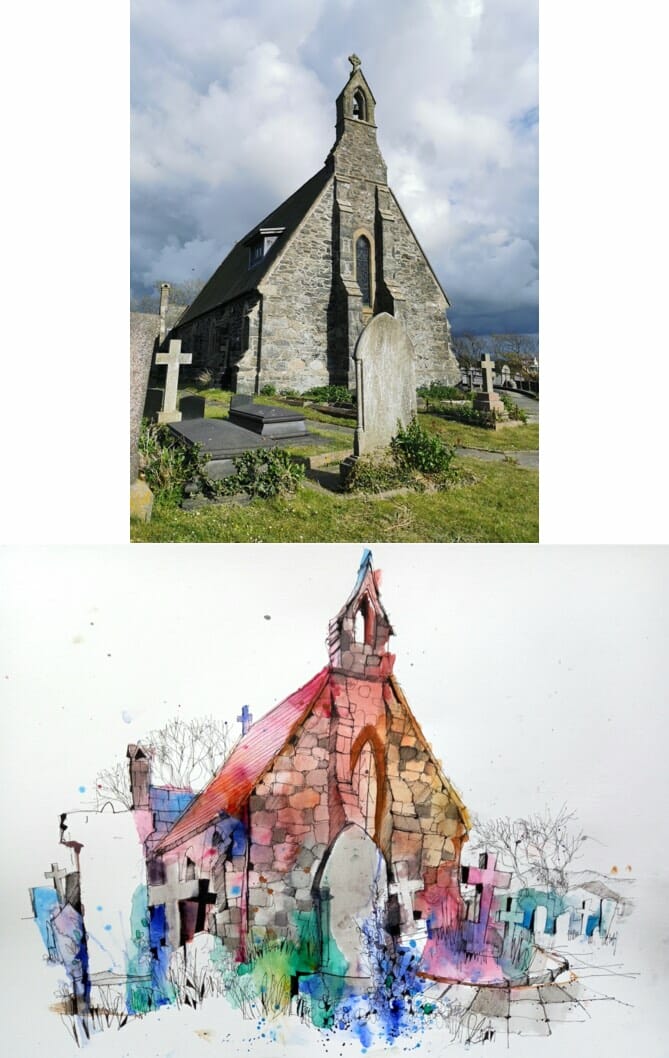 Workshop 3 of 8
St Maelog's Church
St. Maelog's is a small, beautiful sandstone church on the island of Anglesey.
In this workshop, you'll learn how to adapt your sketching process by blending the tone and detail together to save time, yet still producing outstanding results.
Follow-along with Ian as he integrates the church and the graveyard to create this compelling perspective. You'll learn how he delicately uses the shapes of the gravestones to give his image space and depth, while also making them an integral part of the whole sketch.
You'll learn how to layer your image with playful colours and tones, while utilising specific brickwork techniques that really emphasise the beautiful stone work and patterns within the church.
This quick-sketching workshop is about telling the story of you on location capturing the atmosphere and architecture of a beautiful church and its magnificent memorials.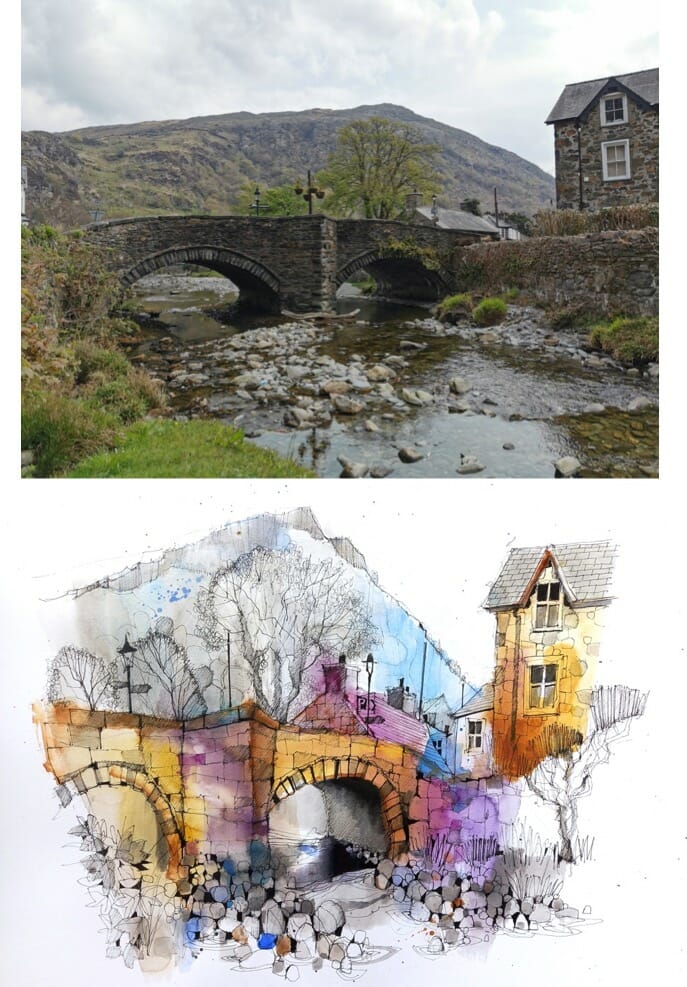 Workshop 4 of 8
Beddgelert
Beddgelert is a legendary place located in the heart of a Welsh mountain village.
This comprehensive workshop focuses on the incredible layering within this scene. From the boulders at the bottom which sweep up to the arches of the bridge, to the guest house, the protruding rooftops and chimneys, the trees and then finally on to the mountain top in the background.
In this workshop, Ian shows you how to sketch it all out before taking you on a creative colour journey, showing you how to really express the emotion and charm of a scene like this.
Then, in the detail stage, you'll start to bring out the amazing shapes and patterns of the boulders that anchor the scene, along with the textures of the bridge and the buildings which knit the picture together. You'll learn how to carefully treat the trees and the mountains so that they stay noticeable but don't dominate your scene and so much more.
This workshop is about using detail and colours in an emotional way to animate drama and bring charm to a scene that really typifies a Welsh mountain village.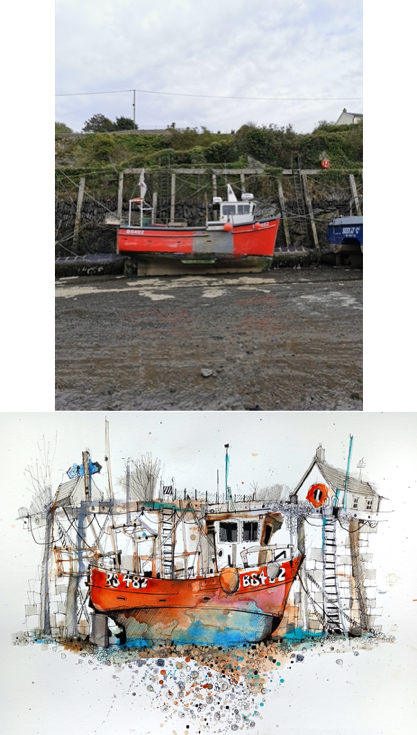 Workshop 5 of 8
Amlwch Boat
In its heyday, Amlwch was one of the busiest ports in Wales so it's only right we pay homage to that by sketching one of the local fishing trawlers!
In this thrilling workshop we're going to be focusing on the vivid local colours of the boat but also introduce lots of drawing with paint to emphasise the quayside in the background.
Followed once again by a combination of fine liners and brush pens to get the details in quickly, before the tide comes back in – it's a race to the finish of this one!
Join Ian for another quicker sketch as we sit among the moorings on the dock floor, covered in mud and seaweed for this one of a kind workshop.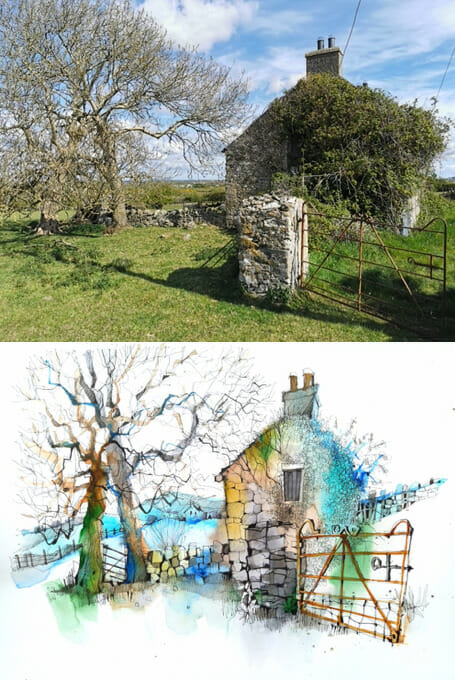 Workshop 6 of 8
Llangadwaladr Cottage
For our next sketch we're heading off the beaten track and through the fields of Llangadwaladr, a picturesque village in Anglesey.
Although we're in a quiet location, the scene is full of fascinating details, from the old rusting gates to the rolling hills framing an old dry stone cottage covered in twisting ivy and vines.
This workshop is a typical welsh country landscape full of depth, where we will focus on the relationship between the tree and the abandoned farm cottage.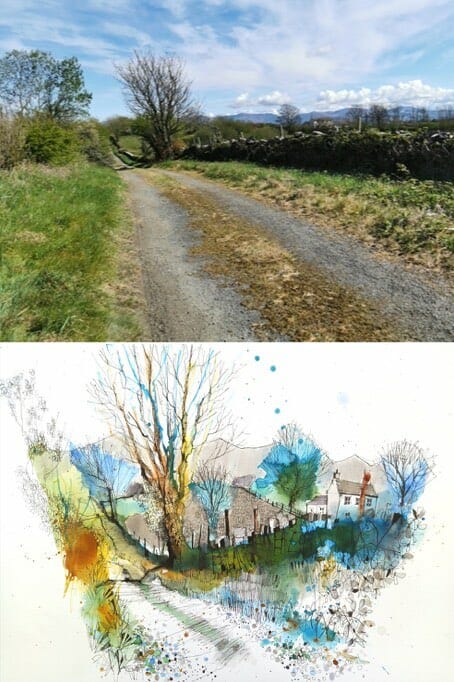 Workshop 7 of 8
Country Scene Rhoscefnhir
We're back for our final 5-step, quick sketch of the tour, and this time we've pulled up a chair along the side of Rhoscefnhir country road which looks out on the rolling hills of Wales.
This location took a while to find but we're so excited to sketch this rural hideaway spot with you.
During this informative workshop, you'll be looking at patterns and detail within the foreground of the scene as well as the leading lines and layers to hold the composition together.
You'll discover how to bring excitement and life into an old dirt track surrounded by grass verges, weeds, sweeping hills and even the iconic Snowdonia mountain range.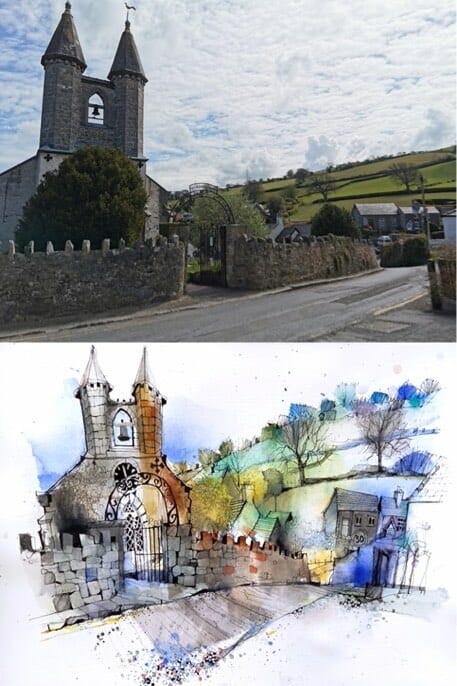 Workshop 8 of 8
St Michael's Church, Betws-yn-Rhos
We finish off our Sketch Wales tour at St Michael's Church in Betws-yn-Rhos, with a scene that emcompasses all of the skills we've learnt journeying across Wales. From rolling hills to sandstone walls.
This sketch is the epitome of Wales.
However, it doesn't come without challenges and one challenge in this workshop is the overgrown bushes in the forefront of the church door. Halfway through, this became so apparent that we had to move location to get a better view of the detail behind this greenery.
This is a workshop you won't want to miss because it's an opportunity to see how Ian deals with arising issues with perspective, layers and colour.
8 Workshops Packed into

ONE

 Course!
Get ready to be swept along on an epic learning adventure with Ian Fennelly.
You'll discover his latest methods for sketching everything from ancient cityscapes to serene harbours and majestic country scenes
You'll discover Ian's current techniques for capturing a diverse range of buildings and manmade structures.
From castles, churches, cottages, bridges and boats.
And you'll learn the most effective ways to incorporate natural surroundings into your work, such as trees, hedgerows, streams and mountains.
As you follow along with Ian, you'll grasp his approach to finding the right colours and which ones you should mix to add emotion, atmosphere and depth to your art.
You'll learn what details to include without overdoing it (what you should leave out!). And you'll discover how to simplify your sketches and the subtle touches you can make to infuse drama and excitement into your work.
And as you work through each of the 8 workshops, you'll be privy to Ian's unique thought processes.
You'll begin to understand and develop that same uncanny ability to select just the right position and angle to draw from – that makes all the difference to your final piece of work.
Sketch Wales is our most valued-packed course, and it's not short of entertainment either!
Watch and learn as Ian sketches and deals with unplanned challenges – from a sinking boat and torrential rain to grappling with the pronunciation of Welsh place names!
The moment you register onto this Sketch Wales urban sketching course, you'll have access to our private feedback gallery. Here you can share your newfound skills, receive feedback and leave comments for other students too.
There is no better way to learn urban sketching than to get feedback and advice on your work. Watch as you progress through the course with the advice and feedback from other learners who are sharing this journey with you.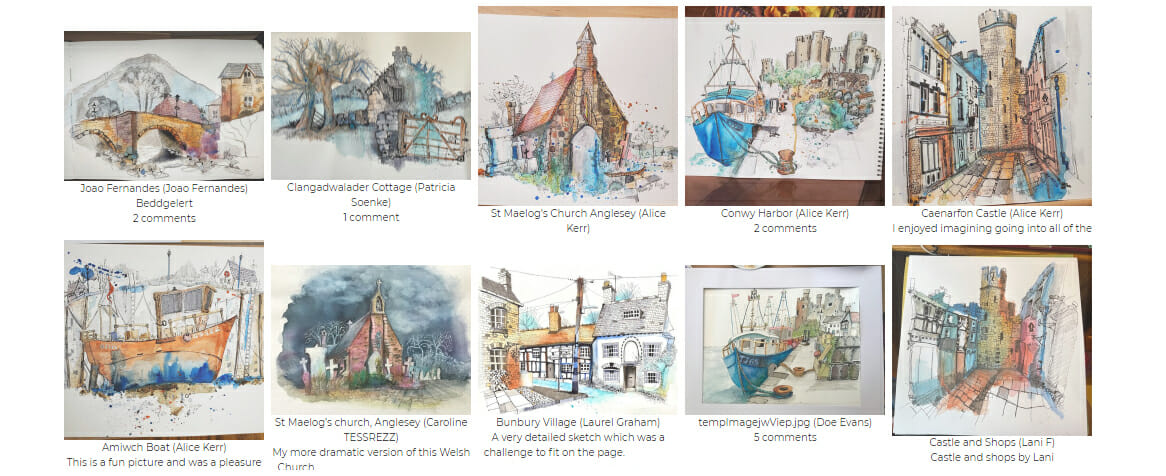 'Sketch Wales' is urban sketching at its very finest with everything you've come to expect from an Ian Fennelly course…

And a whole lot more.
Perspective, angles, colours, tones, layering, composition, detail, proportion, story telling… It's ALL covered in-depth in Sketch Wales – our
most value-packed

course ever!
This is a course that eliminates procrastination by giving you Ian's very latest teachings and methods while inspiring you to put those newfound skills into action.
By the end of this incredible learning adventure, you'll be looser, freer and even more creative in your sketching.
You'll have the enviable ability of being able to capture the emotion and beauty of wherever you may find yourself.
And you'll be brimming with confidence, hope and excitement at what you can achieve!
Add Ian Fennelly's 'Sketch Wales' TO YOUR Course COLLECTION!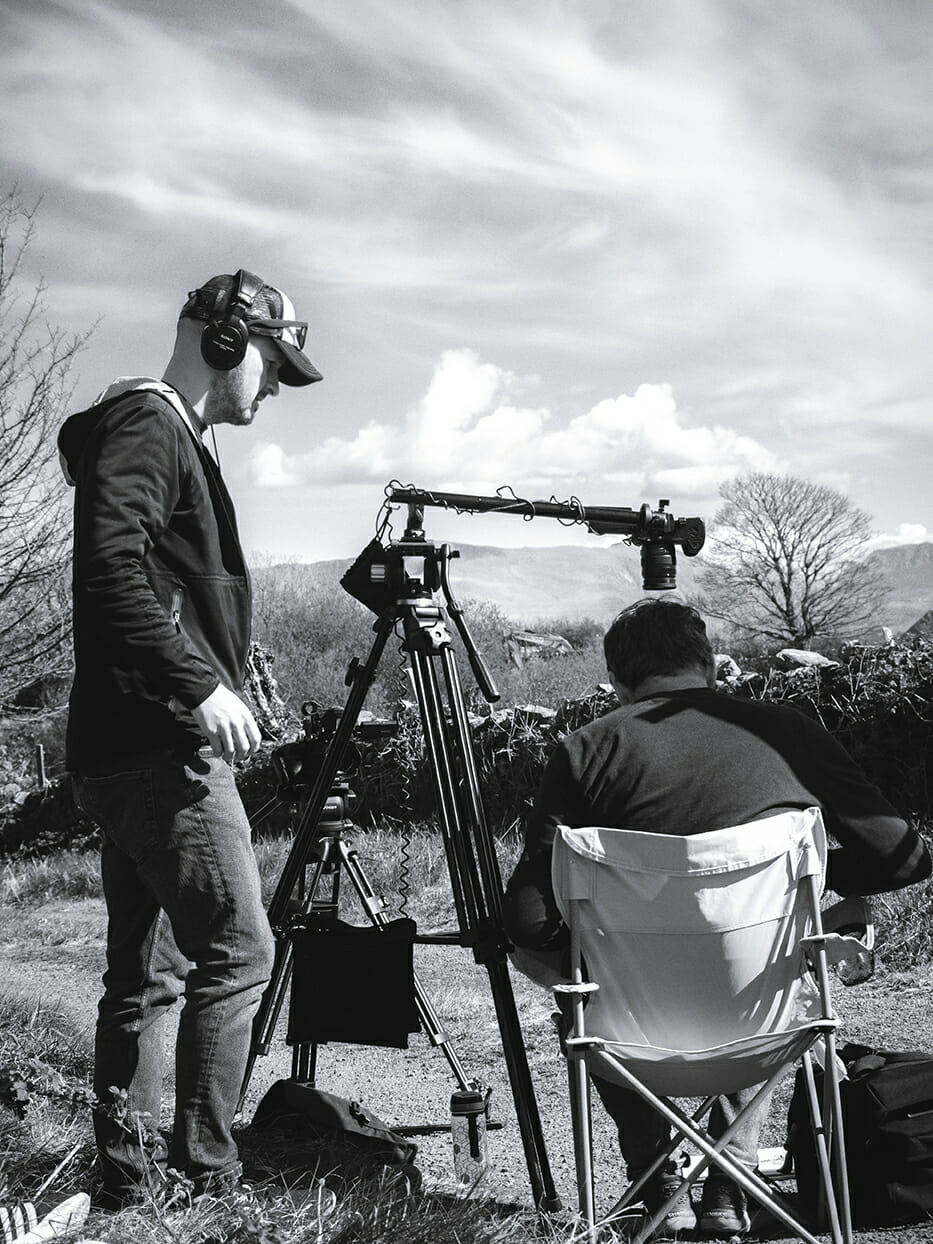 Here's What You'll Get Today:
Upgrade your skills and join Ian on his biggest ever learning adventure – sketching, teaching, capturing and sharing the truly breathtaking beauty of Wales – all delivered through EIGHT comprehensive online workshops.
✔

8 Workshops

✔

Downloadable Workfiles

✔

Urban Sketch Feedback Gallery (

new!

)

✔

24/7 Lifetime Access

✔

90-Day Money Back Guarantee
Frequently Asked Questions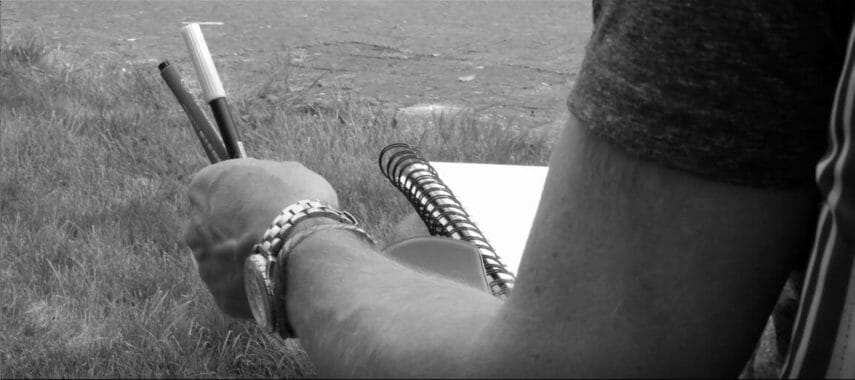 Do I need to be an artist to take this course?
Ian assumes no prior knowledge or experience. He has designed this course to enable anybody to start with a blank page, follow-along with his specific methodology, develop new skills and produce a piece of work they will be very pleased with. Of course, if you have a certain level of artistic skill, then the techniques that Ian shares will help you to build upon your existing skills and give you a process that enables you to produce great work, in less time.
Can I take the workshops in any order?
Yes. All 8 workshops are standalone and are accessible from day 1 so that you can pick and choose which ones you work on. Each workshop has been designed to add or expand upon a specific area of urban sketching.
I've never been to Wales. How will this course help me?
Being a UK based artist, Ian chose Wales for its rich and diverse array of subject matter. However, the point of the course is not to teach you how to sketch Wales per se, but to use Wales to teach you Ian's very latest techniques for sketching a wide array of scenes of which you'll almost certainly have something similar within close proximity to you.
Urban Sketch has learners from over 70 countries, so everything you'll learn from this course can be applied to almost any location and situation. You'll also be given the images to follow along with at home, as Ian walks you through his process. We think you'll find this course thoroughly enjoyable and we think you'll agree that Wales was a perfect spot for this course!
We offer a full 90-Day Money Back Guarantee. If you are at all unhappy with the Urban Sketch Beginner's Course, for any reason, just let us know and we'll issue a full refund.
100% Satisfaction
|

Zero Risk

|

Guaranteed