INTRODUCING…
Rural Sketch Course
WITH IAN FENNELLY
Discover Ian Fennelly's easy-to-follow methods for sketching and painting stunning landscape scenes
E 72 Lessons    6 Workshops  j   Bonus Training
COURSE DETAILS
In a world of chaos, nothing beats the peace and tranquillity of sketching a landscape.
The fresh countryside air. The calm of a gentle stream. And the sound of birds chirping harmoniously as you capture the beauty of your surroundings. It's the ultimate form of relaxation.
In this remarkable new online course, you'll embark on an uplifting learning journey with Ian Fennelly. Together you'll explore the spectacular views of the British Lake District as Ian shares his finest secrets for crafting stunning landscape sketches.

You, The Landscape Artist!
Sketching a landscape demands a different set of skills to traditional urban sketching.
Instead of the strong perspective of a street and the straight lines of a building - you're dealing with dynamic views that are punctuated by the complex shapes of trees, and the rugged outlines of rocks and sloping hills.
And this is one reason why so many beginners end up overwhelmed and disappointed with their results. Their landscapes lack the depth and contrast needed to produce a visually striking sketch.
Thankfully, sketching a beautiful landscape is a skill that anyone can learn. And in the Rural Sketch Course, Ian Fennelly has broken down his entire methodology into simple steps that you can follow - even if you're a complete beginner.
6 LANDSCAPE WORKSHOPS
Each of these 6 workshop locations have been hand-picked by Ian to build your skills and confidence and achieve astounding results quickly. Here's an overview of the six workshops you'll get instant access to when you take the Rural Sketch Course:
Workshop #1:
River Brathay

River Brathay
Your journey to landscape mastery begins in this first workshop, as you learn the art and craft of sketching trees.
You'll start by sketching out your landscape scene as Ian breaks down the entire process into simple shapes and lines before working into it, layer by layer.
As you progress through this workshop, you'll discover how to use to infuse your trees with personality and make them the focal point of your sketch. And you'll understand the specific shapes, choice and penwork techniques that force your trees to contrast sharply against the pale rolling background.
You'll learn how Ian creates relationships between trees, and how and why he uses white space to capture parts of the surrounding environment, from the mound to the middle ground.
You'll also learn how to manipulate scale which amplifies depth and emotion in even the most simplistic of scenes - resulting in a mesmerizing sketch you'll be proud of.
Workshop #2:
Great Langdale

Great Langdale
Workshop 2 shows you how to break down a landscape even further as Ian explains how to focus on trees in a different way. Capture this charming location with its curved structure, graphic gate, beautiful aged dry-stone wall, and mountain view.
This sketch focuses heavily on showing you how to create visual contrast using white space and tone and how to create a visual impact when working with structural and natural forms.
Workshop #3:
Little Langdale

Little Langdale
In workshop 3, you'll be heading over to Little Langdale to draw an iconic cottage, whose formal sweeping garden contrasts wonderfully with the dramatic rugged hills and large variety of trees.
You'll discover how to challenge yourself with layers and how to make sense of space as you learn new ways to include and vary texture for different elements in a scene.
You also learn how to use tone, , and contrast to show off each element, including bushes, open spaces, tree lines, and the mountainous background.
Workshop #4:
White Cottage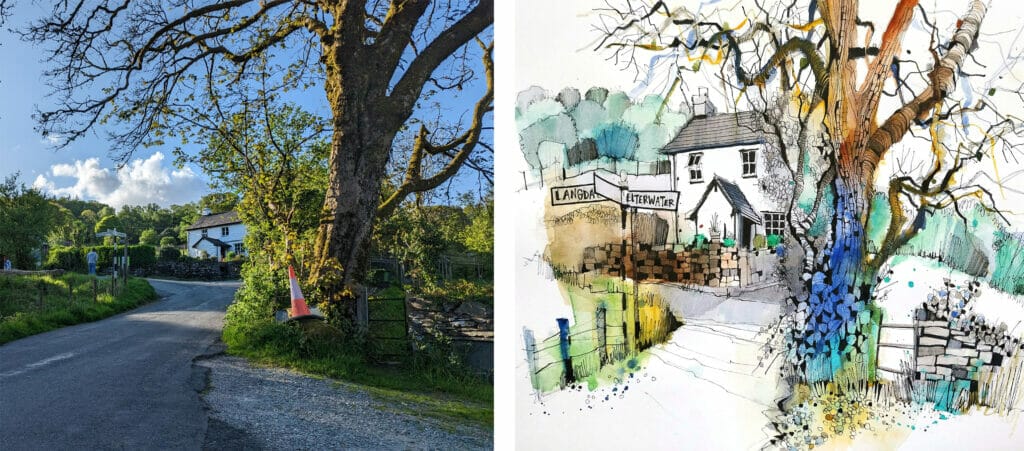 White Cottage
In workshop 4, we head to another glorious cottage nestled in this beautiful rural scene with tonnes of visual interest.
The focus of this scene is to capture the tree in the foreground to structure the right-hand edge of the composition, taking you into the road, framed with the cottage as the backdrop helping to create strong lines to contrast against natural forms.
You'll also discover how to use shapes and textures to portray depth and space create impact and bring your sketch to life.
Workshop #5:
Layered Landscape
Layered Landscape
In Workshop 5, you'll use all the skills you have learned so far to create the ultimate layered landscape, this workshop focuses on making sense and understanding the foreground, midground, and background and how to draw them all with equal attention to detail.
From strong-lined man-made elements such as a gate and dry-stone wall to focusing on the clear natural layers behind, this workshop will help you shape a layered landscape with a limited palette.
You will finish the sketch by drawing the all-important leaf and tree details to hold your picture together.
Workshop #6:
Birk Howe Farm

Birk Howe Farm
In your last workshop, you'll take your landscape skills to the next step as you focus on a remote scene, it will show you how to capture structural fences, and gates, whilst also showing you how to attract focus to the field, rolling hills, and sweeping mountains in the background.
You'll also explore the horizon line, different elevations, space, and scale and discover how to add foliage and plant life at the front of a scene.
OVER 10 HOURS OF EASY-TO-FOLLOW TRAINING
The secret of a mesmerizing landscape sketch lies in your ability to create depth, capture space, and force contrast. And Ian's step-by-step process enables you to achieve this with any landscape scene you choose to tackle. Here are some of the key components covered in these workshops:
Layering Mastery
Discover how Ian engineers depth by breaking his scene into layers, then applying forced contrast, singular scaling, and negative space. 
Pattern and Texture Techniques
Learn Ian's multi-directional penwork techniques that can be used to quickly express anything; from the age of a tree and the texture of its bark, the surface of a stonewall, a weather-worn gate, and the rugged outline of a mountain. 
Structural Form Masterclass
Uncover Ian's simple process for creating magnetic relationships between natural subjects like trees, and man-made structures like buildings and walls. Done right this brings your entire scene to life.
Green Mixing Mastery
Discover lan's thinking behind landscape selection and learn how he chooses, mixes, and creates limitless shades of green - without using green!
Outdoor Composition Masterclass
Discover how Ian's picks the perfect focal point markers like trees, gates and dry stone walls to compose your scene, while attracting focus to the surrounding hills, mountains and forests.
Simplified Shrubbery
Learn Ian's counterintuitive and effective methods for fast-sketching leaves, foliage, bushes, wildflowers and weeds. You can apply these techniques to any sketch.
Contrast Coaching
Discover the specific shapes,  strength, and tonal values that Ian uses to create strong visual contrast between natural and man-made elements  - without overdoing it.
Pre-Sketch Training
For the first time, Ian goes into depth on how and why he creates a pre-sketch prior to each picture. You'll get one extended pre-sketch tutorial with each workshop.
The Location
There was no better place for Ian to teach you his complete landscape sketching methodology than the British Lake District.
With its spectacular views of lush rolling hills, shimmering lakes, picturesque villages, and hushed mountains - the Lake District has been a hotbed of inspiration for artists and writers for centuries.
Beatrix Potter, John Constable, and William Wordsworth are just some of the many famous names who drew inspiration from the scenic beauty of the Lake District. Now it's your turn to join them as Ian guides you in how to sketch spectacular landscapes, from the comfort of home!
But that's not all...
During This Special Launch Period You'll Also Get These Bonuses Absolutely FREE (Worth
 

)
FREE Launch BONUS 1:
Black & White Landscape Sketching CLASS
( Value)
Buy the Rural Sketch Course during this limited-time launch period, and you'll also get this special bonus training; Ian Fennelly's Black & White Landscape Sketching Class.
During this special 45-minute class, Ian breaks down his 3-step process for quick sketching any landscape scene, using only brush pens and fine liners.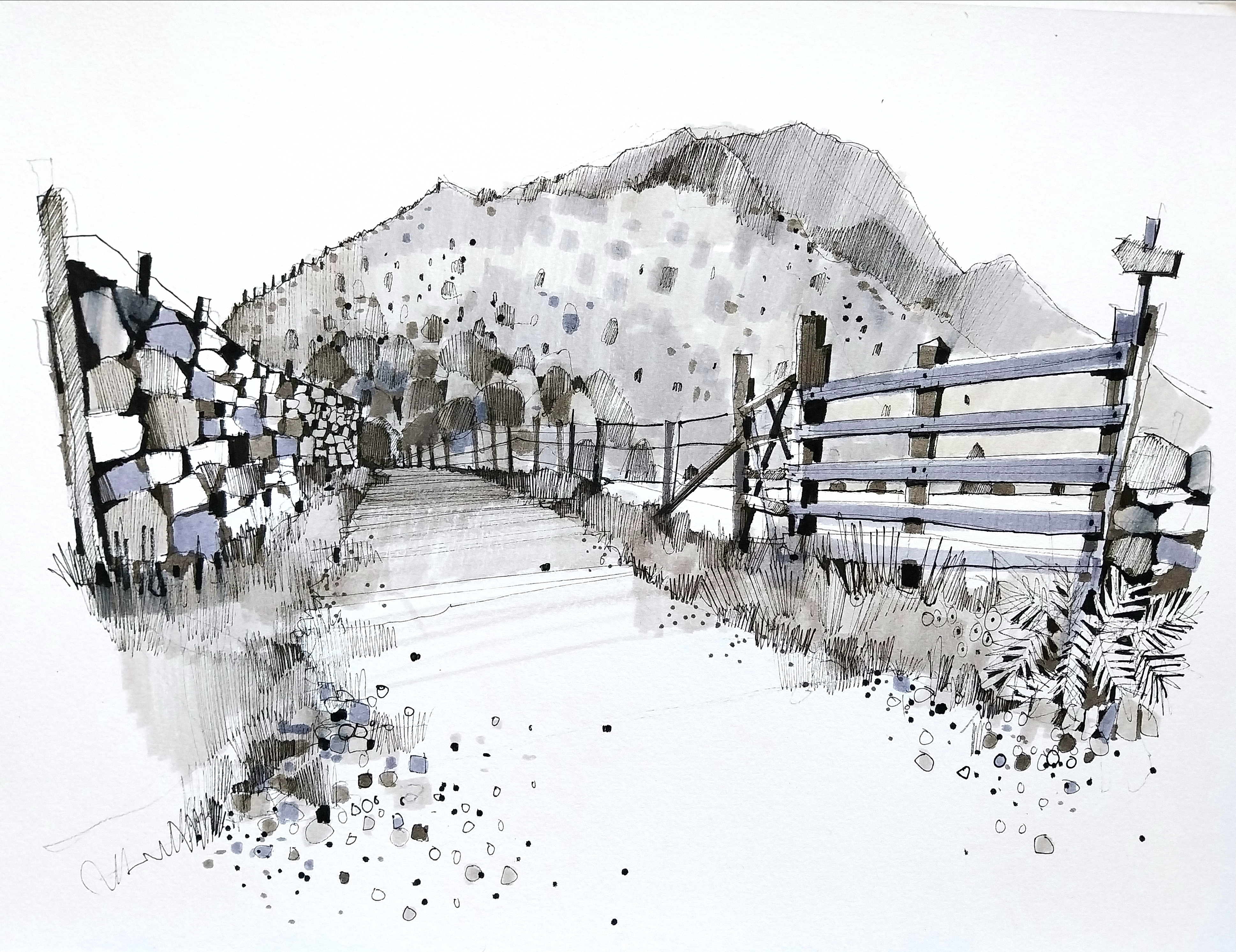 LAUNCH BONUS 2:
WIN A SIGNED, ORIGINAL IAN FENNELLY SKETCH!
( Value)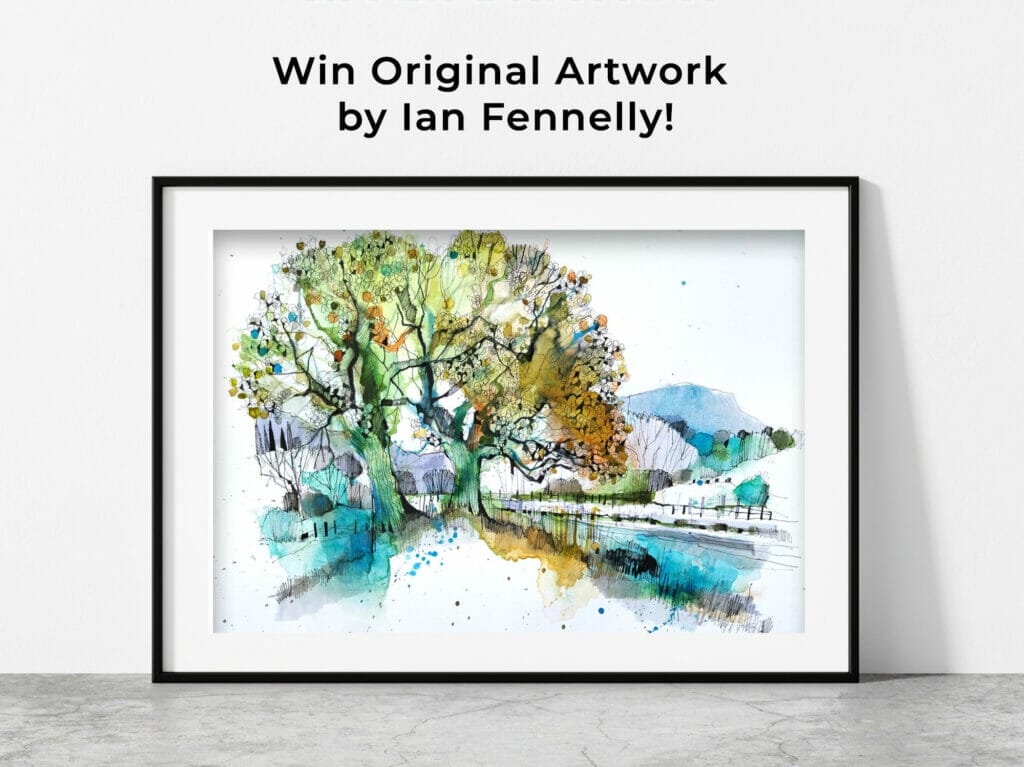 Frame not included. Entering this prize draw is free and no purchase is necessary to enter or to win. See prize draw T&C's.
Take a look at what others have said about our urban sketching courses. All reviews here have been posted on TrustPilot:
READY TO MASTER THE ART OF LANDSCAPE SKETCHING?
No matter where you are in the world, there's a view that deserves to be sketched.
Whether that's the rugged mountains and sweeping vistas of the wilderness, or the charming trees at the bottom of your garden. By the end of this course, you'll possess the know-how and skills to simplify the complexity of any landscape scene and translate it into a beautiful sketch.
You see, the Rural Sketch Course is not just another sketching course; it's an epic learning experience that results in a paradigm shift in how you approach, see, and ultimately sketch the essence and beauty of nature.
Hit the Buy button below to get instant, lifetime access to Ian Fennelly's most comprehensive training yet. You'll save and get the special launch-week-only bonuses. We're positive this will be one of the most important investments you make in your artistic development.
✔

The complete Rural Sketch Course (6 Online Workshops)

✔ LAUNCH BONUS 1:

Black & White Landscape Sketching Class ( Value)

✔ LAUNCH BONUS 2:

Free prize-draw entry to win an original, signed Ian Fennelly sketch ( Value)

✔ BONUS 3:

Free Access to our Urban Sketchers Feedback Gallery ( Value)


✔

24/7 Lifetime Access (it never expires)

✔

30-Day Money Back Guarantee
MAKe A DIFFERENCE
As outdoor sketchers, nature gives so much to us. So, we want to make a difference and give back to nature. For every course sold, we are donating 5% of the price to the International Tree Foundation who plant trees and bring forests back to life to help nature recover for people and planet. 
When you buy this course, you're not only learning new skills, but you're making a difference to our planet.
About International Tree Foundation
The International Tree Foundation was founded 100 years ago in Kenya to plant, protect and
promote trees to benefit people and planet. Today, they work across Africa, the UK and Ireland. They are dedicated to planting the right tree species in the right places because when tree planting is done properly, it transforms landscapes and lives.
About Your Instructor
Ian Fennelly has built an extraordinary reputation as one of the world's finest urban sketchers and most sought-after teachers.
Ian's distinct style of on-location art, engaging teaching methods and all-round creativity has earned him a passionate global following.
In Rural Sketch Course, Ian peels back the curtain and reveals his layer-by-layer methodology for sketching stunning landscape scenes.
We've poured everything into making what we believe are the best urban sketching courses available. However, if after buying any of our courses you are unhappy for any reason (or no reason at all), just let us know within 30-days and we'll happily issue you with a full refund. No explanation needed and no hoops to jump through. Signing up to our courses is risk-free.
100% Satisfaction
|

Zero Risk

|

Guaranteed