Urban Sketching Workshops
Join Ian Fennelly with our series of online training workshops
The sketching workshops below were online events that were originally recorded live with Ian Fennelly and small groups of students. You can now purchase the recordings of these online sketching workshops so that you go through the same training.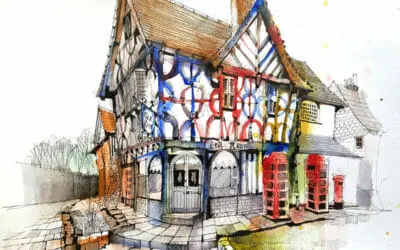 Tudor Rose Tea Rooms Sketch With Ian FennellyJoin Ian Fennelly in this sketching workshop as he teaches you, step-by-step, how to draw and paint this tudor style building in the delightful village of Port Sunlight. TITLE: Tudor Rose Tea Rooms SketchDURATION:...
read more
Find out more about world renowned Urban Sketcher, Ian Fennelly, including his artistic background, workflow, inspirations and more before you embark on a course with him.