URBAN SKETCHING FOR BEGINNERS
WITH IAN FENNELLY
Learn the art of urban sketching with Ian Fennelly as he guides you through 47 easy-to-follow online lessons, with practical exercises, that transform you from complete beginner to skilled urban sketcher!
COURSE DETAILS
If you're new to urban sketching, frustrated by your current results, or lack the confidence to get started, then this Urban Sketching for Beginner's Course has been designed for you.
In this engaging online course, renowned artist and teacher Ian Fennelly breaks down his decades-learned sketching methodology into simple steps that anyone can follow to draw and paint stunning urban sketches - even if you haven't held a pencil since high school.
You'll learn all the fundamentals of urban sketching; from how to pick perfect locations, to Ian's unique pen work techniques, choosing and applying the right s, attaining perfect proportions, simplifying your pictures, mastering perspective, drawing on paint, sketching from photos, and so much more.
All of Ian's distinct techniques, tricks, and processes are meticulously broken down into simple steps, so that you can follow along from the comfort of home and achieve stunning results, like this...
Through Ian's training you'll discover how to find inspiration around you and throw the rules of 'precision' out of the window to create energetic and expressive sketches that are packed with personality and . You'll learn how to play with perspective, apply distortion and add the subtle details that bring your pictures to vivid life.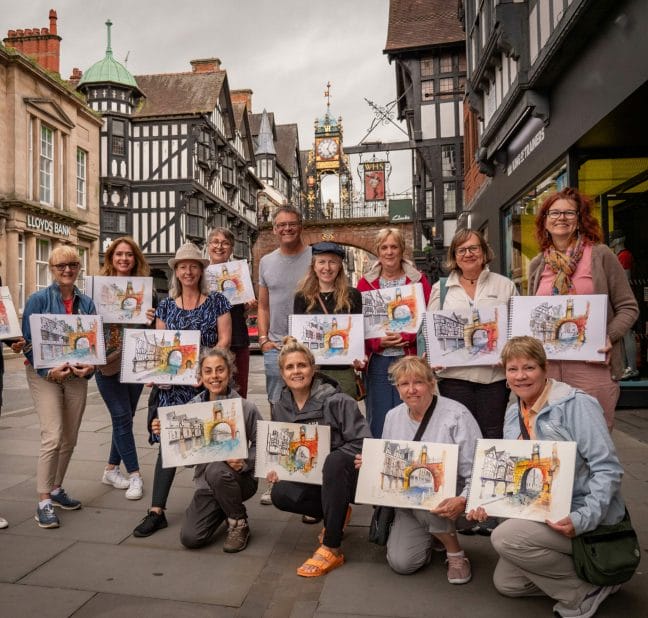 YOUR INSTRUCTOR
Ian Fennelly has built an extraordinary reputation as one of the world's finest urban sketchers and most sought-after teachers.
His distinct style of on-location art, engaging teaching methods and all-round creativity has earned him a passionate global following.
And now, for the first time, he's peeling back the curtain and teaching you his line-by-line methodology for sketching your own phenomenal urban art.
Best of all, you can learn his exclusive methods in your own time from home, through this exclusive online course.
YOUR LESSONS
The course is made up of 4 comprehensive online workshops. Each one carefully designed to rapidly build your skills and confidence from the ground up.
Each workshop is broken down into "bite-sized" lessons that you can work through in and around your busy life. You'll get all of the reference photos and image steps, so that you can follow-along with Ian, in your own time and at your own pace.
Here's a quick overview of what's included in each of these four highly enjoyable workshops:
Workshop #1:
English Bridge
ENGLISH BRIDGE
In this first online workshop, you will learn how to draw a beautiful scene of the English Bridge from the historical town of Shrewsbury, England.
The shapes in this scene, the strong perspective of the bridge and the beautiful protruding church, make it the perfect starting point for your beginner's sketching journey.
You will learn Ian's methods for finding the best spot to draw from, sketching in pencil, getting the proportions right, drawing wonderful perspective, simplifying your sketch, emphasizing with pen, drawing reflections, applying s, hatching techniques, drawing on paint and more.
Even if this is your very first sketch, you'll be amazed at the speed and the progress you make.
Workshop #2:
Tanners Wine Merchants
TANNERS WINE MERCHANTS
In the next online training, we will expand your skills a little further by learning to sketch this historic Tudor building in the heart of Shrewsbury.
This is a rich and exciting subject which Ian breaks down into lots of simple steps, with a strong emphasis on drawing perspective, tonal value, structure and storytelling.
In this workshop, you will learn how to notice all of the many details surrounding the building, while understanding which ones to leave out of your picture, and which details to include.
Working with 3 very specific waters, you'll learn how to draw on paint to animate your picture, and so much more. The result is a wonderful scene that blends history with the present day.
Workshop #3:
CHURCH STREET

CHURCH STREET
Church Street is a visually rich scene with lots of detail; pubs, signage, hanging baskets, lamps and cobbles, which is framed by a beautiful church with its incredible spire. Ian breaks this entire scene down into lots and lots of easy to follow steps that you can follow.
In this online workshop, you will continue your training in how to sketch strong perspective, while learning how to get the composition right on your page. The water moves forward a step from the previous workshop, and you will use a limited range of s, while discovering how to apply them together in a very playful way.
You will then learn Ian's classic techniques for drawing detail on top of your paint. We'll introduce brush pens and you'll discover the effective, yet underestimated visual devices that strengthen the structure of your scene. 

WYLE COP
In the final online workshop, you will expand all of the impressive skills you have developed so far, by applying them to this visually rich scene.
You will start by slowly and carefully sketching it out in pencil, with a keen focus on getting the perspective and scaling right on your page, while capturing the downwards sweep of the scene.
You'll learn how to pick the right visual element as your focal point. Then you will learn even more about tonal value and spatial contrast, and how to maximise using a minimal pallet. Together with Ian, you will build your picture carefully, adding more and more layers of detail; referencing the medium shapes, the signage and adding texture to your scene.
By end of this final workshop, you'll be astonished at your results, and the speed at which you've acquired your newfound skills and confidence.
THE BEGINNER'S COURSE DIFFERENCE
This urban sketching for beginner's course has some notable differences to any other courses you may have taken:
Big difference #1: A Focus on Fundamentals
Ian assumes no prior knowledge or skills. You'll begin in the most simplistic form, with a pencil and a blank page. Then, Ian guides you from the very basics - showing you how to loosely sketch out your lines and shapes, before slowly and methodically building up your picture, piece-by-piece, with fineliners, brush pens and waters.
Big difference #2: Pencil Sketching
For the first time, Ian starts each workshop with a pencil and rubber, instead of a fine liner.
This means you get to make mistakes, rub out and redo until you have your basic sketch down. You'll learn Ian's methods for sketching everything out first – loosely and freely.
If trying to be too perfect has held you back so far, then these first lessons will be a game-changer.
Big difference #3: Technical Exercises
For the first time, Ian has developed a series of skill-building exercises that work in perfect harmony with the course.
Each exercise starts with a demonstration from Ian, then deep dives into a specific technique that you will practise separately, before applying it to your main picture.
Exercises include hatching, drawing perspective, penwork, drawing on paint, understanding , choosing and mixing , brush pen techniques and more.
You're going to be amazed at how quickly your skills flourish and the difference this makes to your overall work!
Big difference #4: Progressive Learning
This Urban Sketching for Beginner's Course is a slower, more methodical course. Each carefully crafted lesson builds on the previous one through four comprehensive workshops. As you work through the course and complete each lesson and technical exercise, your knowledge, skills and confidence will increase incrementally.
By the time you have completed the fourth and final workshop and activities, you will have developed the skills and confidence to sketch with a high degree of confidence and competence.
FAST. SIMPLE. EASY TO FOLLOW.
But that's not all...
As Well As 4 Packed Workshops You'll Also Get TWO Incredible FREE Bonuses Worth
FREE BONUS 1:
Urban Sketching Exercise Series
( Value)
Along with each workshop, you'll receive a bonus series of Technical Exercises that have been carefully designed by Ian to help beginners to urban sketching develop and practise specific skills.
Through this series of separate exercises you will practise and learn hatching, perspective, proportions, brush pens, lines, waters, perspective and composition.
You'll discover and learn techniques for varying tonal values, portraying different textures, adding depth and realism, creating reflections, infusing drama into your work and much more.
FREE BONUS 2:
Urban Sketchers Feedback Gallery
( Value)
Buy this course and you'll also gain access to our thriving online feedback gallery.
This is a safe and private place where urban sketchers of all abilities can share their work without judgement - while getting positive, constructive feedback from supportive, like-minded sketchers who are all rooting for you!
There's no better place to learn, overcome challenges and build your confidence and skills than the Urban Sketch Feedback Gallery.
Our Reviews
Read some of the HUNDREDS of enthusiastic comments and verified 5-star reviews from other aspiring urban sketchers who LOVE Ian's courses and are achieving stunning results from his training:
WHY TAKE THE URBAN SKETCHING FOR BEGINNERS COURSE?
Creating this online course has been a labor of love for Ian. He's poured his heart into it and everything he knows from decades as a professional artist, and traveling the world training hundreds of aspiring urban sketchers.
But getting personal training from a much sought-after artist like Ian is neither cheap nor practical for most people. A week-long sketching workshop can set you back thousands of dollars. And that's before you've paid for your flight and accommodation.

In the Urban Sketching for Beginner's course, you're getting the same world-class guidance and professional training for a fraction of the cost. What's more, it is completely self-paced, so you get to learn it all from the comfort of home and watch it over and over again.
If you're ready to skip the vast learning curve (and expense), and get the transformational training you need from a world leading artist and teacher, then take the Urban Sketching for Beginners course today. You'll be astonished at the results you achieve in a short space of time.
GET STARTED TODAY!
Here's What's Included When You Buy This Course Today:
✔

4 workshops (47 Lessons) delivered by Ian Fennelly

✔

Downloadable Workfiles

✔

Bonus 1: Technical Exercise Series (

Value)

✔

Bonus 2: Urban Sketch Feedback Gallery (

Value)

✔

24/7 Lifetime Access. It never expires.

✔

30-Day Money Back Guarantee
GET STARTED TODAY!
Here's what you'll get:
Don't delay - this is one of the best investments you will make on your urban sketching journey:
✔ 47 Lessons over 4 workshops
✔ Bonus 1: Technical Exercise Series
( Value)
✔ Bonus 2: Urban Sketch Feedback Gallery
( Value)
✔ 24/7 Lifetime Access
✔ 30-Day Money Back Guarantee
STILL UNDECIDED?
Watch the video below where Ian answers many of the most commonly asked questions about the Urban Sketching for Beginners course:
Start accordion closed
How easy is this course for a complete beginner like me?
In this course Ian has assumed no prior knowledge, skills or experience. Starting with a pencil and a blank page, you'll be guided step-by-step, from drawing your first line, to slowly building up your picture, piece-by-piece.
You'll learn how to draw the right shapes, how to get the proportions right on your page first and then how to carefully layer your picture with more detail, and tone.
You'll be amazed at the speed and the results you achieve, even if you haven't picked up a pencil since high school.
Can I follow along with Ian while taking this course?
Yes. This is over-my-shoulder learning with Ian Fennelly.
Ian is an experienced and engaging teacher and has broken each workshop down into easy-to-follow stages. Within each of those stages he takes you through each step in the process, while explaining everything he is doing, slowly and methodically.
You can also slow down, pause, or speed up each tutorial to suit your own style of learning. And with lifetime access, you can watch the course over and over again.
I'm not a beginner, how will this course help me?
While this course has been designed for beginners, many experienced sketchers take it to learn more about Ian's specific techniques and style, and his particular thinking behind certain components of sketching, such as choice.
Along with the sketching side, you're also learning other important factors of urban sketching, such as how Ian chooses the perfect locations and viewpoints, how Ian deals with the general public, and how he infuses his work with storytelling and the subtle details he brings into his work.
Do I get lifetime course access?
Yes, you'll get lifetime access to the course and all of the supporting downloads and resources that come with it. It never expires which means that you can you learn in your own time and at your own pace.
How easy is this online course to use?
Our learning platform is super simple to use. Each tutorial is delivered by video and requires nothing more than clicking the play button.
Where was this course filmed?
The Urban Sketching for Beginner's Course was part-filmed in the historic market town of Shrewsbury, England and part in Ian's private studio.
With its winding cobblestone streets lined with pretty boutiques and rows of crooked, half-timbered Tudor buildings – Shrewsbury has all the elements Ian needed to teach you urban sketching as you've never been taught it before!
What is the difference between this beginners sketching course and the other courses you offer?
Here are the notable differences between this course and the other urban sketching courses we offer:
1. Pencil: Ian starts this Beginner's course using a pencil, instead of a fineliner. Pencil is much more forgiving and allows you to make mistakes, rub out, and redo. It's perfect for beginners.
2. Exercises: This course includes a series of technical exercises that are separate to the main course. This allows you to practice specific techniques on a separate piece of paper, before you apply them to your main picture.
These carefully designed exercises are designed to build your skills and confidence quickly as you sketch each picture.
Exercises include hatching, drawing perspective, pen work, drawing on paint, understanding , choosing and mixing , brush pen techniques and more.
3. Skill Building: In this beginners course, each of the four workshops builds on the skills you learned in the previous one. So, as you progress through the course you are adding new skills while building your competence and confidence, step-by-step.
In our other urban sketching courses, each workshop is typically 'standalone'.
We're so confident that this will be the best investment you make on your urban sketching journey that we offer you this money-back guarantee: if after buying the Urban Sketch Beginners Course you are unhappy for any reason (or no reason at all), just let us know within 30-days and we'll happily issue you with a full refund (with no hoops to jump through). Signing up to any of our courses is risk-free.
100% Satisfaction
|

Zero Risk

|

Guaranteed