How to Give Constructive Feedback
For Urban Sketchers
Feedback should be positive and constructive, but sometimes trying to help without causing offence can be difficult.
To help you provide feedback to your peers, we've made the perfect guide on how to give awesome feedback to fellow Urban Sketchers!
What's the Point of Feedback?

Without feedback to your work you could still be making the same basic mistakes. The point of seeking out constructive criticism is to improve ourselves as artists, overcome weaknesses and learn what others like – which is especially useful when making money out of your sketches.
Sometimes this feedback can be hard to accept, but delivering it concisely and professionally won't upset the recipient. It'll also make you look like a trusted mentor with a valued voice.
The best type of feedback gives the original artist insight or understanding of what you see in the picture. Every picture we see, we either like, or dislike for a particular reason.
It's that reason we need to express our views so that the artist can figure out what they did well and where they can improve.
Now, giving awesome feedback is not simply saying 'well done', 'oh wow' or 'incredible sketch'.
Of course, those remarks are lovely to hear but to make it fantastic (and helpful) feedback then you've got to spice it up a little!
Here's some examples…
Don't just say…
'I love the colours'
Instead, try saying…
'I love the rich colours. They caught my attention straight away. It really brings the picture to life and makes it standout.'
Don't just say…
'Nice perspective'
Instead, try saying…
'The perspective in this sketch really sets the scene. I can feel myself being drawn into the picture. The cobbles getting smaller into the distance sells this composition.'
Don't just say…
'Great tones'
Instead, try saying…
'I really like what you've done with your tone work, particularly the addition of cross hatching. Adding details into the shadows can really emphasise the structure, making it appear more 3D.'
Few people really want to be negative, but sometimes telling people where they can improve their sketches is vital, even if it's hard for them to take.
If you want to be more honest with your gallery comments, but not sure how, we think that this is a good approach…
Firstly, a positive general overview
Secondly, a discussion about where to improve
Finally, an encouraging remark for taking forward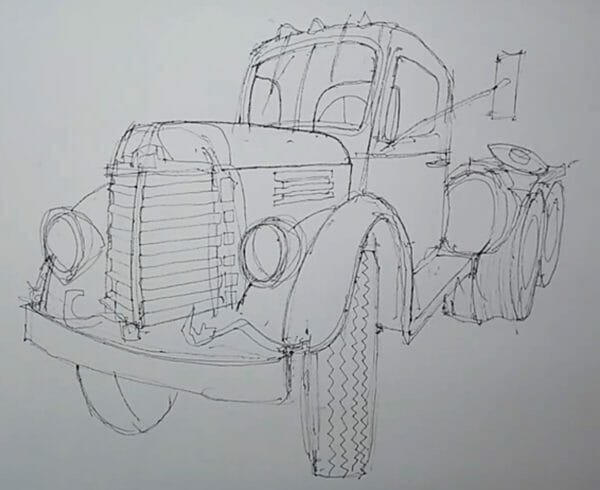 Instead of saying…
'That looks wonky'
Instead, try saying…
'The colours in this are really eye-catching! I wonder if your perspective is a little tilted on the left hand side, perhaps next time you could try Ian's technique of using the pens first? That would really make this a fantastic sketch!'
Instead of saying…
'The colours are weak'
Instead, try saying…
'I really like the pen work you've used in this sketch. You could try going back over it with deeper colours to emphasise the brightness, I think that would be a wonderful addition.'
Instead of saying…
'This is boring'
Instead, try saying…
'You've made a really good start to urban sketching! Now that you're getting to grips, I would recommend adding in more character to the buildings, this could really develop your style!'
Without being condescending or blunt, giving constructive feedback is actually quite easy. Use this approach and you won't go wrong. If you'd like to read more about how to take feedback onboard, we've got a blog for that
here
.
Currently there is lots of great feedback already going on, but these tips could just help and encourage more of us to engage in the comments. As an online training community, Urban Sketch Course is committed to ensuring you're always improving your skills and we believe a more engaged gallery will benefit everyone.
So, we ask you from one group of artists to another, help out your fellow creative and start commenting on the gallery today.
Remember, the more you give, the more likely you are to receive!
Please note that the feedback gallery is a peer-to-peer environment where we encourage all of our students to offer positive advice and constructive criticism to each other. It is there to help you develop as an artist with help from the Urban Sketch Course community. We look forward to seeing your sketches there soon!
Whether you're brand new to urban sketching or a confident artist, our engaging, video-based online courses teach you step-by-step how to go from blank page, to capturing the bustle and beauty of the world around you, in the unique and fashionable style that is urban sketching.