SKETCH AN HISTORIC ENGLISH CITY SCENE
With Ian Fennelly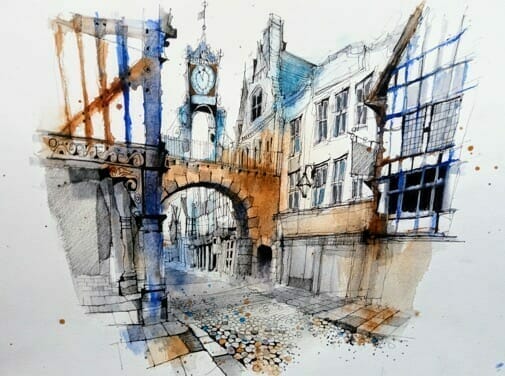 Discover How to Sketch & Paint this Classic Urban Scene with Ian Fennelly
Learn with Ian Fennelly
Follow-along with Ian, step-by-step as he shows you how to simplify what you're drawing, how to choose the right colours and how to apply them. How to get the size and proportions just right and how to achieve the perspective and distortion that is so unique to his style. And so much more!
This will be a fun and packed learning experience and a rare opportunity to work alongside Ian Fennelly while learning and participating.
You'll be able to see dozens of fellow urban sketchers from around the world who are at all different abilities, from complete beginners to advanced artists.
Listen as they ask Ian their own questions at the end of each step as well as larger Q+A as a break. Remember, this workshop is a recording of a previous live event, so you'll experience all of the fun involved in a workshop without the stress of working to Ian's speed!
Pre-steps and materials to get you started
3-hour live event recordings
Additional summaries from Ian after each step
View sketches from other students
Here is just a small selection of the wonderful comments and incredible results that have poured in from Ian's last sketching workshop:
FREQUENTLY ASKED QUESTIONS
Is this workshop suitable for beginners?
Yes. Ian will assume no prior experience and will take you carefully through each of the steps in his process as he is doing it – from blank page to the shapes and colours he uses, through to finished artwork.
Is this a live event?
No. This workshop is a recording of a previous live event. You'll be able to speed up and slow down the recording so that you can learn at your own pace.
What supplies will I need for this workshop?
You are free to work with whatever tools you have available, but here is Ian's supply list:  
A3 watercolour paper. Preferably hot press 300gsm.
Tombow Brush Pens – black and a range of greys, particularly the lighter greys – N15, N79, N89, N95
Black fine liner pens – from 0.1 – 0.5 Pilot, Staedtler, Faber Castell, Derwent – any of these brands are fine.
Watercolour pan set– Ian uses Winsor and Newton but any good brand will do. The most common colours in Ian's range are black, white, cadmium yellow, cadmium red, quinacridone gold, alizarin crimson, burnt sienna, raw umber, cobalt turquoise light, cerulean blue, ultramarine blue, winsor blue.
Watercolour brushes – variety of sizes from flats to riggers to small round heads.
About Chester's Eastgate Clock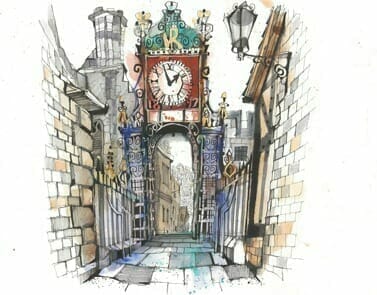 You may recognise Eastgate Clock from Ian's Foundation Urban Sketching course. Eastgate Clock is the focal point of the historic City of Chester, England. It stands on the site of the original entrance to the Roman fortress of Deva Victrix. It is a prominent landmark and is said to be the most photographed clock in England after Big Ben.
In this workshop, you'll be approaching Eastgate clock from a completely different angle and bringing other factors and stories into your work to create a visually rich scene with lots of character, black and white timber structures, and plenty of detail such as the windows and cobbles.
Get live coaching from world renowned Urban Sketcher and sought after teacher, Ian Fennelly.