Learn Urban Sketching With Ian Fennelly

Whether you're brand new to urban sketching or a confident artist, this engaging, video-based online course teaches you step-by-step how to go from blank page, to capturing the bustle and beauty of the world around you, in the unique and fashionable style that is urban sketching.
Each carefully constructed tutorial takes an over-my-shoulder approach to teaching – all delivered by artist Ian Fennelly in his authentic, warm and humorous style, that simply doesn't feel like learning.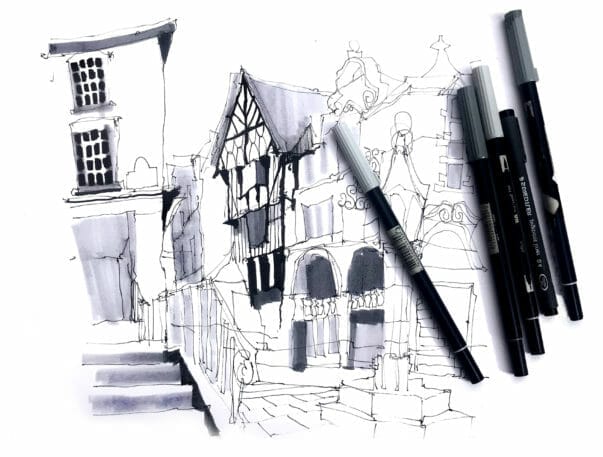 Through Urban Sketch Course, Ian breaks down his well-loved style into easy-to-follow steps, while revealing sketching and painting tricks and techniques he has developed and refined through years of dedication to the craft of urban sketching.
Best of all, you can do it too! To learn urban sketching, all you need is a fine-line pen, a simple sketch book and a willingness to watch, listen and learn from a coveted urban sketcher and captivating teacher.
Make the World Your Studio with this Urban Sketching Course!
Urban Sketching Taught On Location!
Urban Sketching comes with its own unique set of challenges. That's why Urban Sketch Course was professionally filmed on location in the historic City of Chester – and not in some fancy studio. 
As any urban sketcher knows, handling what's happening off-the-page is almost as important as what you do on-the-page.  And you'll see firsthand, there's no one better than Ian at this!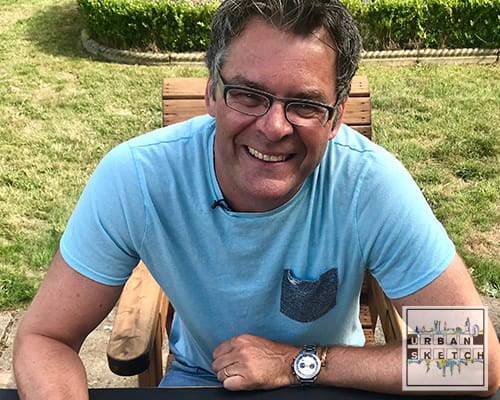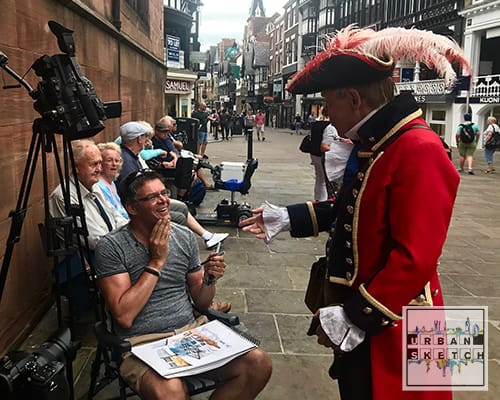 From raving fans and curious passersby, to the local town crier and impromptu street performers; through Urban Sketch Course you'll be entertained, captivated and inspired by how professional urban sketchers like Ian Fennelly take everything in their stride – all while sketching, painting and teaching you how to produce the most magnificent urban artwork of your life!
"Loved the course —- so well put together and Ian Fennelly was a wonderful teacher. Also loved the music, made me feel as tho I was there! When I signed up for this course I had no idea it would cover so much and am so thankful I have a chance to study with Ian as there is no way I could travel to one of his workshops since I am eighty one years of age. Thank you so much!!!!!"
Ann Hurt
"Very engaging and fun and thorough. The course shows clearly how Ian draws and paints, following a logical sequence and being specific about materials used. The hints and tips he mentions in the videos of him drawing and painting on location are really useful and often amusing. I am inspired to try these techniques for myself.!"
Jane Jackson
"Exceptional Online Urban Sketching Course. I am a seasoned sketcher who has been following Ian Fennelly for sometime so jumped at the opportunity to sign up for his online course. The course is well thought out and organized in a manner to keep you focused. Ian does some detailed rural and urban demonstrations which are broken down into steps. He talks about his process in each step. The good thing about online courses is you can go back and review the demonstrations. The platform is exceptional. Easy to navigate. This course suits beginners and experienced sketchers. Great value!"
Carmel Campbell, Australia
"SO GOOD! Loving this course! I feel like there is so much valuable information to take in, and I plan on walking through it numerous times over my artistic "journey". Ian's style and approach is very helpful and inspiring. Please do more courses like this!"
Josh Docksteader
"SO GOOD! Loving this course! I feel like there is so much valuable information to take in, and I plan on walking through it numerous times over my artistic "journey". Ian's style and approach is very helpful and inspiring. Please do more courses like this!"
Josh Docksteader
"I'm impressed. Ian Fennelly is obviously a very talented artist with a very unique Urban Sketching style. His relaxed instructional approach fills me with confidence that I will be able to produce acceptable work. I particularly like the way he explains his approach, from the point of view of architectural issues and artistic points of view. So far an excellent course for learning urban sketching. Onwards and upwards!"
Robert Knotts, UK
"Urban sketching at its best! Brilliant course …although I had some technical problems at the beginning they were solved very efficiently thanks to the IT team. I like very much Ian's approach to teaching, very down to earth. He gives us practical advice on how to cope with the outdoor environment and his work is outstanding. Once the course is over… you really want to have a go at urban sketching!"
Agnès McLaughlin
"Excellent content with a very unique approach, and the course is in depth and INCREDIBLE value. Ian's approach and style is energetic and very unique. I've been a big fan of Ian's work for a few years. When I read the content description I braced myself for a much bigger cost than what this is. I've purchased and completed similar courses by several other urban sketchers and sketch artists on other online systems, and this one is as good as any of them, and better than most.."
Pat
"Just a big thanks for the Urban Sketch Course with Ian Fennelly. I am an experienced sketcher living in Australia. I have always wanted to do a workshop with Ian Fennelly. This is better than a live workshop as you have the opportunity to go back to look and listen again. I also like the format with the test for each module. Keeps you focused and accountable. A super platform for online courses. Thanks again."