URBAN ZOO SKETCHING COURSE
WITH IAN FENNELLY
Join Ian Fennelly on a wild adventure as he reveals his unique techniques for sketching & painting magnificent pictures of animals!
E 69 Lessons    16 Workshops  j 1 Remarkable Course
COURSE DETAILS
From the feathered to the furry, from the plain to the patterned, and from the massive to the minuscule, the Urban Zoo Sketching Course covers it all through 16 engaging online workshops delivered by renowned artist and teacher, Ian Fennelly.

From a blank page, Ian takes you through all the steps. From sketching the shapes of an animals' iconic features, to expressing different animal textures and patterns using pencil, pen, brush pen and watercolour.
You'll learn techniques for conveying the weight and volume of larger creatures, and how to apply 3-dimensional drawing to bring your pictures to vivid life. You'll learn how to capture the right level of detail, while infusing your pictures with personality and character, and so much more. 
The Urban Zoo Sketching Course will excite and inspire you. It will stretch your skills and your imagination. And it will breathe new life and expression into your art, while showing that urban sketching doesn't have to be all buildings and cityscapes!
YOUR INSTRUCTOR
Ian Fennelly has built an extraordinary reputation as one of the world's finest urban sketchers and most sought-after teachers. His distinct style of on-location art, engaging teaching methods and all-round creativity has earned him a passionate global following.
For the first time, Ian is peeling back the curtain and teaching you the methods he uses to sketch and paint majestic pictures of animals.
THE LESSONS
69 lessons and exercises make up 16 professionally filmed online workshops. Each lesson has been carefully designed to develop your sketching, painting and observational skills while building your confidence as you work through the course. 
Click each of the tabs below to find out what's included in this comprehensive course:
PENCIL SKETCHING WORKSHOPS

In this first series of engaging workshops, Ian takes you on a creative journey, teaching you step by step how to manipulate your pencil to capture the right level of detail and express the personalities of four unique animals.
Pencil is the perfect material to use with this selection of animals because it perfectly unfolds the texture, detail and volume of their characteristics.
Starting with a beautiful Rhino, and then a large African Elephant we'll use specific hatching techniques to emphasise the thick, grey armour of their skin, while incorporating shading to create an ideal balance of size and shape. Then, we'll move onto the more complex features of an Ostrich and a two-humped Camel, learning how to convey the texture of fur and feathers of these unique creatures.
Your end result will be four striking pencil sketches and the skills to draw wonderful pictures, like these:
PEN & BRUSH PEN SKETCHING WORKSHOPS
In this next series of workshops we'll work together with Ian as he shows you how to sketch a Chimpanzee, a Giraffe, a Sea Lion and a Leopard. You'll be using pens and brush pens to really emphasise the wonderful shapes, patterns and tonal values of these beautiful creatures.
Starting with fine liners, we'll sketch the outline before going in with brush pens. Brush pens offer a range of tone and depth which can be applied to the animal's coat in many ways.
In these workshops, we also start to look at alternative perspectives by drawing animals at more interesting angles. You'll learn how to infuse character, personality and drama into your sketches and how to use your pens to capture that sense of weight.
Ian will show you how to hold your pen, while roughly sketching and building up in layers to capture the 3-dimensional qualities of these animals. Perfection is not important with this process, in fact it's the rough drafts and lines that really add character to these sketches.
PEN THEN PAINT WORKSHOPS
In this next series of exciting workshops, together we'll continue with Ian as he shows you how to adapt and apply traditional urban sketching techniques to drawing animals.
Working with pen, we'll establish the outline and the strong shapes of these beautiful creatures. Then, you will learn how to capture the features and characteristics of each animal before introducing dynamic colours and tone with brush pens.
Using a limited palette of three colours, along with black & white and grey brush pens, you will discover how to capture the rich, deep, iconic colours of the Flamingo, how to use localised colour to convey the strength of the Lion, how to channel your colours to express the personality of the Orang-utan, and how to capture the iconic stripes of the Tiger with watercolour.
The powerful colouring and shaping of these iconic animals makes for a really exciting drawing experience. You'll be delighted with your achievements!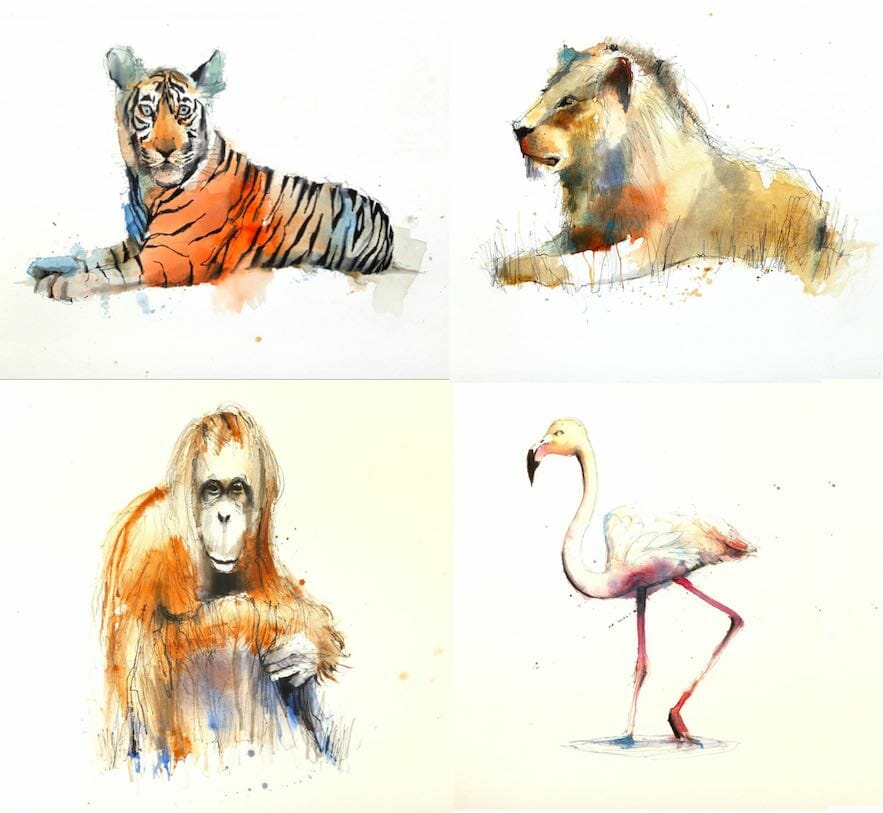 PAINT THEN PEN WORKSHOPS
For our final series of workshops, we flip the process; no pencil, no outline, it's straight in with paint!
You'll start each workshop by shaping out the animals with watercolours first to create some vibrant and dramatic washes. Then, with the guidance of Ian, you'll layer specific detail on top of your paint with fine liner. Finally, we'll go in with your brush pens to add volume, while capturing the 3-dimensional qualities of each animal.
Throughout these workshops, we'll be observing and then uncovering the standout characteristics of each animal, expressing what makes them so recognisable. We'll be using strong colours throughout to create drama while letting the colours play, and even blend together across the iconic shapes, before adding the detail with our fine liners and brush pens.
This is the most energising of the series of workshops and we're confident that you'll be delighted with your final results:
Click all the tabs above to discover what's included in this course
THE LOCATION
Urban Zoo Sketching Course was part-filmed in the beautiful, conservation-focused Chester Zoo (UK) and part-filmed in Ian's private studio. 
Chester Zoo is home to over 27,000 endangered and exotic animals who live in exquisite zoological gardens. This gave Ian all the subjects and inspiration he needed to teach you urban sketching as you've never seen it before!

THE Zoo sketching COURSE DIFFERENCE
This urban zoo sketching course has some notable differences to any other Urban Sketch courses you may have taken:
Big difference #1: The Subject Matter
Urban sketching is known traditionally for buildings, landscapes and cityscapes. But, sometimes it's important to 'break tradition' and stretch your skills and your creativity by trying something new and different.
In this course, you'll be swapping  windows, doors, roofs and cobbles... for feathers, ears, horns and tails! It's a whole heap of fun and you'll be delighted with your newfound skills and the results you achieve!
Big difference #2: Different Animals. Different Styles & Materials.
Ian has selected a wide range of animals to teach you different skills, techniques and styles.
Seeing the animals in their own habitat gave Ian the opportunity to carefully observe the patterns, shapes, features and the key characteristics of each animal, so that he could determine the best materials to use for each one.
Some animals, with their colour, skin, shape and volume are best expressed with pencil only. Others with their unique and intricate patterns work best with pen and brushpens. While others need watercolour to really express their wonderful, vibrant colours.
Through the Urban Zoo Sketching course, you'll not only develop your techniques, but you'll also hone your observational skills while learning the thinking behind Ian's methodology. You can take and use all of this training to draw wonderful sketches of your own pets and local animals.
Big difference #3: Shorter workshops. More Subjects.
In total, you'll learn how to draw and paint 16 different animals of all shapes and sizes and using a variety of techniques and materials.
The difference between this course and our traditional urban sketching courses is that each workshop is much shorter and broken down into just 3 core stages:
1. Sketching the outline
2. Volume shading
3. Tone & detail
You will be able to work through each workshop much faster than usual.
FREE BONUS
Feedback Gallery
The moment you register onto this course, you'll also gain access to our private feedback gallery. Here you can share your newfound urban sketching skills, receive feedback and leave comments for other students too.
There is no better way to learn urban sketching than to get feedback and advice on your work. Watch as you progress through the course with the advice and feedback from other learners who are sharing this journey with you.
Get Started Today!
Creating this course has been a labour of love for Ian. As an urban sketcher, teacher, and animal lover, it gave him a unique opportunity to combine these passions while delivering a fun and engaging online course that is packed with life, colour, detail, and incredible learnings and insights.
Whether you're sketching pets, local animals, or exotic creatures, by the end of this urban zoo sketching course, you'll have the enviable ability to draw and paint wonderful, vibrant, personality-packed sketches of animals that will make you proud.
Hit the button below and sign up to Ian Fennelly's Urban Zoo Sketching Course. You'll get immediate, lifetime access to all 16 wonderful workshops. We're positive this will be one of the best and most fun-packed investments you make on your urban sketching journey.
Here's What You'll Get Today:
✔

69 Lessons / 16 Workshops

✔

Follow-along workfiles

✔

Bonus: Urban Sketch Feedback Gallery

✔

24/7 Lifetime Access

✔

30-Day Money Back Guarantee
Here's What You'll Get Today:
✔ 69 Lessons / 16 Workshops
✔ Follow-along workfiles
✔ Bonus: Urban Sketch Feedback Gallery
✔ 24/7 Lifetime Access
✔ 30-Day Money Back Guarantee
We've poured everything into making what we believe are the best and most comprehensive urban sketching courses available.
However, if after signing up for any of our courses you are unhappy for any reason (or no reason at all), just let us know within 30-days and we'll happily issue you with a full refund. No explanation needed and no hoops to jump through.
Signing up to our courses is risk-free.
100% Satisfaction
|

Zero Risk

|

Guaranteed