Certificate in Urban Sketching
WITH IAN FENNELLY
With the knowledge and skills taught to you by Artist Ian Fennelly, he will guide you through everything you need to know about the world of Urban Sketching.
E 69 Lessons    6 Workshops  j Certificate of Achievement
COURSE DETAILS
Whether you're brand new to the modern world of Urban Sketching or an established artist, Urban Sketch Course will lead you on a creative journey. From beginner to Urban Sketch artist, transforming your skill set and banishing any pen to paper fears you may have.
So, what are you waiting for? Grab your pens and paintbrushes, pick up your sketch pad and get ready to absorb your surroundings. This Certificate in Urban Sketching course is your first steps on a journey to becoming a top-class Urban Sketcher.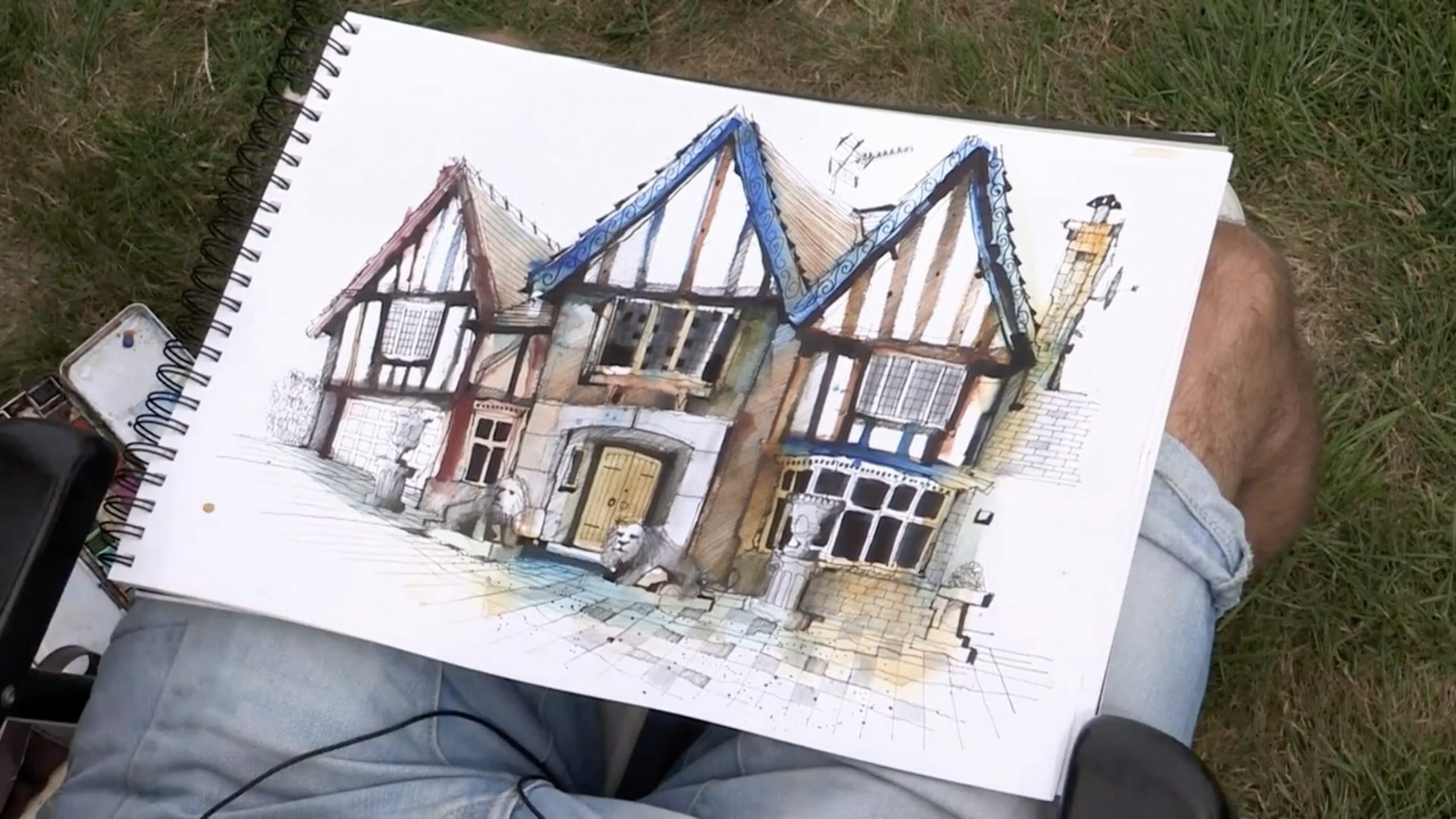 Urban Sketch course will help you gather the structures, tools and insight it takes to draw from life. If you aren't too sure where to begin, or what subject you want to reproduce, Urban Sketch Course is the perfect starting point.
It is the most effective way of exploring the world around you, the different elements, textures and things that the everyday eye fails to notice amongst all the hustle and bustle. This course has been designed for you as a way to improve your sketching and your documenting skills by simply reacting to the things around you.
YOUR INSTRUCTOR
Pull up a chair and take a seat next to Ian Fennelly as he works progressively through the locations, capturing every detail. Ian will give you the confidence and inspiration you need to go out on location and record a scene that tells a wonderful story of you on location, using your pens, brush pens and fineliners.
He provides the know-how, techniques and ingenuity to create beautiful pieces of art from anywhere; in a busy city or the comfort of your own front doorstep…the choice is yours.
Join Us and Discover A Tell All Sketching Process That Produces Incredible Artwork, Like This:
6 WORKSHOPS PACKED INTO ONE Incredible Course!
Watch, learn and follow-along as Ian breaks each of these 6 iconic scenes down into just 3 simplified steps. By the end of this course, you'll have enough knowledge and skills to do your own quick sketches, on-the-go, in any city in the world!
Module #1
Introduction
Here's what's covered in this module: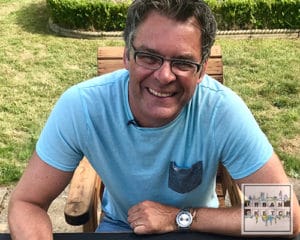 Understand what Urban Sketching is
Understand the background and origin of Urban Sketching
Identify equipment you will use throughout the course
Get to know Artist Ian Fennelly
Much more!
Module #2
Cheshire House
Here's what's covered in this module:
Understand how to simplify shapes
Understand scale and perspective
Identify equipment you will use throughout the course modules
Understand how to compose and frame a sketch
Much more!
Module Location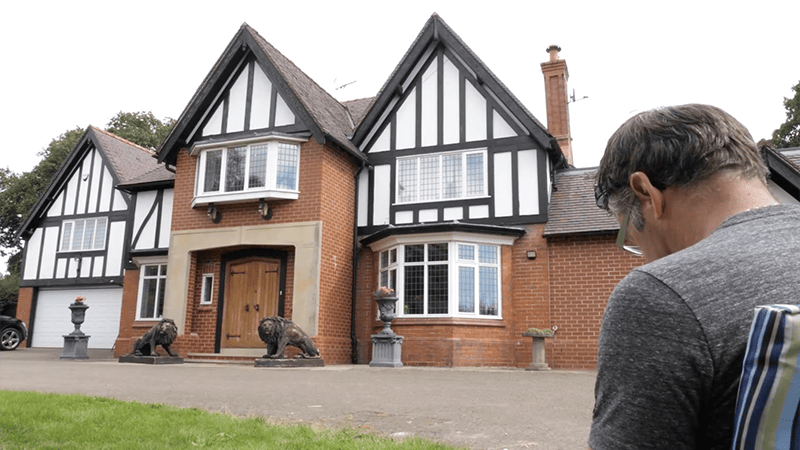 Ian's Sketch
Module #3
Broxton Garden
Here's what's covered in this module:
Have an understanding of what a rural sketch is
Learn how to effectively use negative space
Understand tone
Learn about mark making and texture
Learn how to start a sketch using paint as your medium
Much more!
Module Location
Ian's Sketch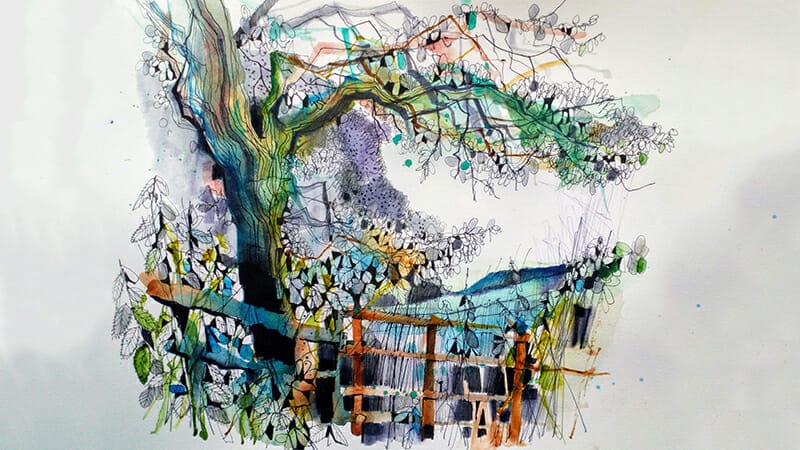 Module #4
Chester Cross
Here's what's covered in this module:
Understand how to deal with crowds on location
Learn how to set up effectively on location
Understand the problems faced with sketching on location
Learn how to make the most of 'white space' and use it to your advantage
Understand how to use local colour
Learn how to create depth in your sketches
Much more!
Module Location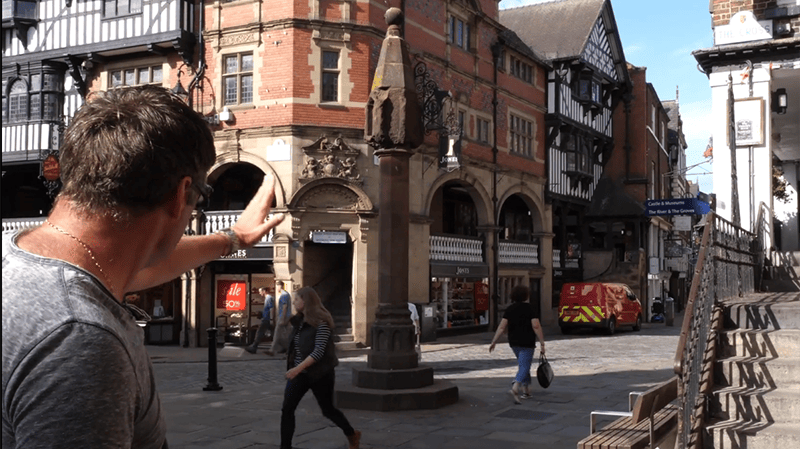 Ian's Sketch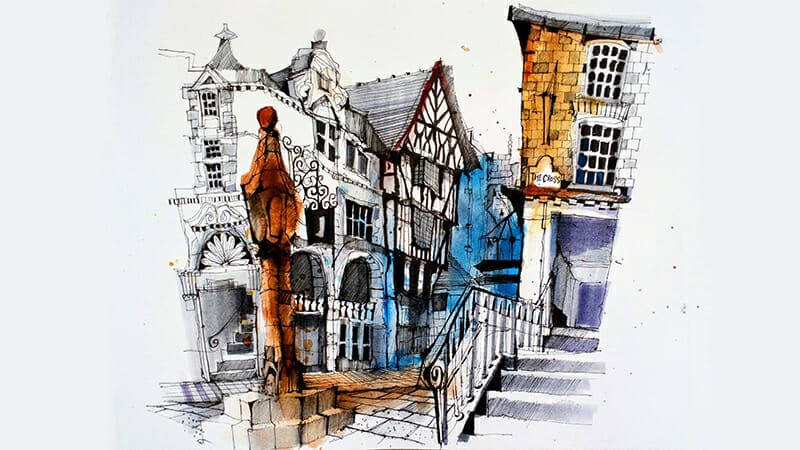 Module #5
Eastgate Clock
Here's what's covered in this module:
Understand and learn how to sketch intricate patterns and detail
Understand proportional structure and scale
Learn how to mix local colour with expressive colour
Be able to balance your composition
Create 3D effects with visual patterns
Much more!
Module Location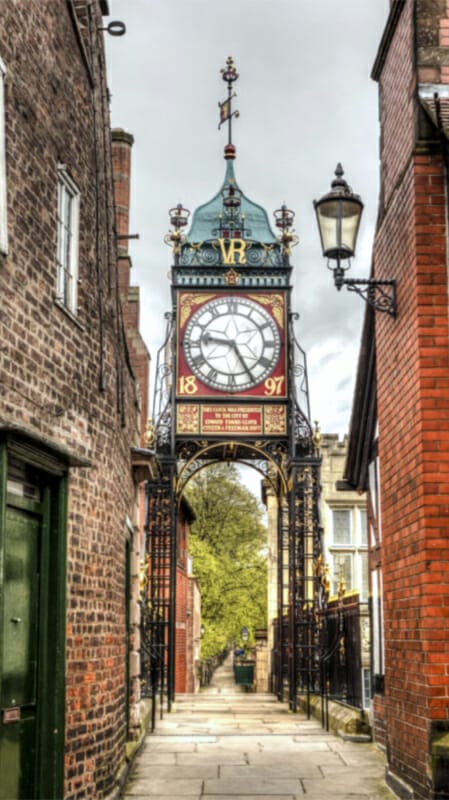 Ian's Sketch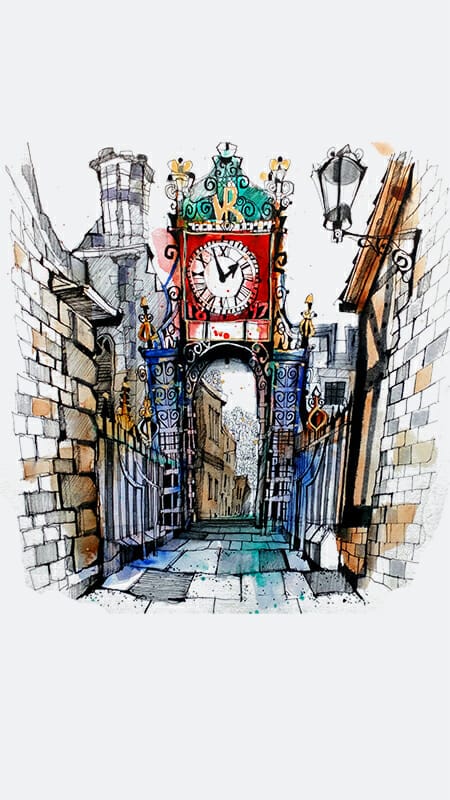 Module #6
The Bandstand
Here's what's covered in this module:
Understand the importance of context and setting
Learn to sketch around a focal point
Understand how to control the elements in your sketch
Learn how to mix rural elements with man made
Understand how to utilize tones and hues
Much more!
Module Location
Ian's Sketch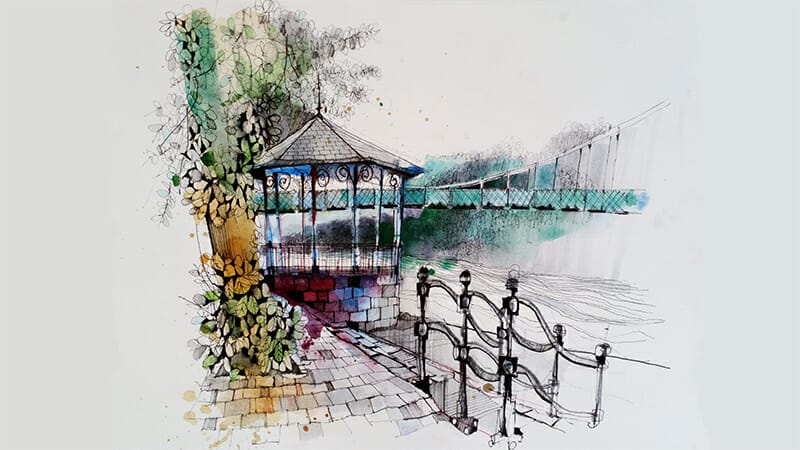 Module #7
River Dee Bridge
Here's what's covered in this module:
Experiment with taking risks
Learn how to apply and draw with paint straight onto paper
Develop your personal and emotional connection with your urban sketch
Learn how to blend paints and colours
Learn how to evaluate your surroundings
Much more!
Module Location
Ian's Sketch
Module #8
Self-Assignments
Here's what's covered in this module:
Create your own textures
Go out on location independently
Sketch from household objects
Use light to create 3D objects
Much more!
Join the world of URBAN SKETCHING!
These online Modules will open your eyes to the wonderful world of urban sketching, introducing you to basic skills, techniques, and method of applying watercolour paint that will help develop your visual ability as an artist.
Join thousands of aspiring sketchers worldwide and give yourself the best opportunity to have your work seen; you'll discover a world full of fun, creativity, and mindfulness.
Be amazed as you watch yourself progress, have fun and produce some of the most beautiful images of your life.
You'll be able to relax and unwind, discover the mindfulness Urban Sketching brings to you. Embrace and tell stories of your surroundings as you see them; there are no rules.
Join a community of Urban Sketching and feel the rewards.
Sign UP TO IAN FENNELLY'S Certificate in Urban Sketching Today!
For one affordable price, you get instant, lifetime access to all 6 workshops (+ self-assignment bonus!). You're getting the same world-class training from the comfort of your home for a fraction of the cost of attending a physical workshop - but with none of the hassle! Best of all, you can watch the workshops over and over again.
Module 4: City Centre Scene
Module 7: River Dee Bridge
Module 8: Self-Assignments
Bonus 1: Outtakes & Interviews
Bonus 2: Feedback Gallery Access
Bonus 3: Certificate of Achievement
Pay Securely by Card or PayPal
FREQUENTLY ASKED QUESTIONS
Do I need to be an artist to take this course?
Ian assumes no prior knowledge or experience. He has designed this course to enable anybody to start with a blank page, follow-along with his specific steps, develop new skills and produce a piece of work they will be very pleased with. Of course, if you have a certain level of artistic skill, then the techniques that Ian shares will help you to build upon your existing skills and give you a process that enables you to produce great work, in less time.
Can I take the workshops in any order?
The course has been designed with beginners in mind, so the modules have a logical order where the material leads from one to the next. It's been designed this way so that those studying the course learn all the aspects of urban sketching in a way that helps to develop their skills and understanding.
We are more than happy to unlock the modules for you, however, this means that you will not be able to obtain a certificate with your passing grade on.
If you would like to go ahead with unlocking all modules, please contact our support team: [email protected]
Will this course be relevant to my country?
The information, principles, techniques and strategies taught within this course are universal and therefore completely relevant to students worldwide, after all… art is universal.
We've poured everything into making what we believe are the best and most comprehensive urban sketching courses available.
However, if after signing up for any of our courses you are unhappy for any reason (or no reason at all), just let us know within 30-days and we'll happily issue you with a full refund. No questions asked and no hoops to jump through.
Signing up to our courses is risk-free.
100% Satisfaction
|

Zero Risk

|

Guaranteed