The Secrets of Urban Sketching
Q+A With Ian Fennelly
Discover some of Ian Fennelly's best sketching advice.
If you've always wanted to know what Ian Fennelly is thinking about when completing an urban sketch, or maybe how he chooses his colour pallette?
Perhaps you're new to urban sketching and need some helpful pointers? Maybe you're taking one of Ian's courses and need some extra guidance on drawing perspective? Or choosing brush pens? Or getting the proportions right on your page?
Perhaps you want to know what materials Ian uses? Or how he picks locations? Or, maybe you're curious to know what projects Ian is working on at moment?
Here are just some of the questions that Ian answers during this lively and fun Q+A..
How do you choose colours?
Here's a snippet of what Ian says:
"The choice of colours is always a huge big thing because colour is very personal, we all have our favourite colours! My default two complimentary colours are ultra marine blue and burnt sienna, but they may not be other peoples. So it's a very personal thing.
However, what I try and do is pick a local colour to begin with, something that I can actually see in the location in front of me. Let's say brown for example, as that is often on the buildings. Then I will pair it with a complimentary colour, such as a blue to see how those colours play together. This then gives me an idea of what colour I think would go within the scene next. "
How do you choose your brush pens?
Here's a snippet of what Ian says:
"Start off by limiting your choice of brush pens to around 4, I tend to use about 6 but you can get away with 4. 
I would suggest these colours: 
N15 – black
N60 – cool grey 
N79 – warm grey 
N89/95 – light grey"
How much water do you use?
Here's a snippet of what Ian says:
"The amount of water is a really important thing and it can really affect the painting process. If you put too much down, your colours will be all over the place but if you don't put enough you won't be able to push the colours around the page with your brush. So what I try to do is, using the flat brush, I will push the water across the page. Similar to taking a line for a walk, but with the water. This really helps me mark out spaces that I'm trying to describe.
I also keep a paper towel handy to mop up where there's too much!"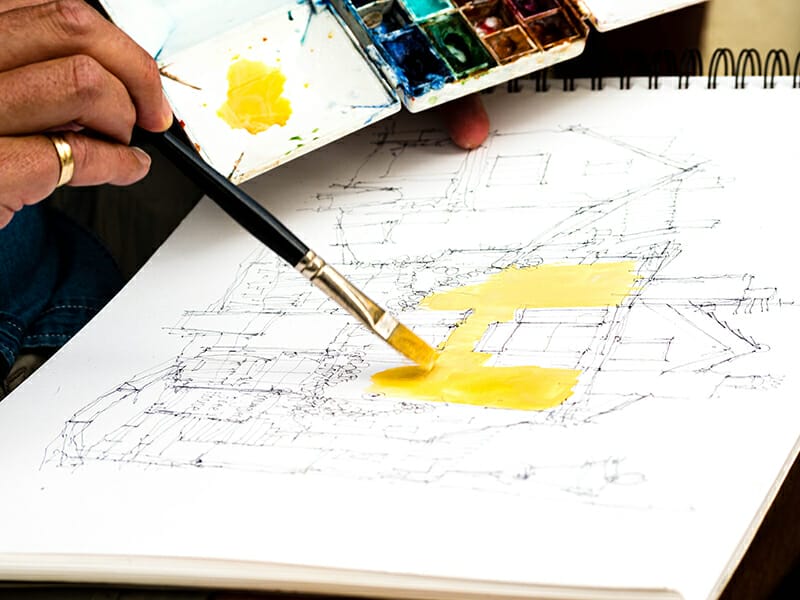 What happens if you can't sketch the scene you want to?
Here's a snippet of what Ian says:
"There's lots of wonderful buildings in the world I would love to draw but often they're too impractical. Sometimes they're really busy, or the lighting is all wrong, there's a whole host of reasons why!
In these cases it's a compromise, I sketch for me so it's important that I'm happy at the scene. I want to have as much fun as possible on location so try to make as many of the factors involved as enjoyable as possible. Often the second best location is actually more engaging as I'm safer and more relaxed."
…Many More Urban Sketching Secrets!
Ian Fennelly goes on to answer all of these questions and more in this reveal all video:
We are so blessed at Urban Sketch Course to have such a wonderful growing community. Thank you to everyone who supports our journey, we send our love to each and every one of you.
Don't forget to keep us up to date with your sketching journey by using the hashtag #UrbanSketchCourse. We look forward to seeing you all again very soon.
Urban Sketching for Beginners
Join Ian Fennelly as he guides you through 47 easy-to-follow lessons and practical exercises that transform you from complete beginner to skilled urban sketcher!