How to start Urban Sketching
With Ian Fennelly
Discover some of Ian Fennelly's best sketching advice.
Find out some useful advice and tips from Ian in our new '
How to
' guide.
You're in the right place! Ever wondered how to get into urban sketching? You can find lots of useful tips throughout our website and in our courses made especially for beginners. Ian shares his advice and top tips!
Before you take your first steps into the world of urban sketching, think about why you want to do it. There are so many benefits to urban sketching. Lots of people get into it just to have fun! It's a fantastic way to see the world around you, learn and be sociable.
"Make sure you're doing it for the right reasons, the right reasons for me, are to have fun and enjoy myself."
THINK ABOUT WHAT INSPIRES YOU
It might be worthwhile to have a look at some other artists to see what inspires you. See what kind of sketches they make, what their style is and how they use colour. This can really help to give you a better idea of what you want to create.
"Think about what it is you want to do; think about the types of cityscapes and landscapes that you find interesting. Maybe find some artists whose work you admire that you would like to get some support from. Whether you do a workshop with them or go off online and copy what they're doing."
look forward to connecting with the outdoors and with others
"Personally, I think it's the most social art form that there is because you're not already working in isolation, you're outside, you're discovering the landscape or cityscape and meeting likeminded people. Just be mindful that your studio is the outside world, and you are going to get to interact with people and just see that as part of the parcel of this wonderful creative experience. "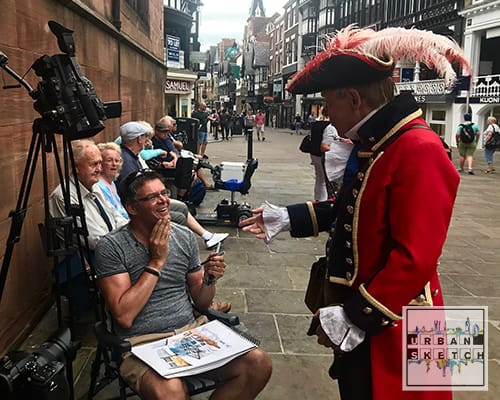 Watch the full video as Ian Fennelly gives some advice to those starting out in urban sketching.
We are so blessed at Urban Sketch Course to have such a wonderful growing community. Thank you to everyone who supports our journey, we send our love to each and every one of you.
Don't forget to keep us up to date with your sketching journey by using the hashtag #UrbanSketchCourse. We look forward to seeing you all again very soon.
Urban Sketching for Beginners
Join Ian Fennelly as he guides you through 47 easy-to-follow lessons and practical exercises that transform you from complete beginner to skilled urban sketcher!