How to find your scene in urban sketching
With Ian Fennelly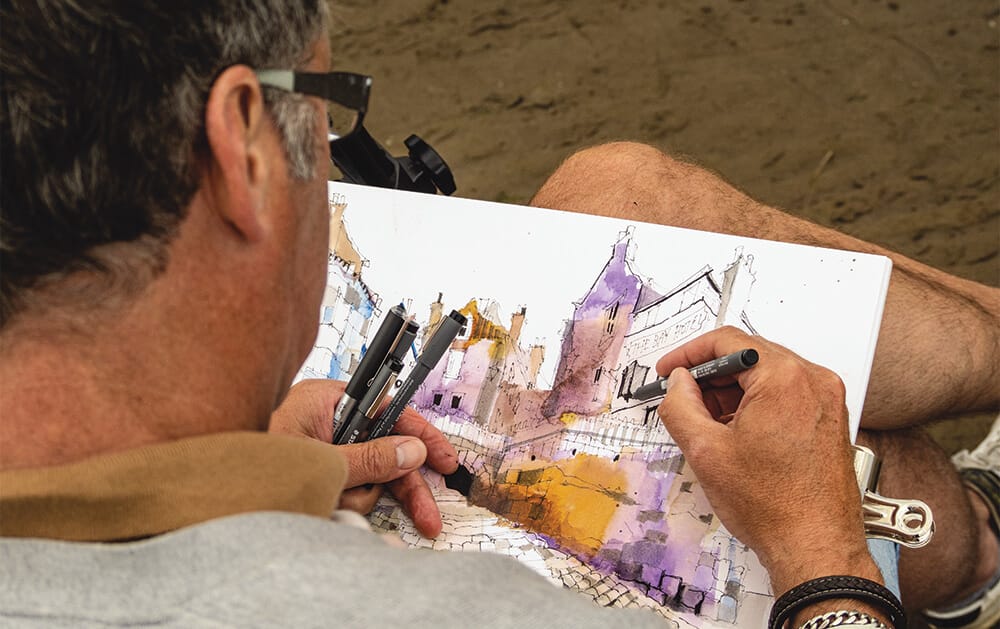 Discover some of Ian Fennelly's best sketching advice.
Find out some useful advice and tips from Ian in our new 'How to' guide.
Ian shares a few ways to find your scene, from choosing elements, features and getting to know the landscape.
CHOOSE YOUR ELEMENTS & FEATURES
It's a good idea to think ahead to what elements and features you would like to sketch before arriving at the location.
"If I'm going somewhere specific, for example when we went to London, I knew I wanted to do various landmarks. But somewhere like Wales is not quite the same. Because you know you want the features, and you want all those elements but it's not always as easy to find."
Spend time in the landscape
Try and spend some time in the location or landscape getting to know the area. Sometimes locations don't want to be found so it's important to wander round seeing things and soaking up the atmopshere. Locations can also look different in the car so try and do this by foot if you can. 
"There's certain shapes, patterns, textures and stories I'm looking for, it takes time. You've got to spend some time in the landscape to really appreciate what's going on."
Keep going until you find what works
It's important to take time so that you can get exactly the right image that works for you. 
Watch the full video as Ian Fennelly explains how he finds his scenes
We are so blessed at Urban Sketch Course to have such a wonderful growing community. Thank you to everyone who supports our journey, we send our love to each and every one of you.
Don't forget to keep us up to date with your sketching journey by using the hashtag #UrbanSketchCourse. We look forward to seeing you all again very soon.
Urban Sketching for Beginners
Join Ian Fennelly as he guides you through 47 easy-to-follow lessons and practical exercises that transform you from complete beginner to skilled urban sketcher!