FINDING ART INSPIRATION
With Ian Fennelly
Discover some of Ian Fennelly's best sketching advice.
Finding inspiration can be challenging for any artist, so what can you do to get your creative juices flowing again?
We've delved into Ian Fennelly's new book –Finding Your Inspiration to find out and to share some of his top tips!
See the world through another's eyes
Sketching or creating art with others, may just be the inspiration you need. It's a great way to spot the things that other's notice, and perhaps their way of thinking will inspire you too! Feedback from other artists can also be inspiring and can help you to progress on your creative journey.
"Inspiration can come from seeing the world through someone else's eyes and from recognising that we all see the world differently."
Find the beauty in the everyday
Even though it may not feel like it, inspiration is all around us and comes in many forms. Try to go to a familiar location and try to REALLY notice all of the small details around you. It might take a while to stop and slow down, but it's worth it. You could also try this when your already sketching, take that bit longer to look at the scene around you and see what comes up!
"Inspiration can come in lots of forms. It may be the shape of a tree, the colour of a field, the pattern on a tablecloth."
Experiment with technique
Experimenting is a fun way to feel inspired again when you're in a creative slump. There's a child-like joy in creating art just for fun! You could use your pen differently, apply paint in a new way or experiment with new perspectives. What starts as a mistake, could turn into the perfect breakthrough.
"Inspiration can come from a breakthrough, a technique, a little magic moment when an applied skill makes perfect sense."
The beauty of art is that it allows us to combine objects, ideas, and locations to tell a new story.  Try adding something unexpected to your work and experiment with adding people, animals, and greenery to a location to play with a narrative.
"When I completed the sketch, I decided to add Mavis and Nigel, the two local seagulls that had been hanging around watching me. I perched them on the boat to add more interest."
The best kind of inspiration is when you stumble across something that excites, brings joy, and gives you a strong urge to create. We call this 'finding your happy'. By this, we mean finding colours, patterns and locations that really mean something to YOU.
Try visiting cities, galleries and look for images online to see what kind of visuals stand out to you. If you enjoy your practice and creating art, it will really show through on the final sketch!
"I knew that it made me feel happy. I knew that if I wanted to improve, this was the way forward."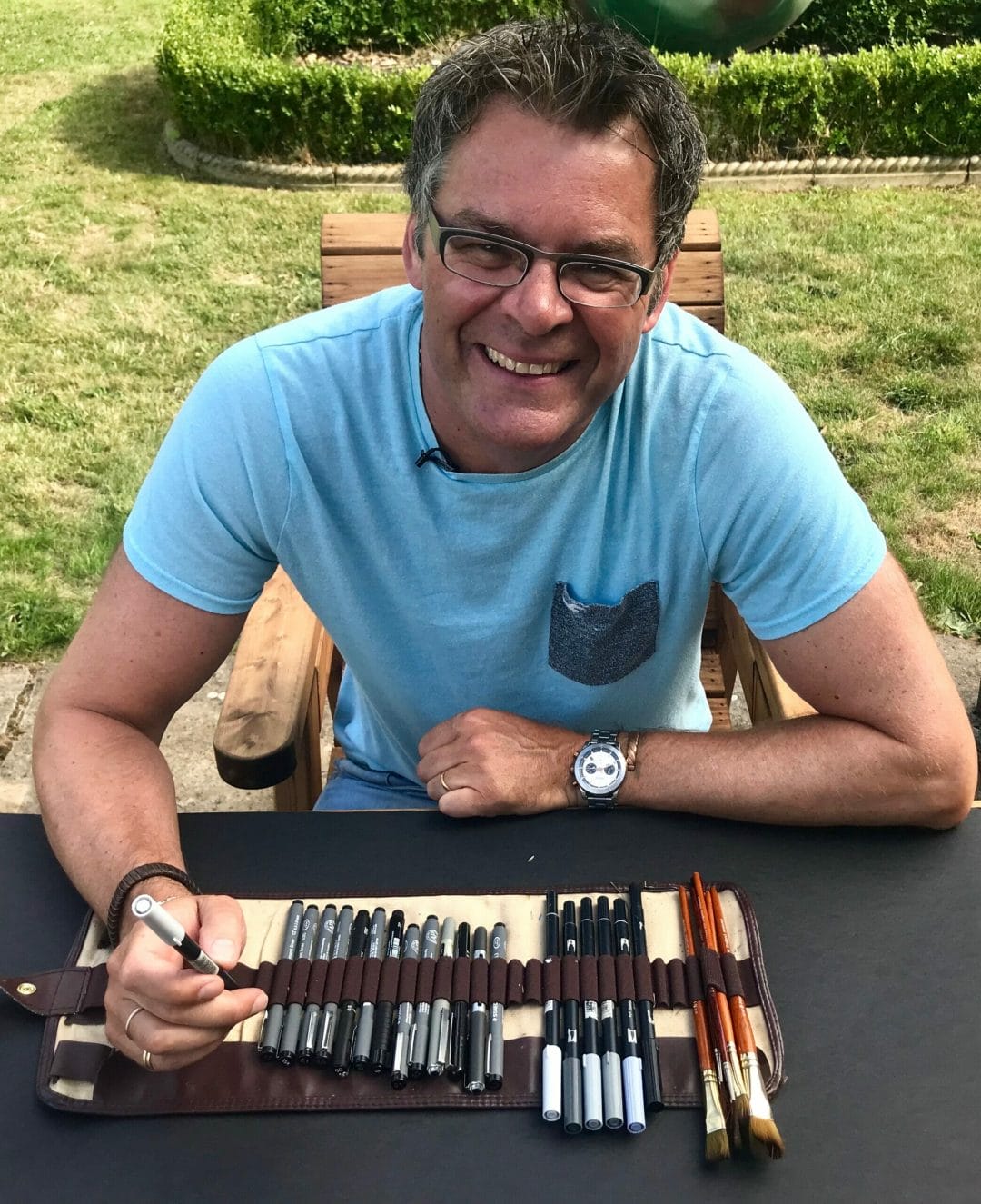 In Finding Your Inspiration, you'll be able to read more of Ian's inspiring story and useful tips. You'll be swept away on an exhilarating sketching journey, as Ian shares the highs and lows of drawing on location, and the personal stories behind some of his finest work, so that you can find your inspiration.