How to choose colours when sketching
With Ian Fennelly
Discover some of Ian Fennelly's best sketching advice.
Find out some useful advice and tips from Ian in our new 'How to' guide.
Ian shares a few ways to choose and apply colours whilst creating a sketch.
Looking at your instant surroundings and picking out any key colours is a great place to start. From the brown of a building, to the red of a bus, to a sign in a window, take a good look around and see if there's anything that you connect with in terms of colour.
You can also think about the general colours associated with the location you're in. For example, London might make you think of red, blue, and white. Whereas the rolling hills of Wales might bring up thoughts of natural greens and blues.
"I try and pick a local colour to begin with, something that I can actually see in the location in front of me. Let's say brown for example, as that is often on the buildings. Then I will pair it with a complimentary colour, such as a blue to see how those colours play together. This then gives me an idea of what colour I think would go within the scene next. "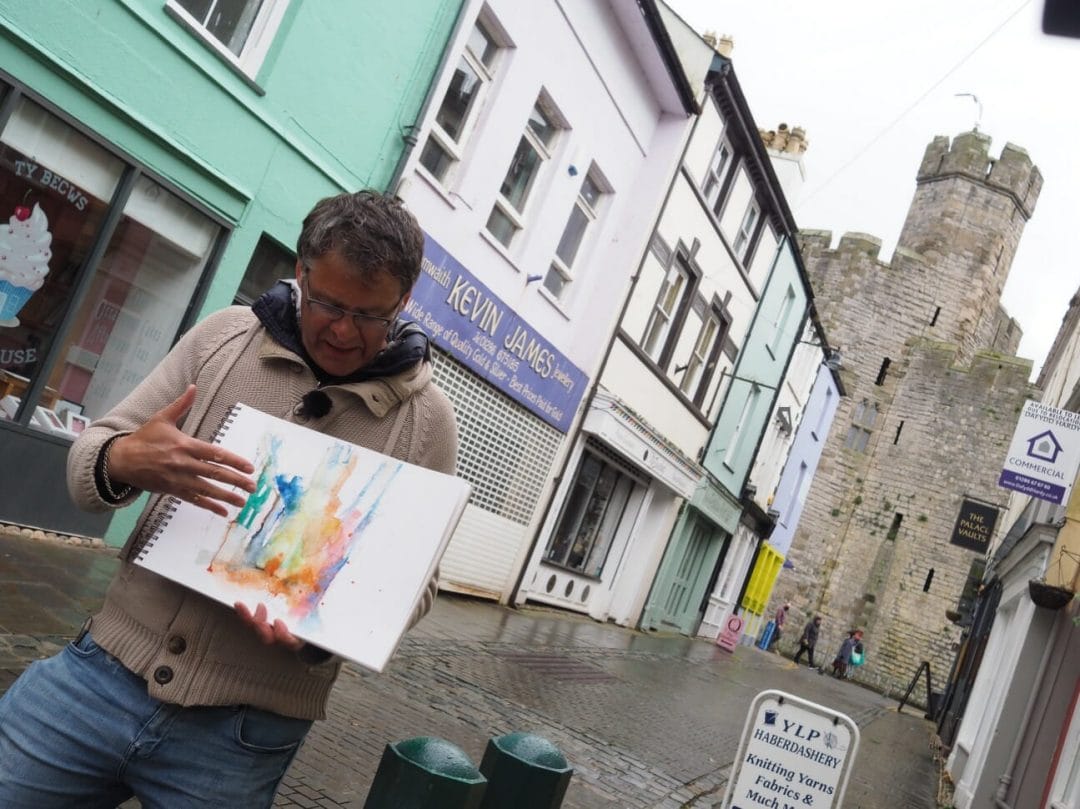 Use the experience of the day
How are you feeling whilst creating the sketch? Hot? Cold? Excited? Frustrated?
Use these feelings in your colours, this is a great way to express how you feel and turn that moment in time into a wonderful piece of art.
"Use what you're feeling, the temperature, your energy levels, your confidence and your familiarity with the subject."
Colours can be very intuitive and personal so try and keep an open mind with and have fun, be creative and experiment! Allow the colours to have freedom on the page and be open to making mistakes, you never know what this can lead to!
"It's starting off with local colour, it's using the qualities of the page to make a picture and it's also how you're feeling.  All those things are working together all the time, but running throughout all of that, is that desire to have fun, and just to play and to see what the colours can do themselves."
Watch the full video as Ian Fennelly explains how he uses colour in his work.
We are so blessed at Urban Sketch Course to have such a wonderful growing community. Thank you to everyone who supports our journey, we send our love to each and every one of you.
Don't forget to keep us up to date with your sketching journey by using the hashtag #UrbanSketchCourse. We look forward to seeing you all again very soon.
Urban Sketching for Beginners
Join Ian Fennelly as he guides you through 47 easy-to-follow lessons and practical exercises that transform you from complete beginner to skilled urban sketcher!